Across the country, the economy is slowly but steadily improving. More companies are hiring, consumers are spending again, the stock market is tickling record highs and many Americans say they are feeling more optimistic about the future.
But Wisconsin stands somewhat apart from this trend, consistently and stubbornly lagging in job creation and finding itself near the bottom of many measures of economic health.
Sam Breidenbach knows that uneasy feeling. Before the Great Recession, when most people were feeling pretty flush, he had 20 employees working for him at TDS Custom Construction. The home repair and remodeling business was doing well.
Today, Breidenbach counts 14 employees at his east-side Madison firm, and while things seem to be picking up a bit of steam in early 2013, he's still not in a position to hire more staff.
"No way I could go back to where I was,," he says. "I'd like to add guys but we just don't have the business right now."
It's a familiar story across Wisconsin. While fewer businesses are cutting jobs these days, they sure aren't adding a lot of new employees either. And for those with a job — whether in the private or public sector — the pay raises have been few and far between.
So what gives? Some observers point to Gov. Scott Walker and the Republican-controlled Legislature. They say the drastic spending cuts in the 2011-2013 state budget, just as the economy was beginning to recover from the recession, have actually made things worse.
"Wisconsin did absolutely the wrong thing at the wrong time," says Kenneth Thomas, a political scientist at the University of Missouri-St. Louis and author of the popular Middle Class Political Economist blog. "You want to practice austerity when things are going well, not the other way around."
In some ways, Wisconsin lawmakers had little choice since the state constitution requires a balanced budget. The national recession that officially began in December 2007 and didn't lift until the summer of 2009 resulted in dwindling tax collections, leaving the state with more than a $3 billion hole in a roughly $30 billion annual budget.
Former Gov. Jim Doyle attempted to close the gap through a combination of a hiring freeze and furloughs for state workers along with a tax increase on upper-income earners.
But Walker went a step further, slashing spending for schools and local governments while requiring public employees to contribute more toward their health insurance and pensions. For some 230,000 workers across Wisconsin it amounted to an average 12 percent cut in their take-home pay — money not being spent today on new clothes, fixing up the house or a trip to the North Woods.
"They had to balance the budget one way or another," says Dale Knapp, researcher with the Wisconsin Taxpayers Alliance. "If they had used tax increases to balance the budget, then maybe public employees would have had more money in their pockets. But other taxpayers would have had less."
Walker touted the cuts as showing the rest of the country that Wisconsin was serious about getting its fiscal house in order. The thinking was that private businesses would relocate to or expand in a state that was looking to cut taxes and relax regulations on so-called "job creators."
"Now is the time for leaders in Illinois and across the nation to take on these tough choices," Walker wrote in an opinion column in the Chicago Tribune last summer after that state's Legislature voted to raise taxes.
Still, despite new highway signs touting Wisconsin as "Open for Business" the state has continued to sputter. It ranked 42nd in overall job creation for the one-year period ending June 2012, according to the federal Quarterly Census of Employment and Wages (QCEW), a statistically accurate survey of 96 percent of state employers.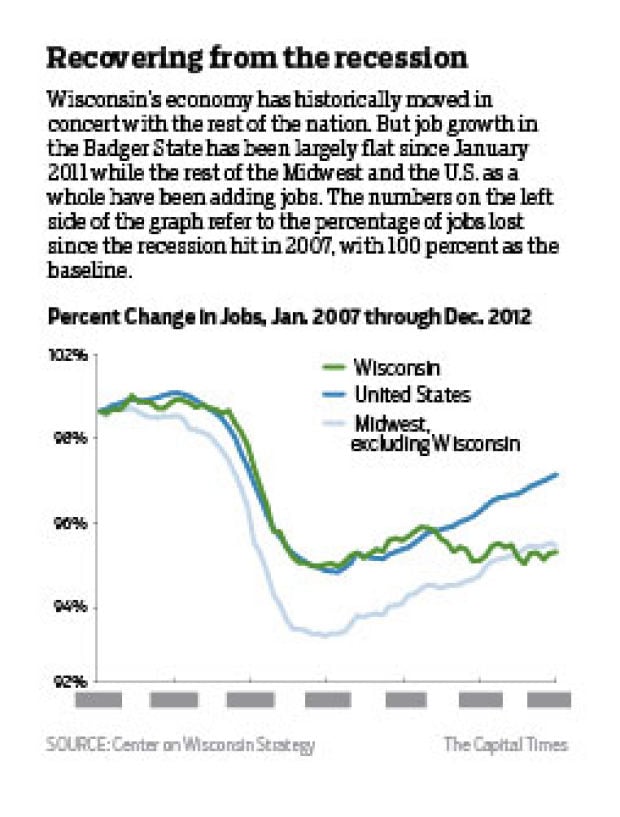 Walker has blamed last June's recall election for creating uncertainty for the private sector, saying businesses were afraid to hire workers or invest in new equipment. Others have pointed to the budget cuts, including reductions to the Earned Income Tax Credit and other programs that boost the buying power of lower-income consumers.
Steven Deller, an economist with the University of Wisconsin Extension, had warned in 2011 that the cuts in the Walker budget would have a major negative impact on the state economy, reducing consumer spending by nearly $2 billion at a time when the private sector was just starting to regain its footing.
"My fear is that the Republicans put their plan into place, it's not working, and now they don't know what to do," Deller said in an interview last week.
As state politicians of all stripes continue to debate how to reverse the slide, much of the emphasis has been on the manufacturing sector, not surprising given the state's proud tradition of making everything from paper products to military vehicles.
But Wisconsin has actually been outperforming the rest of the country in manufacturing, with those jobs up 6.2 percent here vs. 3.9 percent nationally over the last two years.
Where the state is badly lagging is in the retail trade, food service, transportation and business services sectors — areas related more directly to consumer spending.
"People are still eating out but where we've felt it is in the banquet business," says Ed Lump, president of the Wisconsin Restaurant Association. "Things like weddings or corporate parties, things that are easy to cut or downsize, haven't really recovered."
New estimates from the Bureau of Labor Statistics show Wisconsin ranking a dismal 49th in the growth of its service sector last year. Only West Virginia and New Mexico were worse. The numbers appear more dire when you consider that the service sector — everything from retail and health care to insurance and information technology — represents nearly half the Wisconsin economy. (That data is available here. Select "Wisconsin"under state profiles at the top of the page and click "All Tables")
Take American Family Insurance for example. The Madison-based giant has seen its Dane County employment fall from 3,759 a year ago to fewer than 3,500 today. Those cuts, through layoffs and attrition, are directly related to a soft economy, especially in Wisconsin where American Family is the leading home and auto insurer.
"It's a ripple effect," says company spokesman Steve Witmer. "As the economy continues to drag, people aren't stepping up into new homes or cars."
The question for lawmakers is where to go at this point.
As the Legislature's new session gets under way, with both sides saying they're focused on expanding jobs, Republicans are pinning their hopes on a bill that would relax regulations for iron ore mining in the state. A Florida-based coal company has an option on a vast iron ore deposit south of Ashland and says it could invest $1.5 billion into the project if Wisconsin can streamline the permit approval process. The payoff: an estimated 2,100 short-term construction jobs and another 700 jobs over the estimated 30-year lifespan of the mine project.
But critics have noted that even the most optimistic projections on job creation from a new mine would barely make a dent in the state's current 243,000 "jobs deficit." That figure, from the Center on Wisconsin Strategy at UW-Madison, represents the 153,000 jobs lost since the recession ended in 2009 — plus another 90,000 needed to keep up with population growth.
Democrats, meanwhile, are pushing a package of proposals they say will create jobs more quickly, close the skills gap and help the middle class. They include delivering grants or loans to new businesses rather than tax credits, which are of little value to a company just getting off the ground with no profits to report.
"There is nothing more important right now than trying to put people back to work immediately," said Assembly Minority Leader Peter Barca, D-Kenosha, during a news conference last week.
Two of the Democratic proposals on angel investing and grants for start-ups were actually floated by Walker during his special session on jobs two years ago but were taken out by spending-averse Republican lawmakers.
And given that Republicans control both houses of the Legislature, the Democrats will have trouble moving their ideas forward.
"The Democrats have zero credibility when it comes to job creation, and their 'new' ideas are the same as their old ideas," said Tom Evenson, a spokesman for Senate Majority Leader Scott Fitzgerald, R-Juneau, in dismissing them last week.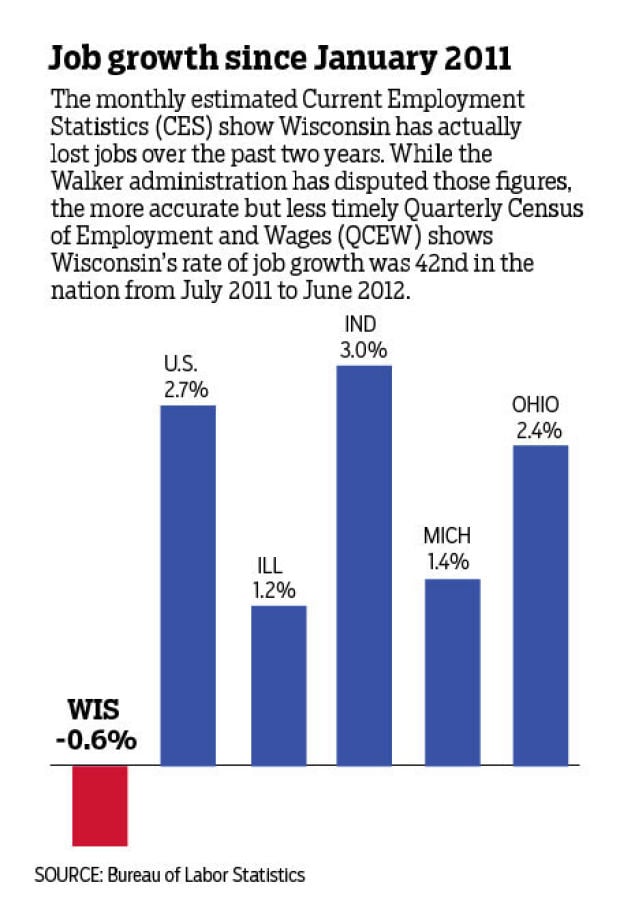 One economy-stimulating item sure to gather support from Republican leaders is Walker's proposal for a middle-class income tax cut, estimated at about $200 for the average taxpayer.
"We're going to put more money in the hands of the hard-working taxpayers," Walker said during his State of the State address in January, where he also doubled down on his pledge to create 250,000 jobs by 2015. The governor remains more than 200,000 jobs short of his goal, according to most estimates.
Factory and farm owners in Wisconsin are also due to start collecting from a new tax credit that kicks in this year. The credit, which practically eliminates taxes for those business owners or shareholders, will cost the state $360 million in revenue over the next four years and some $130 million each year thereafter, according to the non-partisan Legislative Fiscal Bureau. Critics warn the impact could be even greater, since it allows the credit to be applied to other incomes such as stock dividends or capital gains.
But Jon Peacock of the liberal-leaning Wisconsin Budget Project argues that income tax cuts and credits always skew toward upper-income earners and have little documented trickle-down effect. He adds that 40 percent of Wisconsin residents are now making so little money that they pay no state income tax, so any cut will do nothing to help them.
If economic stimulus is the goal, Peacock says, restoring the cuts that were made to the Earned Income Credit or Homestead Credit would go a lot further. The last state budget cut by some $70 million those two programs that benefit low-income residents.
"When you're trying to balance the budget, the question should be how do you minimize the effect on jobs and local economies?" he says. "You don't do that by taking money out of the pockets of low- and middle-income people and giving it to the wealthy, which is what the last budget did."
National pundits like Paul Krugman of the New York Times have been debating the question of budget cutting vs. government stimulus, noting that the austerity measures in Europe have actually led to higher unemployment and a double-dip recession. They have warned that spending cuts in the U.S. could send the economy back into a tailspin just as it's regaining its footing.
But John Koskinen, economist with the state Department of Revenue, contends the only alternative to spending cuts in Wisconsin is higher taxes.
"The state of Wisconsin and its local governments cannot engage in deficit spending, unlike the federal government," he says.
Going forward, many are focusing on the Wisconsin Economic Development Corp., the quasi-private agency created by Walker to jump-start job creation efforts. But the agency that replaced the stimulus-delivering functions of the former Department of Commerce has been fraught with problems, including losing track of millions in loans and state subsidies.
Walker has since retained former Marshfield Clinic executive Reed Hall to head WEDC after a nationwide search failed to turn up any better-qualified candidates willing to cast their fortunes with the embattled agency. Hall's resume includes serving on the executive committee of Wisconsin Manufacturers & Commerce and the board of the Wisconsin Alumni Association.
Wisconsin has long struggled to retain leaders of its job-creation efforts. Former Gov. Jim Doyle went through multiple Commerce secretaries during his two terms, including Cory Nettles, Mary Burke, Jack Fischer, Dick Leinenkugel and Aaron Olver.
"Reed is a good guy and a smart guy," says Tom Hefty, a long-time advocate for growing Wisconsin's new economy. "More importantly, although he's from north-central Wisconsin, he brings important connections to the UW-Madison, a key link to that engine of economic development."
But University of Missouri economist Thomas is skeptical of government subsidies to private business in general. He notes that for the $600 million Wisconsin handed out to private business in 2011, it could have hired more than 9,500 state workers, each at an average salary and benefit package of $63,000.
"What Wisconsin needs to do is invest more in education and infrastructure and less in subsidies to business," he says. "That is the path to long-term growth."