What now? Scott Walker returns to Wisconsin after failing on the national stage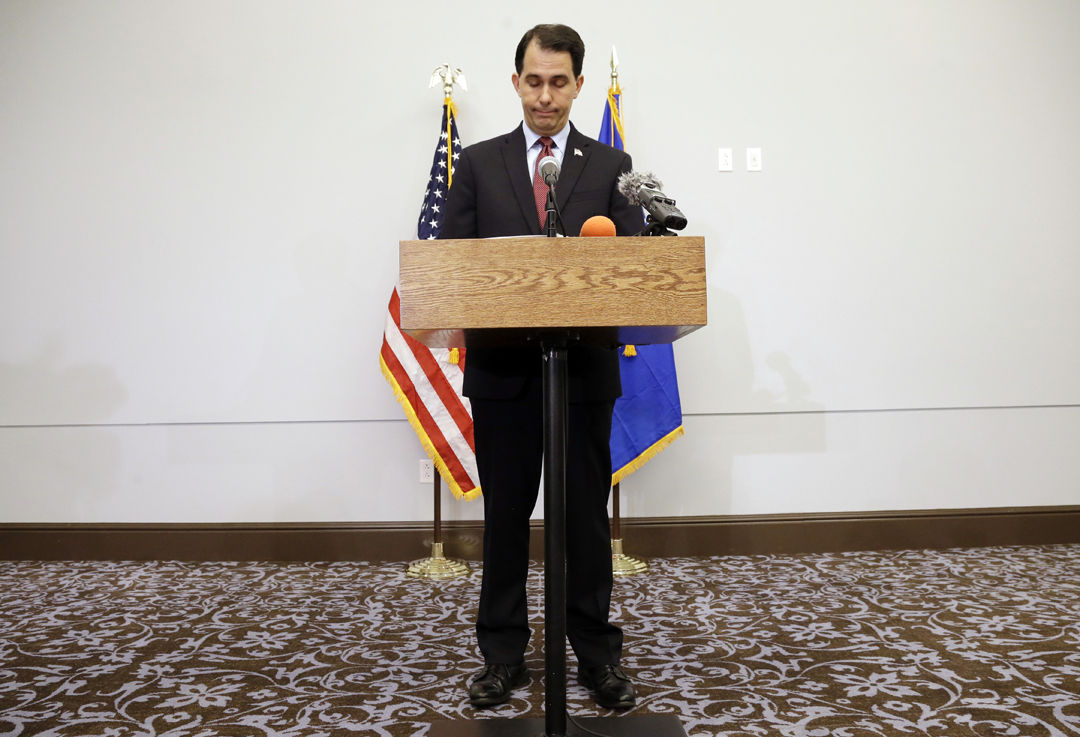 Making one of his first public appearances in Madison in months, Walker strode somberly into a ballroom at the Edgewater Hotel just after 5 p.m. His sons, Matt and Alex, stood watching from a doorway across the room as he approached the podium.
There was no throng of national reporters, no fanfare, no backdrop other than the Wisconsin and U.S. flags behind him. Just a short speech read from a white piece of paper, clocking in at no more than five minutes. He exited the room quickly, taking no questions.
Walker, who had spoken before about being called by God to serve as Wisconsin's governor and to run for president, mentioned a new calling.
"While I was sitting in church yesterday, the pastor's words reminded me that the Bible is full of stories about people who were called to be leaders in unusual ways," Walker said. "Today, I believe that I am being called to lead by helping to clear the race so that a positive conservative message can rise to the top of the field. With that in mind, I will suspend my campaign immediately."
The announcement came just one day after Walker showed up as an "asterisk" in a CNN poll — earning the support of less than 0.5 percent of national voters. It's been a sharp plummet for Walker since he surged out of the gates in January and enjoyed frontrunner status throughout the spring. What started as a prolonged slump at the beginning of the summer turned into a nosedive by the end of it.
Still, despite the campaign's recent woes, political activists and analysts were surprised the announcement came when it did.
"Everybody's pretty damn stunned by this one," said one Iowa GOP operative.
"Stunning" was the same word Mike Wagner, a University of Wisconsin-Madison professor of journalism and political science, used.
"I think it is shocking that someone who, as a Republican, won three elections in Wisconsin, has dropped out before the first ballot was cast. That is stunning to me," Wagner said.
It was particularly surprising, Wagner said, that a sitting governor who racked up some early endorsements and amassed a national network of donors during his 2011 recall election couldn't make it through September with those tools at the ready.
Brian Fraley, a former Republican operative who now owns the Brookfield consulting firm Edge Messaging, said he didn't expect the announcement, but understood it.
"The needle he would have had to thread to remain viable was too narrow, and with (Donald) Trump still in, the race is too unpredictable," Fraley said.
Walker alluded to Trump's effect on the race in his speech.
"President (Ronald) Reagan was good for America because he was an optimist. Sadly, the debate taking place in the Republican party today is not focused on that optimistic view of America. Instead, it has drifted into personal attacks," Walker said. "In the end, I believe that voters want to be for something and not against someone. Instead of talking about how bad things are, we want to hear about how we can make them better for everyone."
He called for other candidates to follow his lead in winnowing the Republican field, in an effort to narrow the selection to "candidates who can offer a positive conservative alternative to the current frontrunner."
So far, no candidates have taken him up on his suggestion. But candidates including Trump, former Florida Gov. Jeb Bush and Florida Sen. Marco Rubio praised Walker in statements and tweets, complimenting his record as governor and his political future.
Wagner said Walker's brief speech sounded like the one of someone who's leaving himself open for future runs for office, or perhaps a shot at the vice presidency.
And for Walker, the future holds plenty of possibilities. He could run for a third term as governor. He could challenge Democratic Sen. Tammy Baldwin in 2018. He could become a political commentator on cable TV. He could even leave politics entirely — though no one's expecting that.
"Scott Walker was quickly exposed as a career politician who will say and do anything to try and win an election and this year, the GOP primary voters aren't interested in drinking that shandy," said One Wisconsin Now executive director Scot Ross. "When faced with a real choice, Republicans voters choose, literally, anyone but Scott Walker. It's not the first time Walker's left a primary early that he couldn't win. He'll be back. Campaign politics is all he knows."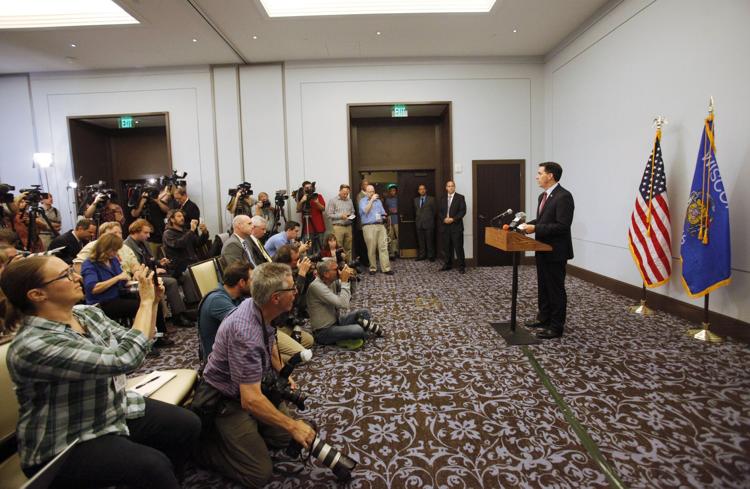 For the time being, Walker has three years left to serve in his gubernatorial term. He may have a few fences to mend, Wagner said.
Some Wisconsin Republicans took issue with Walker's characterization on the campaign trail of the battle over Act 10, his controversial legislation that curbed collective bargaining rights for most public employees. Walker said he had to take on his own party, including Republican lawmakers, to pass the bill — but GOP leaders said they put up no resistance. Walker later said he had been referring specifically to two Republican lawmakers.
The governor also took some flak for the amount of time he spent traveling the country as he ramped up his presidential bid.
"I think it's possible that Republicans in Wisconsin who have their eyes on the next several years and are ambitious might be harder to deal with if he comes back and looks like he wants to run for another term," Wagner said.
Still, Assembly Speaker Robin Vos, R-Rochester, said Wisconsin is "fortunate" to keep Walker for the full term.
"Gov. Walker has an amazing story to tell about turning Wisconsin around. It is unfortunate that the bluster of candidates overshadowed his substance," Vos said. "I look forward to working with Gov. Walker on additional reform measures throughout his second term in office. The nation's loss is truly Wisconsin's gain."
Assembly Majority Leader Jim Steineke, R-Kaukauna, tweeted, "Welcome back @ScottWalker Know it's disappointing but we still have a lot of work to do here & u r needed."
"Sad to see @ScottWalker drop out — he would have made an exceptional prez," Sen. Leah Vukmir, R-Wauwatosa, tweeted.
Wisconsin Democrats were quick to declare Walker's departure from the race as a defeat of his politics and policies.
Sen. Lena Taylor, D-Milwaukee, said she hopes his decision to drop out will provide "an opportunity for reflection and a reexamination of the many harmful policies he has enacted."
"The lack of support for Gov. Walker's presidential campaign is a clear rejection of 'divide and conquer' politics and a sign that hardworking families want leaders who are willing to work together toward a brighter future," said Senate Minority Leader Jennifer Shilling, D-La Crosse.
Walker's most recent poll numbers were "pretty devastating," said Charles Franklin, who runs the Marquette University Law School poll. Franklin noted that the asterisk wasn't the result of outliers, but the culmination of a two- to three-month downward trend. That continued loss of support meant the governor became the subject of more stories about the state of his floundering campaign than stories about him "riding high, or even riding a Harley," Franklin said.
"Walker's super PAC was reportedly sitting on perhaps $20 million, which could have provided cover over the air and on the ground, but he still needed to keep the lights on at campaign HQ," Fraley said. "He was faced with the choice of slashing staff by 80-90 percent and limping into the caucuses, or cutting the cord."
Steffen Schmidt, an Iowa State University political science professor, said the same event that propelled Walker from sleeper candidate to top contender — January's Freedom Summit, hosted by Rep. Steve King, an Iowa conservative — ultimately did him in.
"Steve King's event was the kiss of death because Walker peaked early and thought he was 'the chosen one,' which it turns out he was not," Schmidt said.
Some have suggested Walker's team wasn't prepared for him to surge as early as he did, which left him looking "not ready for prime time."
"Rather than introduce himself for the first time to people as the bold person who takes on liberal sacred cows and liberal territory and wins, he came off as maybe a flip-flopper, maybe someone who wasn't quite ready, and the media narrative quickly shifted against him," Wagner said.
The national narrative doesn't generally drive a candidate out of the race, Wagner said, but with such a crowded field, it's hard to regain any ground that's been ceded.
As recently as Sunday, Walker seemed prepared to combat his sinking support, shaking hands with voters at several events in Iowa.
Walker told McCormick he planned to spend most of his time in Iowa, the home of the first nominating contest of the presidential election, along with fundraising trips and visits to South Carolina and New Hampshire.
"Speaking to reporters in Amana, Walker said he's convinced the donors in his database of 350,000 supporters from all 50 states will stick with him, in part on the strength of that network," McCormick wrote.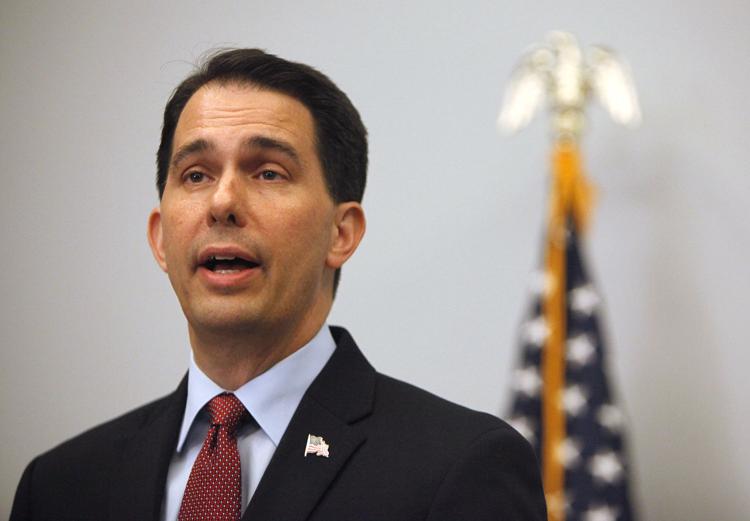 Ryan Frederick, chairman of the Adair County (Iowa) Republican Party and secretary of the Republican Party of Iowa, thanked Walker for his commitment to Iowa's caucus process.
"He came here early and often, and brought a record of Republican accomplishment with him to many of the discussions here in the early months of the primary," Frederick said. "The Republican Party is blessed with a field that is diverse politically as well as demographically, something the party opposite cannot lay claim to. The candidacies of Scott Walker and the other fine Republican candidates we've had this cycle represent new and innovative ideas, not the old one-size-fits-all mentality of Democrats in Washington."
One Iowa Republican operative said Walker may have suffered from the demise of the Iowa Straw Poll, suggesting the governor would have won the contest and benefited from a strong show of support.
Liz Mair, a Republican strategist who has worked for several presidential candidates, including Walker, said the governor misunderstood the GOP base and its priorities, which led to appearances of pandering and flip-flopping. Mair also said Walker hired staff who didn't have a deep understanding of his record in Wisconsin and who marginalized and cut off people who helped Walker win and hold onto the governor's seat.
Mair was referencing several longtime Walker aides who had no direct involvement in his presidential campaign. Keith Gilkes and Stephan Thompson, two of his former top advisers, ran the pro-Walker Unintimidated PAC. Doing so barred them under federal law from communicating with Walker or his campaign.
Walker became "so invested in winning, no matter what it took, that he lost sight of his real identity as a political leader," Mair said.
Schadenfreude on the left
Walker's departure from the race prompted celebration from groups like the AFL-CIO and NARAL Pro-Choice America.
AFL-CIO president Richard Trumka, who on the day of Walker's campaign announcement called the governor a national disgrace, said this: "Scott Walker is still a disgrace, just no longer national."
"Hey Scott Walker, as one of the most anti-choice politicians in the race — not to mention a hypocrite — don't let the door hit you on the way out. Also, we're curious, do the Koch Brothers get a refund?" quipped NARAL Pro-Choice America president Ilyse Hogue.
Fraley chuckled at those reactions.
"The joy of the hardcore Walker haters is amusing, however," he said. "His presidential campaign is over, but he's still the governor. Act 10 is still law in Wisconsin. Tort reform is still on the books. His tax cuts remain. The fate of his presidential campaign does not undo his accomplishments and does not make (Milwaukee Mayor Tom) Barrett or (former Trek executive Mary) Burke or (appeals court judge JoAnne) Kloppenburg victorious."
Share your opinion on this topic by sending a letter to the editor to tctvoice@madison.com. Include your full name, hometown and phone number. Your name and town will be published. The phone number is for verification purposes only. Please keep your letter to 250 words or less.