Chad's Design Build - Intelligent Design & Quality Craftsmanship - Madison's Finest Remodeling Contractor Since 1992 (608) 221-1799
Details for Chad's Design Build - Intelligent Design & Quality Craftsmanship - Madison's Finest Remodeling Contractor Since 1992 (608) 221-1799
Chad's Design Build is Madison's finest remodeling contractor, offering intelligent design and quality craftsmanship on additions, kitchens, baths, basements, attics, porches, windows, and doors.
We specialize in old house renovation and restoration, and we are dedicated to being the most knowledgeable remodeling contractor in the Madison area.
Since 1992, our company colors of Green and Gold have symbolized our most cherished values and priorities.
Green symbolizes our commitment to energy-efficient, durable, sustainable, and healthy building practices.
Gold represents the value of an excellent long-term investment in your home, which we provide to every client.
Together, green and gold reflect the intelligent design and quality craftsmanship that we've blended into each project since 1992.
Intelligent Design • Quality Craftsmanship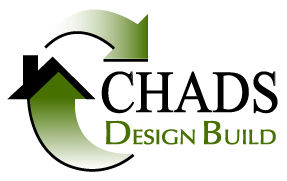 Chad's Design Build
Serving Monona and surrounding areas.
608-221-1799
Fax: 608-221-1809