The Beer Prof is getting his own place.
Keith Symonds — a master beer judge, consultant and the host of "Beerpocalypse Now," a cable access television show — will open a brewpub this year on the East Side.
A New York native, homebrewer and longtime beer aficionado, Symonds is working with Madison native Pepper Stebbins and private investors to spend $500,000 to convert a former appliance repair store at 2439 Atwood Ave. into Next Door Brewing Co.
The 4,700-square-foot business, scheduled for completion this year, is the newest example of the continued growth of the craft beer industry, many of them on Madison's East and Far East sides.
"We're going to have a very dense population of breweries in a pretty small area," said Peter Gentry, who opened One Barrel Brewing Co. in July. "Hopefully it will become like a mecca, a destination for people to come down and try different beers."
Gentry's original business plan called for brewing eight barrels per month. He's now doing 20 a month and sees no reason Next Door can't have similar success.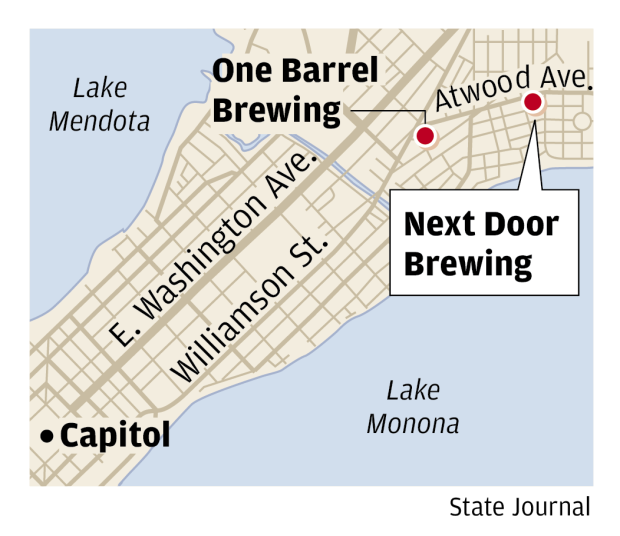 The project, which will go before the city's Alcohol License Review Committee next month, will employ up to 30 people, have the ability to brew three barrels at a time and produce about 500 barrels a year.
The 100-seat restaurant and bar will offer local food and collaborate with area businesses and organizations to create specialty beers.
"A really big part of our concept is to bring in the community and we wanted to be in a place where people could just walk in," Symonds said. "We really do want to fit into the neighborhood."
The brewpub would be next door to Bunky's Cafe and across the street from St. Bernard Catholic Church. The business is on a bus route, a block from a bike path and in the same neighborhood as the Barrymore Theatre, home to concerts and other live events.
Stebbins, 48, grew up on the East Side and spent 12 years in Brazil where he worked for a wood company in the Amazon and later ran a bed and breakfast. He moved back to Madison about six years ago and spent four years working at the Great Dane at Hilldale. That's where he met Symonds, who was a frequent customer. Stebbins tends bar at the Malt House and has worked at Weary Traveler Free House and Vintage Brewing Co.
"I've been looking for somebody to do this with and we complement each other very well," Stebbins said of Symonds. ""We're very open and transparent with each other."
Symonds, 49, is more than just a homebrewer. He's been involved with several brewery operations, primarily out East, and served as a consultant for Page Buchanan and his House of Brews that opened in 2011 at 4539 Helgesen Drive. He's also held leadership roles in the Madison Homebrewers and Tasters Guild and has judged beer at more than 100 events. (See www.beerprof.com.)
"It's a dream that is decades old," Symonds said of his own operation. "It's been a long, long time coming."