It takes 60 steps to walk between the offices of Metta Monday Creative and Hinckley Design and Production on the third floor of the Madison Enterprise Center.
They're remarkably close in distance and medium. They both deal in video production and have collaborated on some projects.
Yet when you take those 60 steps between offices you discover two distinct environments: one of an up-and-coming company still trying to create its surroundings and another that has established its space over several years.
Metta Monday has been in the building only since February and co-owners Megan Monday and Brijetta Hall Waller haven't gotten around to getting much on the walls beyond two cork bulletin boards surrounding a white board where the day's tasks get scribbled.
"We still feel like we're stretching out and figuring out how the space works for us," Monday said.
Their 312-square-foot unit works for meetings, work space, bike parking and storage for containers of photo- and video-production equipment. Having to keep the latter in the open has accelerated a search for a bigger space in the building.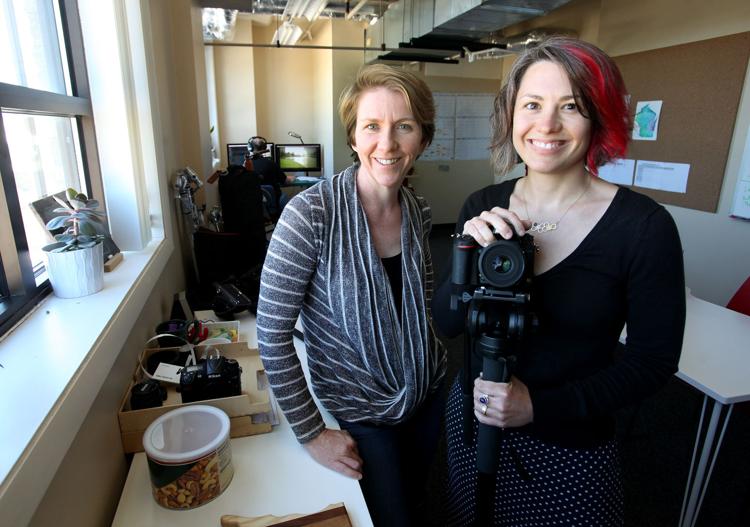 "We'd like this to be a nice, clean office that feels very productive," Waller said. "And we end up having a lot of equipment."
Sixty steps away, Natalie Hinckley freely admits that her larger work environment resembles an oversized college dorm room.
There are music posters on the walls above the computers and an acoustic guitar next to the couch. At one point, a conference table sat in the middle of the room, but it was replaced by a foosball table.
Sammie, a 3-year-old springer/blue heeler mix, roams the room along with Hinckley and assistant director Ben Schwartz.
Hinckley has occupied this space for the last four years, growing the video-production business that she started in her bedroom in 2007 after quitting her job as a UW-Madison web designer.
"I just really want it to be a comfortable space where I wanted to go to work every day," she said.
Nearing the five-year limit for most companies at the Madison Enterprise Center, Hinckley is looking for a new location for her company, which she said is soon to expand to three full-time employees.
She said the feeling of community in the building will be what she misses the most.
"Wherever I'm going to go, I want to have other people that I can see every day or just think about what other people are doing outside of our little bubble," Hinckley said.
Hinckley Design and Production works on branding and testimonial videos for companies like Lands' End and Duluth Trading Company as well as event production with live streaming for clients such as Madison's WMMM-FM and Edgewood College.
It also has helped out its neighbors. When Metta Monday needed some editing work done on a tight deadline, Hinckley was just down the hall.
"That was really fun because we went down the hall and it's a different vibe in there, a little bit of a bigger place but really fun to just go hang out," Waller said. "In that process, we also learned from them how they've grown. They've been around a little bit longer. We had a really good conversation and we continue to have them as a good business to chat with about work."
Collaboration takes place all around the building. When Metta Monday needed to update its release forms, co-owners Waller and Monday walked over to attorney Joel Bardsley's office.
Waller is a documentarian by background and Monday's experience has been in documentary photography. In business since August 2013, Metta Monday has done work in digital visual marketing and strategy for Midwest Environmental Advocates and UW-Madison.
Their immediate surroundings may not look exactly the way they want them yet, but the building has provided inspiration on a larger scale.
"This is a building that supports the growth of businesses, so that actually helped us make the leap," Monday said. "And that's the design of this, right? To give businesses a physical space upon which they can leap into the next."