Karen Orr was standing outside a strip mall in La Crosse in late 2013, waiting for a friend to join her for Christmas shopping, when she was "struck with an idea from the great Lord above": A baby monitor, but for dogs that have been left in cars.
Orr, a Madison-based surgeon, had no background in technology or engineering, but she did have a desire to "end the madness" of dogs dying in overheated cars. Because of that verve, Orr is now engineering prototypes of the iMyK9 — a smart device that lets owners watch camera footage of their pet on their cellphone, while monitoring temperature and humidity to boot.
The device is more than just a novel piece of technology. It's also an example of how a global, buzzword-y trend has begun to take root in Madison: the "Internet of Things."
The Internet of Things — also known as IoT — refers to the growing body of stuff in our lives that can collect data and "talk to each other" via WiFi, cellular connections or any other kind of network. It includes anything from the popular Fitbit wristband that tracks a user's workout and coffeemakers you can control via a smartphone, to DVD players, traffic cameras and weather stations.
Bob Baddeley is a serial entrepreneur who has engineered a number of IoT devices; currently, he's working on the Allergy Amulet, an IoT device that can help identify allergens in food. He says that the Internet of Things is just the next step in the history of computing.
"We started with computers that were dedicated to a whole building. Then computers were inside a room. Then we had computers on a desk. Now, the computers are everywhere," he said.
IoT is an increasingly visible phenomenon in Madison, and not just because of consumers who are buying "smart" thermostats or voice-recognizing home assistants like Alexa. There's also a growing class of entrepreneurs in town who, like Orr and Baddeley, are working on innovative devices of their own.
Propeller Health has been making waves with its smart asthma inhaler attachments, which can help people with respiratory conditions monitor their health. Weightup Solutions uses wearable technology to collect data that can help athletes with their weight-lifting routines. And just last week, the Greater Madison Chamber of Commerce named OneEvent Technologies the city's "most innovative company" for its software that monitors safety conditions inside buildings via smoke detectors.
According to University of Wisconsin-Madison engineering and business professor Raj Veeramani, IoT is not just a startup trend. All manufacturers have to adjust to an IoT world if they want to stay competitive, he said.
"Every company that's manufacturing a product is coming to terms with the idea that it needs to make a connected product strategy," he said. "All of these companies need to understand what it means to be in a connected world."
Veeramani is the director of the university's Internet of Things Lab — a unique academic institution the school founded in 2013 as a "sandbox" for student and faculty experimentation within the growing field.
He said that the lab is conducting some critical research on IoT — currently, it's examining consumer perceptions of IoT technology. In addition, the lab is partnering with companies like Milwaukee's Johnson Controls to improve the ways that manufacturers can use IoT for equipment diagnostics.
"We've created a unique university-industry collaboration," said Veeramani.
Madison is also home to a burgeoning Meetup group for people interested in IoT. Jeremy Udovich is the sales director for the Atlanta-based company HiQo Solutions, which specializes in building out IoT products. He said he wanted to launch the Meetup group after seeing similar groups succeed in places like Chicago. Plus, he said he was inspired by the bright ideas he's seen in the Madison community.
"I just felt like there's got to be this ecosystem here," he said. "If we just connect a lot of people, we can make a lot of cool things happen in Madison."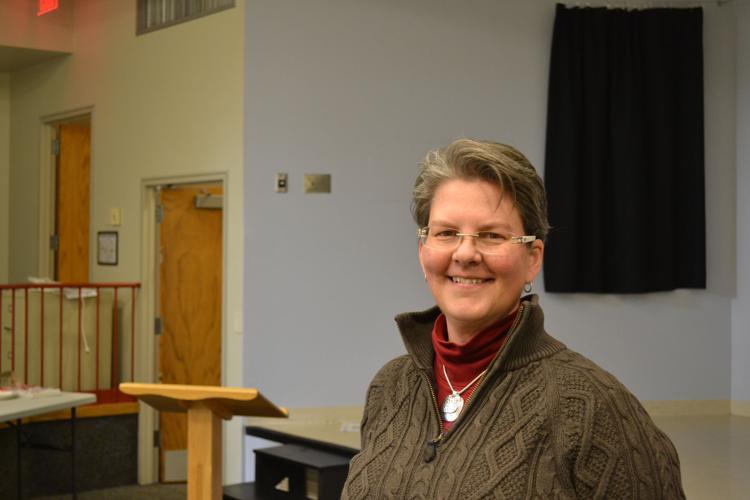 Clearly, IoT has taken root in Madison — and with it, so have privacy and security concerns.
It's easy to imagine that an interconnected web of smart devices collecting troves of data could be abused. In fact, there have already been some ugly real-world examples.
In October, a massive cyberattack took down dozens of major websites, from Spotify to The New York Times. Officials said that the attack was executed via thousands of IoT devices that had been hacked.
According to Udovich, ethics and security are "almost always" part of the IoT conversation. That much was clear at a recent Meetup at the Monona Public Library last week. When Orr and Baddely talked about their enterprises as part of a panel discussion, they ended up fielding a slew of questions on legal issues, privacy, and security.
"We're just collecting the minimum data necessary," he said.
One audience member in particular, a young engineer, expressed concern over the potential for Orr's dog-monitoring camera to get hacked by bad actors. Orr said that she appreciated the concern, and that she was following security protocols to help safeguard the device. However, she acknowledged that the system was not hacker-proof.
"If people are really smart and they want to get into something, they're going to get into it," she said.
The audience member, who refused to give his name, later said he wasn't thrilled by the answer.
"These people have great intentions," he said after the event. "But even with the best of intentions, things can still go wrong."
Veeramani said that it's never possible for a system to be 100 percent secure. However, he said that security concerns shouldn't make people afraid of IoT. The potential for automation and optimization of tasks in our day-to-day lives is tremendous, he said. Plus, the predictive and self-aware capabilities of smart devices are helping make bold and innovative ideas like the self-driving car a reality.
There may be limits to the "promise" of IoT. Baddeley said he's encountered some pretty dumb IoT devices — for example, the erstwhile Egg Minder, a smart egg carton that could keep track of how many eggs were left in the refrigerator. The problem, said Baddeley, was that the signal from the device wasn't able to actually leave the refrigerator.
"You could say that, 'Oh, this is an internet-connected egg-holding device.' And you might get some press from it, because it's a ridiculous idea and the news is, 'Look, we're adding internet to everything,'" he said. "But the internet-connectedness has to add value."
Meanwhile, the "Internet of Things" continues to be a huge tech buzzword. However, it seems to be less of a recognizable phenomenon among the general public. Orr said that she doesn't typically talk about the IoT dimension to the iMyK9.
"It's too geek," she said. "I want to keep it simple."
The approach may pay off. IoT nerds and investors may look at her idea with skepticism, said Orr. Pet owners, she said, "get it instantly."