Art galleries are fine. But why go look at a piece of art on a wall when you can wear it outside?
Meeta Mastani, the fall UW Arts Institute Interdisciplinary Artist in Residence, firmly believes that great art can be imperfect and impermanent. The Dehli native goes into small villages in rural India to work with locals on printing and dyeing techniques that go back many generations, and then updating those techniques into a more modern fashion.
At the UW, she's teaching a class on print and dyeing, with an emphasis on adding a political or cultural dimension to students' work. She also has a few public events, including hosting a talk by artist Lakshmi Narayan Kadambi at 5 p.m. Tuesday, Oct. 18 at L160 Elvehjem Building, 800 University Ave. She will also take part in the Annual Conference on South Asia at 8:30 a.m. Oct. 21 at the Concourse Hotel. Her semester at the UW will end in December with the fabrics created in her class used in a new dance by Li Chiao Ping. Details are still being worked out about that event.
Mastani, who brought a bag full of gorgeous handmade T-shirts and scarves to the interview, talks about her work in India, collaborating with UW students, and how we create art every time we get dressed for work in the morning:
Impermanence and variation seems to be a big part of your art. You're drawing the distinction between imperfection and variation.
Why do we need it to be always there? Why do we need it to be the same? When you machine dye or chemically dye a piece, the idea is that it should look exactly the same. The beauty of variation and also that it's not going to stay, and that's fine.
Instead of you standing up and talking, it was get your hands dirty.
The whole thing I was very clear, I wanted students who were very happy to do dirty stuff. They should be comfortable and not feel that this is not okay.
The Western idea about art is that it's something on a wall, behind Plexiglas, that you can't touch, and it stays the same forever. That's completely different from how you approach it.
Completely different. I love that art too. It has it's place. For me personally, my art galleries are the streets. I've been to practically every city in the world and seen some of my work. For me it's everyday art.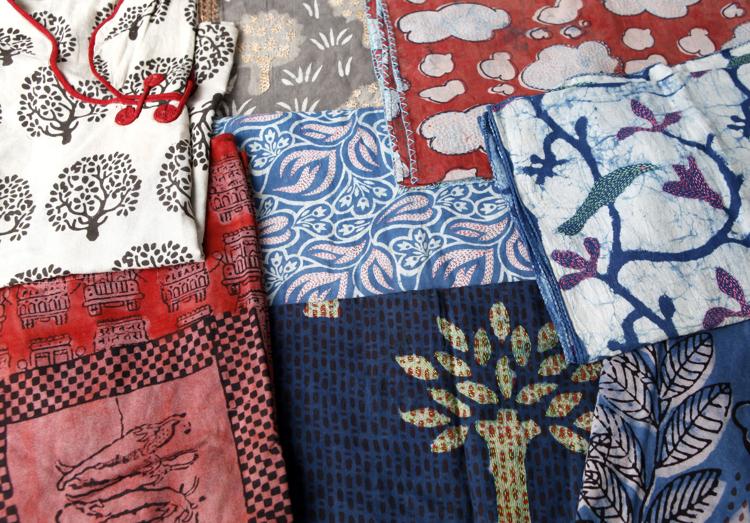 You've said you see the human body as a canvas?
For me, it is. That's the thing about permanence. When you have something that's there all the time, you stop looking. We need change. When the sun is setting, that's when you go look at it. This is a way of changing your expression every day.
Do you think textile art is undervalued?
It is undervalued, but for me it's still as pleasurable. It depends on the person. There are many people who really do choose their clothes with a lot of care. It is a form of expression that everyone has. When you dress yourself and do it consciously, they're expressing themselves through their clothes, the image they want to put forward. In that sense, everybody is an artist.
The combination that you make is going to be uniquely yours. It's different than what I will do with exactly the same thing. You will drape it differently, you can dress it up with something else. It's participatory in that sense. I feel very good, very lucky that I get this opportunity.
Is this something you've done all your life?
I've been doing is for 25 years now. I worked with an NGO and with craftspeople initially. I don't come from a trained art background. It satisfies both sides. I'm able to have relationships with people who I would otherwise not be able to meet that easily. Because I work with them, there is a sense of trust. I learn a whole new way of being myself, because culturally, rural and urban India are very different. It gives me a chance to live other lives and see other worlds that I wouldn't otherwise.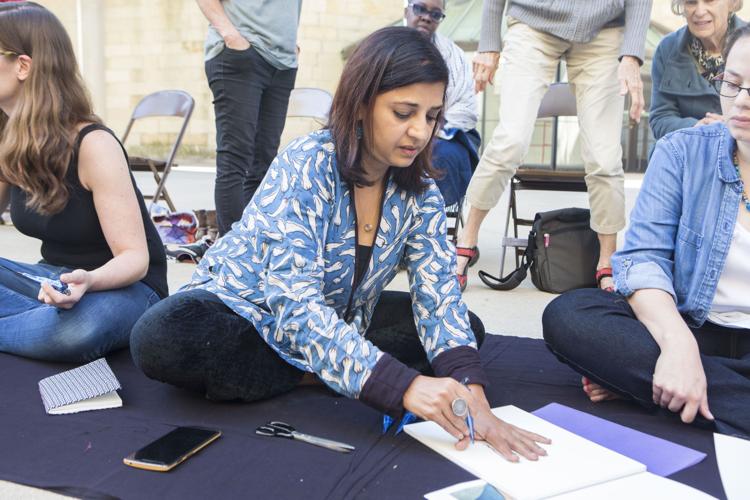 How is it different?
In the city, we are so used to being upfront and straightforward. There's a gentler way – which can also drive you crazy – in rural India, because they don't tell you what they really think. I've grown up in a city. I don't have a village background, because my folks came to Delhi from what is now Pakistan. It's nice. It's like having a large family, which I don't have in the city.
I can express what I see and what I feel through my work. I can change it. I can play with it. It's a wonderful combination of being with people and being able to play. It's a luxury. It's a lot of hard work and skill, but it's not huge technology. So it can be done very, very quickly.
The entire process is hand-done, and intensive. It's a lot of work. You can be creating a story. It's a totally different way of printing.
Are these old techniques you are preserving?
I am contemporizing traditional techniques. I work in other media as well. I work intensively in textile, but I work with paper, I work with wood, I work with metal — all with people have very good hand skills. They have the trust and the faith to teach me their skills, because I need to know that in order to play with it and change it. Together we come up with interesting things.
How did you contemporize these traditional techniques?
It's subject matter and technique both. Not coming from the tradition really helps, because I don't know the "This is blasphemous, you can't do that!" I can play around and come up with new things.
It's like traveling. It gives you a cleaner eye because you're out of context. Because I'm out of context, I have a different way of seeing their work. And it reflects back. They see me looking at their work, and then they can see it a little more as outsiders. And together we can come up with something that's new.
How are your students in Madison?
It's a great bunch of students. They're thoughtful and they're from different backgrounds. I love that coming together, when there are different kinds of people, and together you make something that is the sum of its part. I would like that to be part of our work here.
What's it like to make these pieces?
The process is as or more important as what comes of the art. It's the beautiful piece that you put on the wall, that you wear. But the experience of making it, it works out something with in me. It helps clarify my mind, it helps me feel something. It's okay if the piece doesn't stay forever. We have had that experience. The product is important. But so is the process.