For his latest role, James Taylor Odom has become a bit of a chameleon.
Odom, who is 27 but "reads older," was recently cast in the national tour of "A Gentleman's Guide to Love and Murder," which has its official tour opening in Madison on Oct. 3.
Following in the footsteps of the exceptional character actor and Tony winner Jefferson Mays, Odom plays the entire D'Ysquith family (pronounced DIE-squith). Odom's characters range from a drunken old preacher and an eccentric beekeeper to a bodybuilder and a terrible, flamboyant actress.
In the course of "Gentleman's Guide," a goofy comedy set in early-20th century Britain, our (anti)hero Monty Navarro (Blake Price) must bring all the D'Ysquiths to an untimely end so that he can claim his family inheritance. The story was inspired by a book and a film, the dark comedy "Kind Hearts and Coronets" from 1949.
Part of how "Gentleman's Guide" entertains onstage Odom's many transformations.
"The audience is rooting for each death," Odom said, "because they get a chance to see that actor get to explore clever ways of dying and coming back to life."
"Each time, there's the promise — he just died, but he's coming right back."
When Odom spoke to The Capital Times, he was completing rehearsals with the newest cast, which has a few preview performances in Elmira, New York, before heading out on the road.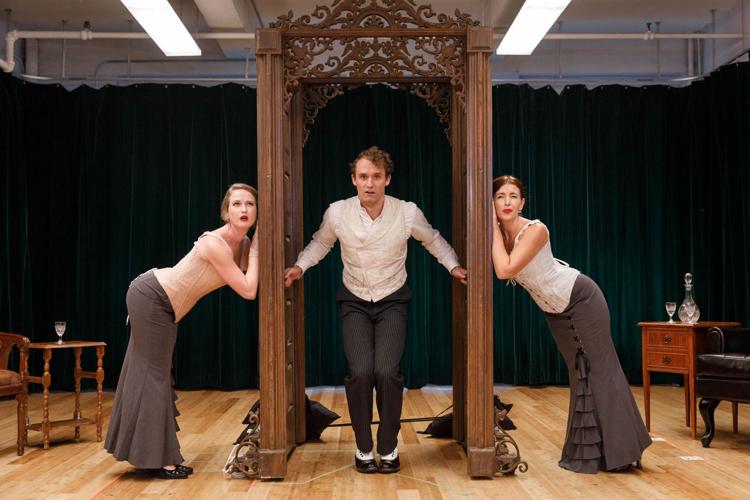 The Capital Times: In this show, getting cast in one role really means playing eight different people. Have you done anything like this before? James Taylor Odom: One of the things which has helped me be more prepared for a role like this was "Murder for Two." It's a musical with two guys and both play the pianos. One guy was the detective and I played 13 different characters in 90 minutes. Doing that role helped me craft the kind of skills that are necessary to do a show like this.
When I was in graduate studies, we did a lot of work on one person show material and technique. "Gentleman's Guide" requires same technique, really defining all of these different characters, making them unique and distinguished for the audience so they know it's not the same character they just saw.
The tone of the show seems potentially challenging. This guy is killing people off, but we're supposed to root for him?
It is a comedy, and a lot of people can be confused as to what to expect from this style of show. We're following the journey of this serial killer as an anti-hero, but it's all done with humor.
People always ask if it's a gory show and in no way is it that. The D'Ysquith family is hysterical.
And Monty is onstage the entire time; I'm not sure if he ever leaves. He's got to be charming enough that the audience is willing to go along for the ride.

As an actor, what made you interested in this show? I've been a lover of all things British since I was 5, watching PBS Mystery or Masterpiece Theatre. Being a lover of Oscar Wilde as well as Monty Python — this show has the wit of Wilde and the goofiness of Monty Python.
It's amazing doing a show like this that has only been around a few years. It hit Broadway in 2013, and it got a lot of exposure. But because it hasn't been done everywhere people don't know what to expect.
I can play more, I can have more fun as an actor, because people haven't come to expect everything yet.
Is the lack of name recognition a challenge? There are people who may pass because it's not "Cinderella," because it's not "Beauty and the Beast." We have to get the word out.
There are comedies we know and we've seen a million times, and it's still funny. But we miss that first moment when we heard that clever lyric or line for the first time, and we're surprised by it.
The most important thing is to have great word of mouth, to know it's going to be a blast but to not know why.
When "Gentleman's Guide" came out, everyone was still watching "Downton Abbey" and "Sherlock." Do you think the show will have a long life?
This show is just a delight to watch. It does feel like it has a long life, and I think that's in part because of the amazing writers and creators. There's so much for people to sink their teeth into.
We're obsessed with British life because we don't live that way, and because this is 100 years ago, nobody lives that way anymore. And the lyrics are so clever.
It feels classic and old-fashioned in the best sense as well as contemporary and new in the best sense as well. It's based on a book and inspired by a movie but for Americans, it all feels fresh.