Theater review: APT's wild and playful 'Pericles' takes a journey of joyful proportions
SPRING GREEN — The performers in "Pericles" burst onto the stage like an exploding barrel of monkeys. Dressed in street clothes, they climb into the audience, kids on a jungle gym ready to start a new game.
For the next few hours, these 10 actors will be our storytellers for a tale theatrical and preposterous. 
They invent and re-invent the world of the play as they go, switching accents from Russian Bond villain to Southern farm wife. They swap crowns for doo-rags and priest's robes for fur coats. They climb onto a stairway to turn it into a great ship and rattle a sheet of metal to make the sound of a storm at sea.
Costume drama might be pretty, but Shakespeare doesn't get much more fun than this.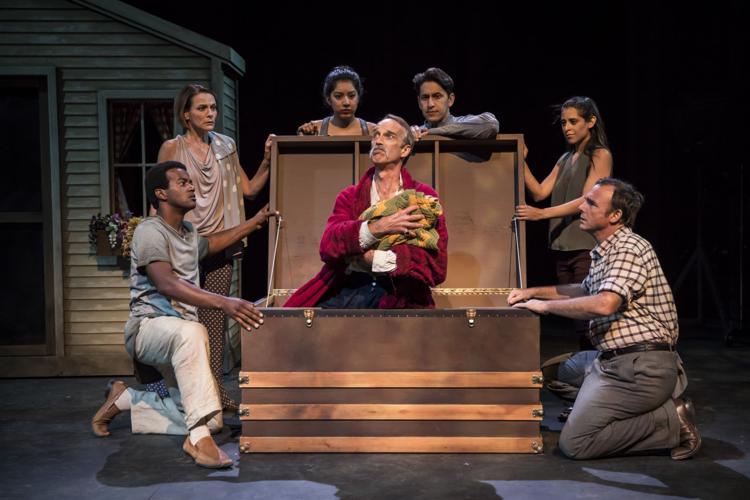 Leading "Pericles, Prince of Tyre" this summer at American Players Theatre is Eric Tucker, the artistic director of Bedlam Theatre in New York. His recent production of "Sense and Sensibility," according to the New York Times, was full of "triumphant joy" in a "defiantly theatrical form."  
Tucker's staging at APT of Shakespeare's challenging 1603 epic has a similar energetic spirit, aided by Andrew Boyce's marvelous, free-form scenic design and Michael A. Peterson's openly exposed lighting.  
With the machinations of theater magic laid bare and lots of silliness, the classically-trained company seems to have used the parody "The Complete Works of William Shakespeare (Abridged)" as a training regimen.
Tucker's aesthetic mashes up fairy tales, film sets and playing dress-up in the basement with clothes from the thrift store. The result is a grand, dreamlike story that never loses a sense of pell-mell glee.
"Pericles" has the structure of a memory play, as an older Prince of Tyre (James Ridge) watches his younger self (Juan Rivera Lebron) begin his story. Pericles, long-suffering and noble, solves riddles and duels in search of a wife, saves a country from starvation, struggles to keep track of his daughter — and his luck on the ocean is lousy.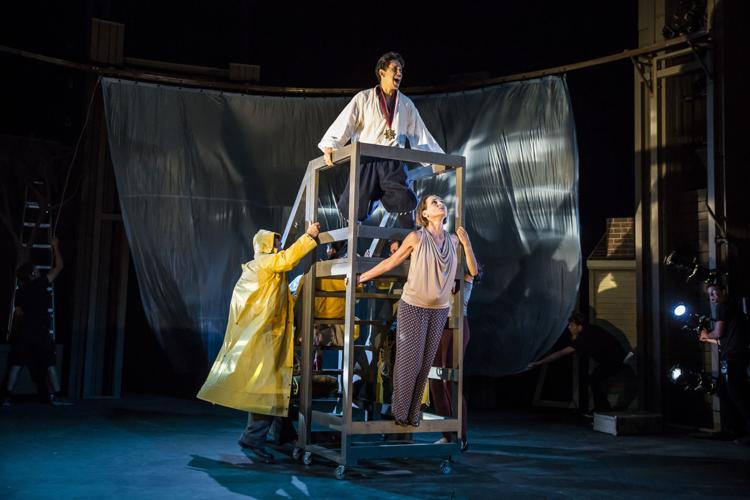 Everyone juggles a half dozen roles. In the course of the play, Tracy Michelle Arnold plays a lecherous king with Maleficent-like spiked horns, a jealous mother who pays a lackey to commit murder with a decorative rock, the prow of a ship and a priestess.
Even a wooden steamer trunk serves as a coffin, a time machine and a quick entrance spot. If you have ever wondered why APT needed an entire stage's worth of trap doors, this play answers that question.
Just like the giddy farce of "A Flea in Her Ear," also running up the hill this summer, one could watch this "Pericles" daily for a week and get a different grab bag of treats every time.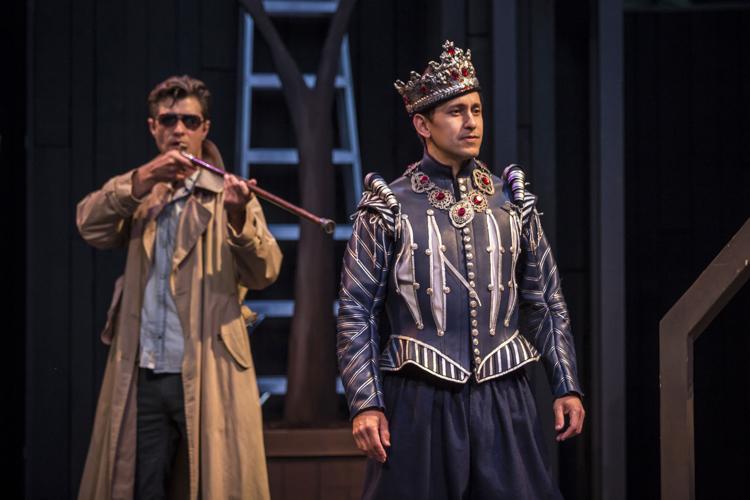 A few personal favorites:
Cabe Sebastian Pierre busting out dance moves in a '70s brothel led by Gavin Lawrence in a pimp's fur and Jamaican accent
Marcus Truschinski as a Russian spy with a trench coat, shades and a provocatively long cane
Tiny Cristina Panfilio flexing her arms and bellowing, WWF-style, before a proper British duel
The entire group of spectators at that duel, gasping in unison, led by a pitch-perfect Andrea San Miguel as the princess ("it's my birthday," she whimpers as one knight mimes ripping out a heart like he's in " Temple of Doom")
The last quarter of the play takes a more somber tone. Like Lebron, who gives young Pericles a calm, consistent presence, Ridge and Panfilio embrace a sense of loss in the aging Pericles and his unlucky daughter.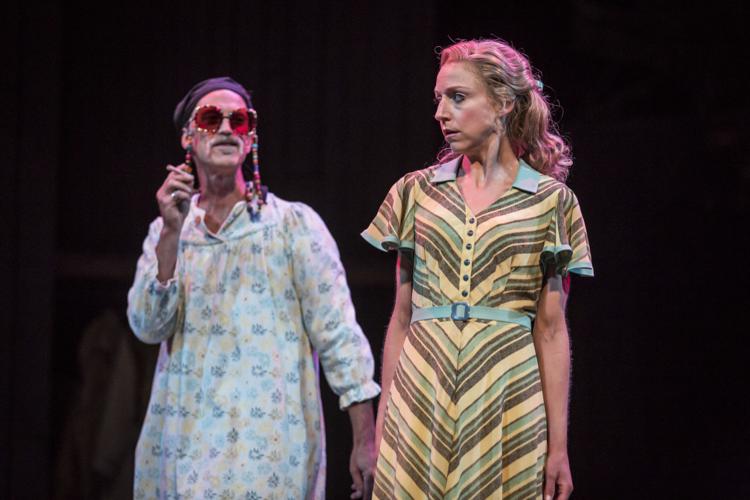 Panfilio finds the grit in the teenage princess, a girl whose metaphorical chastity belt is so indestructible, she can convert the patrons of a brothel to a more virtuous life from the edge her bed.
(Another favorite moment: San Miguel and Cher Desiree Álvarez, man-spreading on the bed as they decide to give up "rutting" and go to church instead.)
Costume design from Daniel Tyler Mathews has great fun with gender-swapping. Pink barrettes turn Truschinski from a spy into an awkward teenage girl. Ridge's costumes range from a white dress uniform fit for a king to a froufy nightgown with pink sunglasses and a beaded chain.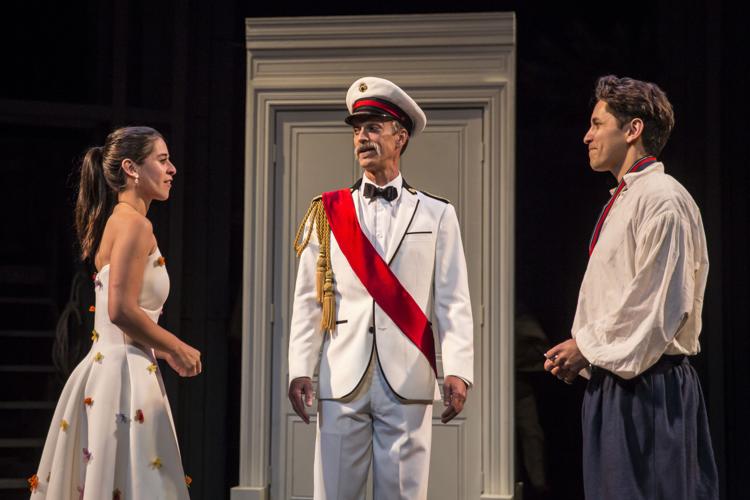 Combining a wild and woolly staging with a notoriously disjointed story, "Pericles" threatens to spiral into incoherence without the efforts of actors like David Daniel.
Delivered in a range of silly accents, Daniel's characters remain clear, whether he's a Dust Bowl farmer raging against the drought or (my favorite) a Scottish fisherman.
Tucker's "Pericles" shows what Shakespeare's poetry can look like when it's uncoupled from confining doublets and gestures at reality. It may not look like most Shakespeare, but APT's production bursts with life, theatricality and an eagerness to play.
Game on.