For kids (especially theater kids) who came up in the '90s, Andrew Lloyd Webber's "Phantom of the Opera" promises twice the nostalgia trip of "Jersey Boys."
There's something thrilling about unapologetic opulence, that complete commitment to spectacle above all else. Every gesture, every flourish, every glass-shattering high note is musical theater writ largest.
"Phantom" has been running on Broadway for three decades and touring for nearly as long. Folks who come to see the show during its two-week run in Overture Hall may know what's coming, but I bet they still gasp when fire starts shooting out of the piano.
The current national tour got a facelift a few years ago, when superproducer Cameron Mackintosh ("Les Miserables") spruced up the set and fleshed out the story a bit for "Phantom's" 25th birthday.
Led by director Laurence Connor, the creative team kept costumes designed by the late Maria Björnson: long swirling capes, satiny bodices and lavishly detailed gowns for Christine, with nipped waists and layered bustles.
Lloyd Webber's score remains intact too, with its operatic ornamentation and driving synth eighth notes. Jamie Johns, conducting a mix of local and touring musicians, turns the volume up to 11, plowing through chord after sweeping synthesized chord with a pace that leaves little time for rational thought.
The show's creators knew better than to fiddle too much with the plot, written by Lloyd Webber with Richard Stilgoe for the 1986 premiere.
The Phantom, a disfigured menace as well as a musical and technical genius, prowls the hidden crannies of a Parisian opera house in the early 1880s.
When the show opens, he has made blushing ingénue Christine, a ballerina with daddy issues, his prodigy. The death of Christine's violinist father left her grasping for a replacement, even the kind who cackles behind walls and lynches people he doesn't like from the flies. Nobody's perfect, right?
Katie Travis has played the national tour's Christine since late fall 2014, with Derrick Davis as her Phantom for the past three months. Travis (whose credits include the Fireside Theatre in Fort Atkinson) has a powerful high belt — listening to her voice climb the rafters in the show's title number is like watching a gymnast. It's athletic.
Davis' physical presence feels magnetic, which helps a few plot points click into place (any chorus girl with eyes would follow him down those magically appearing Indiana Jones stairs into his watery lair). Davis' voice resonates and fills the theater, spine-chilling in threats and utterly gorgeous in "The Point of No Return," a seductive eleven o' clock duet with Christine. Only a dated, shiny brown wig in Act I distracts. 
As Raoul, Jordan Craig sounds a bit pinched early in Act I, but settles in in time for the swooning "All I Ask of You." Trista Moldovan as the ousted diva Carlotta is a sheer delight. Her vocals sparkle on "Think of Me," and "Prima Donna" is clear and impeccably timed. Moldovan, a former Christine on Broadway, is one of three women in the role during this run; she'll go on again Sunday and next weekend.
Accented by Paule Constable's dramatic lighting, Paul Brown designed a set that opens like a music box and morphs like a Transformer. It expands to reveal a graveyard in Act II and folds out to make the theater manager's offices, now fully realized with red walls.
The most striking change in this new-old "Phantom" comes in the "Masquerade" scene at the top of Act II, set in a grand ballroom. Mirrors hung above and around the dancers reflect Scott Ambler's elegant, highly stylized choreography. It's lovely.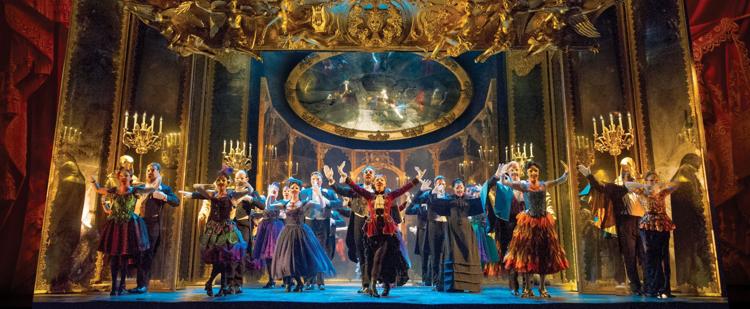 In some ways, "Phantom" feels like an extravagant relic, full of melodrama and grand romance. In others, it feels impossibly dated and maudlin. This is one warped love story.
The middle school version of me didn't really see how volatile and abusive the Phantom is, how he controls Christine with fear. Her alleged savior Raoul is little better, insisting that Christine doesn't know her own mind: "This phantom is a fable. Believe me." There's something kind of "Fifty Shades of Grey" about the whole thing.
"Phantom" is beautiful to look at though, a flamboyant reminder of theater's lingering British invasion. (The team that did "Phantom" is working on a revival of "Miss Saigon," which opens in previews on Broadway on March 1).
"Phantom" offers escapism. If it's lost a little magic, that's just part of growing up.