What happened to 10-year-old Linus Benjamin in "The Mojo and the Sayso" has been happening to young black kids for hundreds of years.
The story of Linus' (fictional) short life, running in Promenade Hall through Sunday, was inspired by a real police shooting in New York in 1973. Had the play been written last year instead of in 1988, Linus could just as easily have been a Michael Brown or a Tamir Rice — in December 2014, American Theatre Magazine put the play on its "Ferguson Theatre Syllabus."
There's no doubt that "Mojo" is relevant now. But while Linus' family's profound sense of injustice and sudden loss colors their grief, the grief itself feels universal, no matter the year.
Aishah Rahman wrote "Mojo," co-produced in Madison by Theater LILA and Milwaukee's new Bronzeville Arts Ensemble. Bronzeville was founded to "illuminate the black experience," and Rahman herself has been called "the godmother of the theatrical jazz aesthetic."
This production, directed by Jessica Lanius, embraces the play's musical soul in every carefully timed beat and dancelike gesture. Naturalistic banter alternates with more poetic monologues, described in the script as feeling "like jazz solos."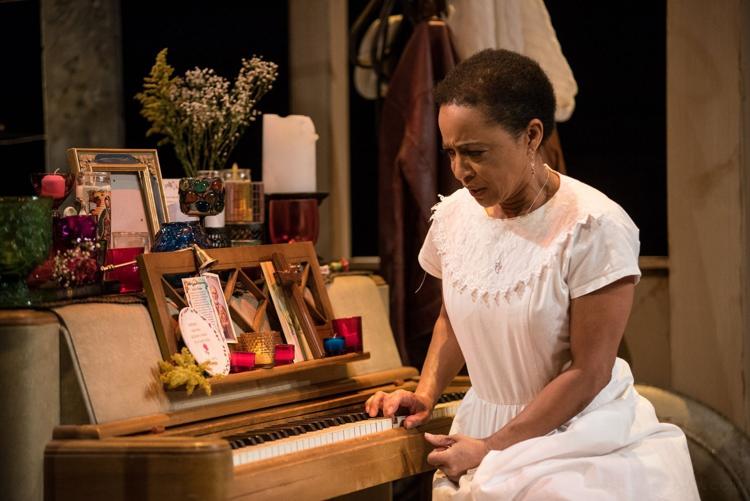 Awilda (Marvette Knight), Linus' mother, keeps her son alive within the walls of her church. There, the pastor (a perfectly oily Wigasi Brant, in fine form) plies her with dreams of a memorial, his greedy eyes on a wrongful death payout the family has just received from the city.
"I feel Linus nearer and nearer," the pastor says. "Sometimes I can see him."
While Awilda quotes scripture and lights candles on a shrine to Linus, her husband Acts (Gavin Lawrence) talks past her. A mechanic, his latest find is an engine for the broken down roadster he's fixing up in the center of their living room. ("Mojo" is not a strictly realistic play.)  
Acts' car makes the set feel like a ship in a bottle, and his obsession with his hobby goes deeper than it first appears. He and Linus would work on cars — they were on their way to a junkyard on the morning of the shooting. It's only when Acts' hands are busy that he can manage his pain.
As the central couple, Knight and Lawrence give moving performances of people who remember loving each other but can't seem to figure out what it looks like anymore. Acts' anger is quick to ignite, like an exposed nerve.
The money from the city, which strikes Awilda as a bizarre, macabre accounting of the value of her boy's life, horrifies them both. They don't know what to make of it. 
"How do they figure?" she asks. "How do they know? How do they add up what a 10-year-old boy's life is worth to his parents?"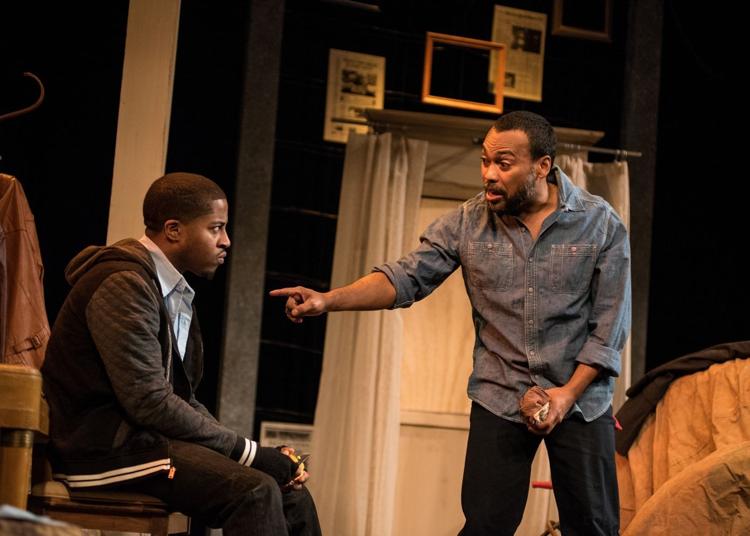 Isayah Phillips plays Walter, their oldest son, whose entrance in Act I — through the window, waving a gun — puts everyone on edge. Walter has changed his name to "Blood," and his mother says he has "a bomb in his heart." Though some of Phillips' dialogue feels forced, when he moves into the play's more stylized moments, he owns them.
Crowded, detailed scenic design by Christopher Dunham and lighting design by Nick Belley blend the suggestion of a family home with walls of newspaper clippings and bold shifts in light. These skillfully evoke the outside world of the play without undermining the story's intimate core.
With its moments of intense grief, flashes of rage and imagined demonic rituals that look strange and alienating, "Mojo" can be a difficult play to watch.
During its first student show at a school in Milwaukee, a teacher upset by what was happening onstage came out of the audience and stopped the play, right before its cathartic ending. ("Mojo" was subsequently altered in subtle ways for student audiences.) 
White-on-black violence as a subject is ripped from contemporary headlines, but as "Mojo" proves, the story of a single family's grief is personal, powerful and timeless. Linus' absence has blown a hole through the lives of his mother, father and older brother. 
"Mojo" shows them trying to heal, separately while together.