Two decades after the world met "Rent," a few of Jonathan Larson's self-styled bohemians would probably be happy with where we are.
Digital dreamer Benny's fantasy of a cyber studio has given way to androids in our pockets. Maureen, the bisexual performance artist, would probably be trying to talk her lawyer girlfriend into polyamory.
And then there's the biggest change: for characters like Angel, Roger, Mimi and Collins, AIDS might not be a death sentence anymore.
Raid your closet for plaid and stovepipe jeans (they're back in style now anyway). The 20th anniversary tour of "Rent" squats in Overture Hall through Sunday, with a young, loose-hipped ensemble who look like they spend their days off doing hot yoga.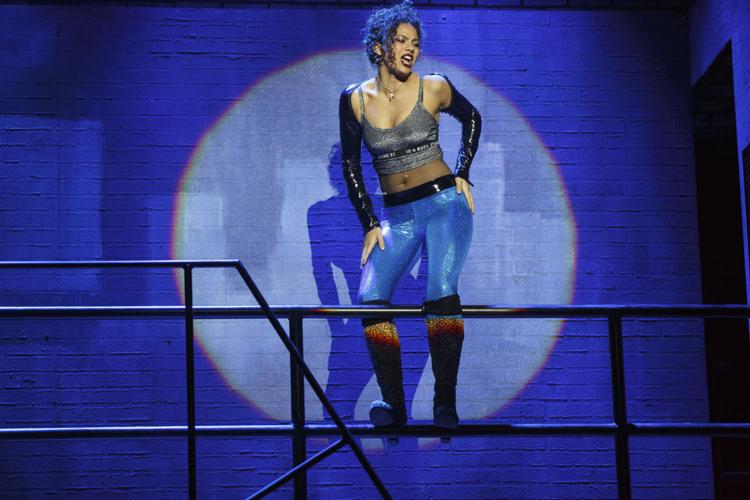 This non-Equity production has been on tour for a year and a half. If you're a Renthead from back in the day, this show shouts all the familiar chords.
The cast climbs an electrified urban jungle of a set adapted by Matthew E. Maraffi from Paul Clay's original, dressed in revived versions of Angela Wendt's iconic costumes.
Sammy Ferber makes Mark Cohen more awkward nebbish than passionate filmmaker, but he's sweet nonetheless. He's an antidote to Kaleb Wells' irritable Roger, who shout-sings and pouts.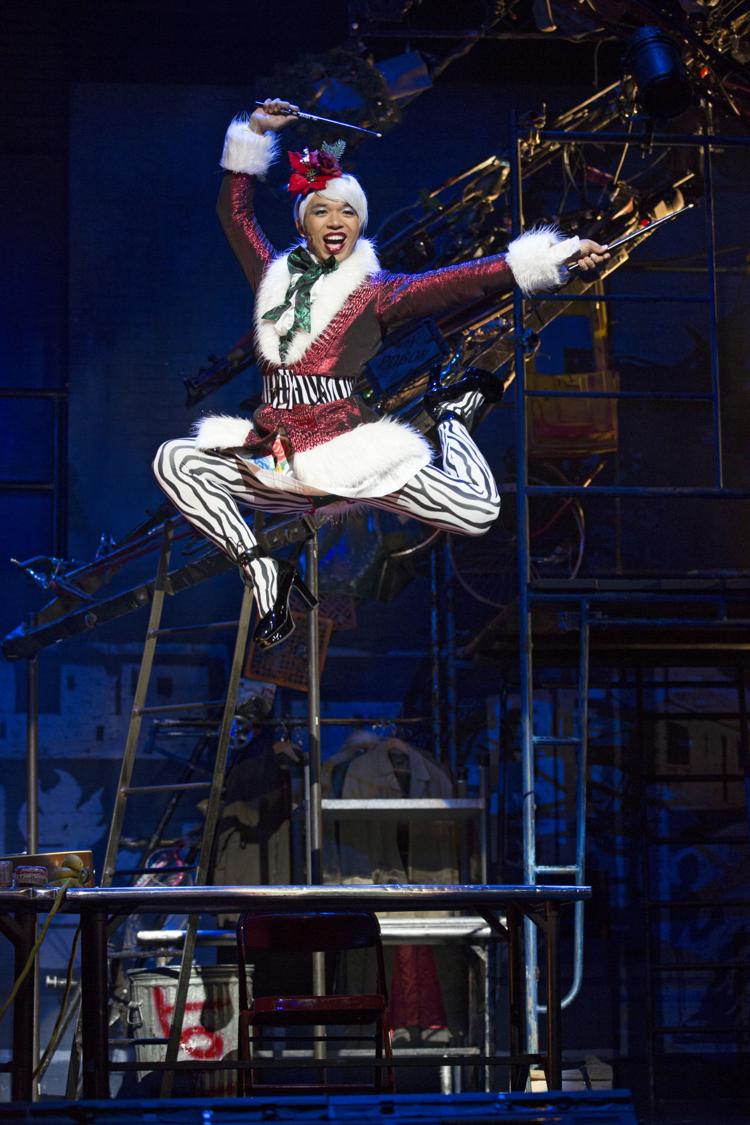 Wells is no match for Skyler Volpe, a vulpine Mimi who shakes glitter from her curly hair. Volpe finds the vulnerability in this brash exotic dancer without making her pathetic, and on "Out Tonight," she sounds solid while dangling from the balcony like a tipsy gymnast.
Jasmine Easler and Yael Reich (in for Lyndie Moe) are stuffy Joanne and free-spirited Maureen, and the two spark on the energetic "Take Me Or Leave Me."
Aaron Alcaraz as Angel sounds like he's suffering from some vocal fatigue, but he moves with fluid ease and his buoyant duet with Collins (Devinré Adams), "I'll Cover You," stands as a highlight of Act I.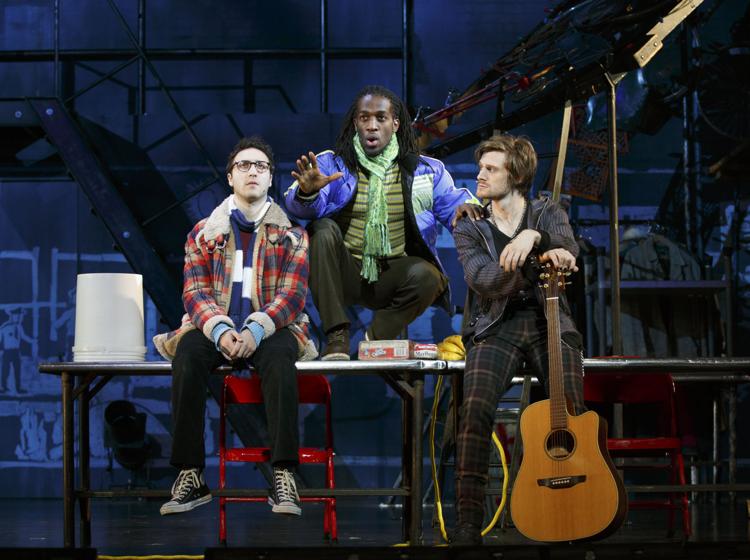 Larson's rock opera lit up Broadway in 1996, and by the following year it was blasting from teenage boom boxes all over the country (including my own). For this tour, Matthew DeMaria conducts a guitar-driven rock score that feels intensely of its time.
Thankfully, this cast has excellent diction. Even those new to "Rent" may understand every one of Larson's, er, inspired lyrics (he rhymes "eyes" with "wise," "surprise" and "goodbyes").
This gets to the challenge of staging "Rent" in 2018. To an eye unclouded by nostalgia — not Tuesday's audience, which could barely keep from singing along — parts of this show have not aged terribly well.
In Mimi and Roger's love duet "Without You," emotion trumps creativity ("the stars gleam/ the poets dream/ the eagles fly"). Lacking variation, the singers simply get louder.
These characters were so cool and edgy years ago, but a few plot points sound ridiculous 20 years on. I'm not the first to say this, but Mark and Roger are grown white men with supportive families. They've been living rent-free in a New York apartment for a year. And they're complaining! Also Mark, accepting money for your work is not "selling out." It's "work."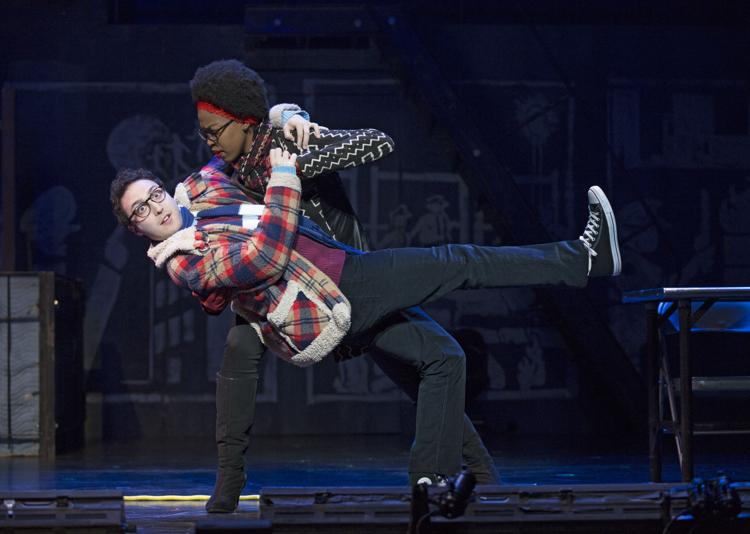 This sells "Rent" short, though, and in my heart I can't do it. Songs like "Will I," sung by an AIDS support group about their fears of dying, and Collins' funereal reprise of "I'll Cover You" still make my eyes sting with tears.
Adams, as Collins, has a gorgeous baritone voice, and watching Ferber and Easler do the "Tango Maureen" is sheer joy. I'd forgotten the hummable pleasures of a trio written with collaborator Billy Aronson, a persuasive plea in early winter to "open up a restaurant in Santa Fe."
As misty eyed, 20- and 30-somethings half-hummed along to "Seasons of Love," on opening night, others slipped out to the coat check at intermission. With its provocative language and chaotic scenes, "Rent" has never been one size fits all. It's unashamedly of its time and place.
That's the most timeless thing about it.