Last Saturday, at the Meadowood Neighborhood Festival, a group of six kids performed "This Little Light of Mine" and "He Has the Whole World in His Hands" on ukuleles they had just learned to play few weeks back.
The Mt. Zion Children's Ukulele Players was formed by Rose Johnson Brown after she felt moved by a sermon from Rev. Marcus Allen to teach children how to play the instrument. Johnson Brown was baptized and married at Mt. Zion, a Baptist church on Madison's south side. Allen's message on that particular Sunday was about using gifts and special talents to serve and contribute to the church's mission.
"I thought 'Oh my goodness, I teach kids ukulele. Why aren't I doing it in here?'" Johnson Brown said.
She approached Allen after breakfast one Sunday morning.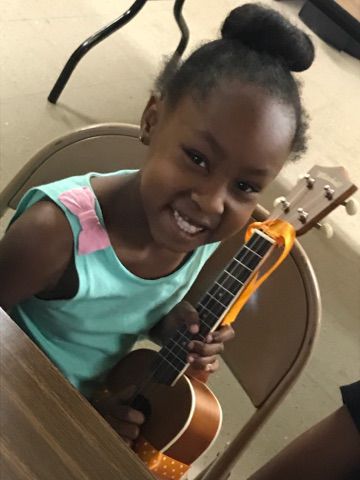 "'Pastor, I have a gift' and he says 'What is it?' and I said, 'I can play the ukulele and I can teach ukulele,'" Johnson Brown recalled.
On the following Wednesday evening, a few kids both from the church and neighborhood showed up at the church's kitchen for an intrroductory class. Johnson Brown taught the kids the names of ukulele parts and the instrument's history. For the next three consecutive Wednesdays, she taught the kids chords and songs.
"I've taught piano before at my home, but ukulele is one of the easiest to expose kids to music. And that's my goal, to expose kids to music," she said.
Johnson Brown moved to Madison in 1974 to attend college. She is a photographer and contributed photos and stories to community newspapers for about 20 years. She grew up playing piano for 10 years as a child in New York. On her "bucket list" is a goal to learn to play more stringed instruments.
"I am a true believer of lifelong learning," Johnson Brown said.
The bass guitar was the first check mark on that list. She participated in bluegrass jams to practice playing with others. She then moved on to the guitar and participated in music jams at the Cross Plains public library.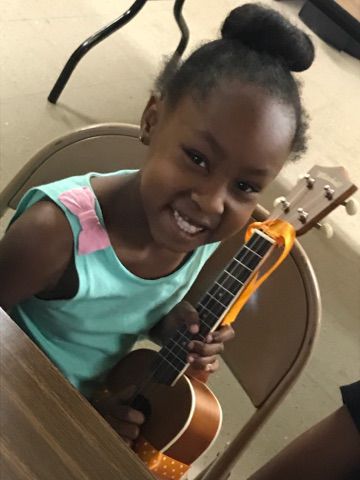 Johnson Brown next tackled the violin after her sister, Peggy Howard-Bloom, passed on her first violin to her. Although she is still taking violin lessons, she picked up the ukulele in January 2016 after a class was offered at the Fitchburg Senior Center. Soon after, she became part of the Fitchburg Ukulele Network (FUN) and began performing with her colleagues around town at events and senior centers. She is also a member of Madison Area Ukulele Initiative (MAUI) and participates at Good Shephard Lutheran Church's ukulele jam session on Monday evenings facilitated by Pat Sheahan, who has helped with the Mt. Zion ukulele lessons.
In June 2016, just months after she learned the instrument, Johnson Brown began to teach ukulele to middle school students at a summer camp. In October, she started teaching at the West Side Senior Coalition.
Sheahan said he believes teaching music is truly Johnson Brown's calling.
"She uses her gift to do good… She really has the kid's ministry at heart," Sheahan said.
Johnson Brown said she prays for the kids before every practice, thanking God for bringing them together and at the end to travel home safely.
"I do this because the Lord gives me the power, He gives me the strength," Johnson Brown said.
Johnson Brown also said she turns to music whenever she's having a bad day.
"At the end of the day, when there's no more to be said or do, no matter how you're feeling, you can always pick up an instrument and play and feel better," she said. "Music makes me feel better. It makes me feel youthful, it relaxes me. When words fail, music speaks. Always."