Running all day and all night through the heat of Death Valley? Sounds like "fun" to Nora Bird.
Well, maybe not "fun." But the Madison ultra-marathoner said that competing in the 340-mile Speed Project, a two-day relay race from Los Angeles to Las Vegas last March, was one of the best experiences of her life.
"I'm a very competitive person," Bird said. "And it was made very clear from the get-go that we were going to win."
Bird was part of Team Birdstrike, one of three all-female teams to enter the race for the first time in 2017. While they didn't win, they placed seventh out of 20 teams with a time of 44 hours, 27 minutes and 11 seconds (ahead of the other two all-female teams). What made the finish even more impressive is that Team Birdstrike lost one of their six runners early, and had to finish the race with only five.
Now, the story of Team Birdstrike is the subject of a new short documentary, "Birdstrike vs. The Speed Project," premiering at REI's downtown store in Washington, D.C. on Wednesday. Bird is flying out to REI's flagship store in Seattle on June 22 for a big screening and Q&A, and the film will be released digitally on June 23.
The Speed Project began in 2015, when a team of six runners decided on their own to see if they could make the 340-mile run. Seven teams ran in 2016 and in March, 20 teams made the journey.
To put the distance in perspective, that's like running from Madison to Minneapolis and then deciding to run another 80 miles just for fun. (Also, in this analogy, Wisconsin is a desert.)
Bird was asked to be part of Team Birdstrike by Oiselle, a clothing company that makes athletic apparel for women. Bird has been running ultra-marathons for several years, and is a professional running coach who works with clients across Wisconsin with her company, Team Bird Training.
Although she was excited about the challenge, she had some trepidation about going straight from a Wisconsin winter to running in 80-degree heat. She was also unsure about joining a team of strangers on such a challenging race.
"There was a lot of hesitation because I hadn't met any of them," she said. "Going into a new team you just don't know if you're going to mesh. But it was one of the best experiences of my life. Just the way that we all took care of ourselves and everybody else."
The runners started at Santa Monica Pier at 4:15 a.m. March 10. Running relay-style, the runners traded off 10-kilometer legs, with an RV full of food and water (and a place to rest) running just ahead of them. Each member of the team had another woman serving as "crew" to support them every step of the way. Fans followed the journey via social media posts and online video.
Team Birdstrike hit a crisis point during the race's second leg, when one of the six runners dropped out and had to go to the emergency room. Losing her meant the remaining five had to spend more time running.
"So we actually finished it with five people, which is unheard of," Bird said. "To be the first all-female team and finish with only five runners — that'll never happen again."
Bird said running in Death Valley was just as arduous as expected. Instead of running 10 kilometers at a time, the team members would each do just a couple of miles in the punishing heat before trading off.
"It was so hot, and you're also climbing before you get into the valley," she said. "You're climbing, and you have the heat, and you've already been up for a day-and-a-half. It was a struggle. It was basically just 'make it two miles.' And if you can make it more than two miles, that's one less mile that someone else has to do."
Team Bird made it to the finish line, the iconic "Welcome to Las Vegas" sign, at 1 a.m. on March 12. Bird said the ending of the race was a little surreal and disappointing. Race organizers had left after the first three teams finished, and the only people left were drunk tourists snapping selfies of the sign who had no idea they were at a finish line.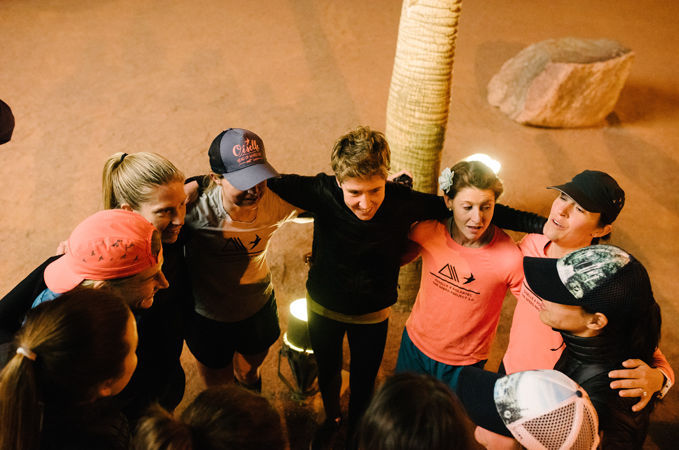 But Bird said she made lasting friendships through the race. While on a college tour with her stepson, she stopped in Indianapolis to run with one of her former teammates. She's excited to see the finished documentary as well, having only seen a little raw video that the film crew shared with her.
"It was really amazing to see it from that point of view, because you're so tunnel-visioned in getting this result," she said. "I'm sure it's going to be pretty emotional, because we dealt with a lot of emotion."
Bird is relatively new to running, having started about six years ago. She began with half-marathons, and began pushing herself to go longer and longer distances.
"I started training for a half-marathon and was like, 'This was not enough. I want to go farther, I want to go faster,'" Bird said. "You're chasing this feeling."
Bird said she doesn't get that burst of endorphins known as a "runner's high" doing 100-mile races, and she said training can often be kind of boring, running at a slow pace for hours at a time. But she said she loves the feeling of being able to see how far she can push herself.
And Death Valley is pushing it pretty far.
"Most 100-miler runners are moderately masochistic," she said, laughing. "We just really like that pain and to suffer. It's really pushing your body to that limit and saying 'This sucks, but I'm going to get through it.' And then finding those tools to get through it.
"It's not that different from life in general."