Kevin Willmott waited behind the bar, biding his time.
For years, Willmott had been a fan of The Moth, a national storytelling event that launched in Madison 18 months ago. He wanted to tell a story, but he needed the right theme.
The audience loved it — and he won.
"The closing line was, 'Don't forget to tip your bartender,'" Willmott said.
After a year and a half of stories about eating chicken in the Philippines, growing up transgendered in rural Texas and a tough Valentine's Day during the Depression, Madison is ready for its first Moth GrandSLAM.
Tickets go on sale this week for Madison's GrandSLAM on Friday, Oct. 27, which has the theme "fish out of water." Dasha Kelly will host and Alida LaCosse is set to provide music at the Barrymore Theatre.
Founded in Manhattan in 1997, The Moth hosts events called StorySLAMs, during which would-be storytellers put their names into a hat to tell a story on a theme like "deadlines," "origins" or "good intentions."
An emcee selects judges from the audience to rate each story. The tale must be true, delivered without notes and five minutes or less in length. The winner of every StorySLAM is eligible to compete in a GrandSLAM.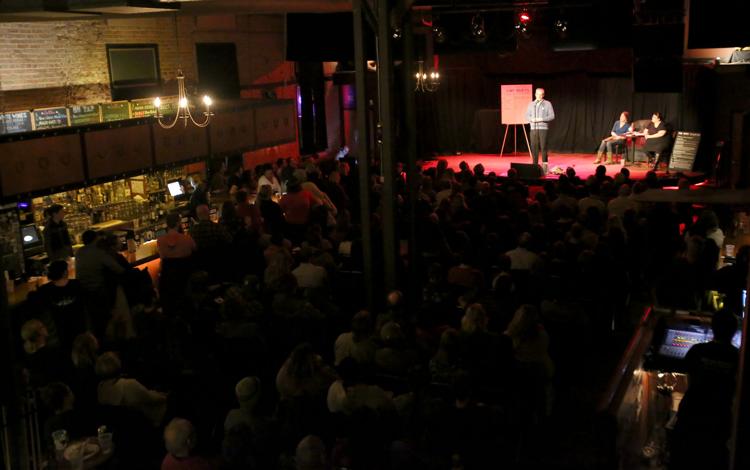 "The GrandSLAMs have a lot of energy," said Jen Rubin, a Madison Moth co-organizer who won a StorySLAM herself and will compete in October. "People are psyched when they win."
The Moth has expanded nationally and internationally into Moth Mainstage events with famous guests, as well as a podcast and a radio show. Wisconsin Public Radio broadcasts The Moth on 107.9 FM/W300BM on Fridays at 9 p.m.
Storytellers who won their events must come up with something new for the GrandSLAM. They're already mulling it over.
"Storytelling has always been a part of my daily existence," said Madison storyteller Gene Delcourt, who has told a half dozen stories at The Moth StorySLAMs. "I used to be a social studies teacher and I told stories all the time."
Delcourt, a teacher at Shabazz City High School, raises money for his school's fiddle program by busking outside the Willy Street Co-op.
The Moth story he won with was based on a drunken experience in the Philippines with his now-ex wife. He remembers a boy beating a chicken to make it swell and look bigger before they ate it.
"I was humbled by the experience," he said, "and the chicken tasted horrible."
Other competing storytellers will include Alexandra Rosas, a performer who was in the first Listen to Your Mother storytelling show and now produces it in Milwaukee, the indefatigable Chicago-based Nestor Gomez (a favorite on the Moth podcast), comedian Nate Chappell and Dina Nina Martinez, who lives in Chicago but continues to organize the Lady Laughs Comedy Festival in Madison.
"I wouldn't be me without the funny," said Martinez. "I love doing stand-up, it's my thing. But storytelling is this amazing different space where you can be real and honest in a way that doesn't have to just be funny.
"You can be real and honest and deep and hard, and then be funny without doing a straight-up setup and punchline."
Martinez, a transgender artist, won her SLAM with a story about how her relationship with her father changed after his death. Her story for the GrandSLAM may also take up that subject.
"My idea is not fully formed right now," she said. "It's definitely about my relationship with my father and growing up in small town Texas ... as a young girl who was told she had to be a boy."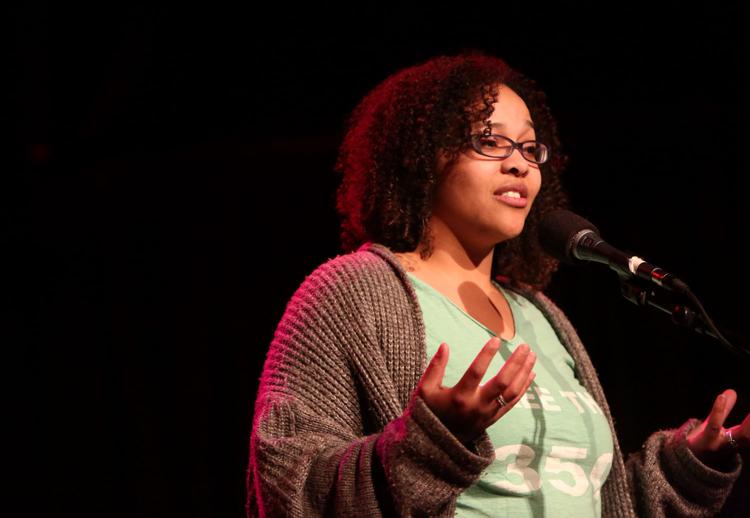 Delcourt has been thinking about what to tell that fits with "fish out of water."
"The one story that would be most fitting for the theme, I don't want my daughter to hear," said Delcourt. "It's about losing my virginity. That's not a story she needs to hear."
Since his win, Willmott has continued to tell stories at Moth events. On Aug. 14, he told one on the theme of "caution." For his fish out of water story, he might talk about what it's like to move from Kansas to Madison as a biracial black man.
"People go to The Moth to get that human connection, to really understand how someone else felt," Willmott said. "It builds that connection to a person you don't even know."