Madison Police Chief Mike Koval took a break from his duties last Tuesday afternoon to participate in a casual, but intimate conversation about his faith at Upper House.
The event was part of a series titled "Faith in the Heart of the City" that focuses on how city leaders view their religion.
"We wanted to create a venue to go deeper with prominent local leaders where we can explore these life sustaining values especially as they relate to matters of faith, that has shaped leaders' work and their public engagement, their relationships and their civic life," said Melissa Haunty, hospitality, events and volunteer coordinator for the Stephen & Laurel Brown Foundation, the parent organization for Upper House.
Upper House is a faith-based facility that produces events and talks by community leaders, nonprofit organizations and campus ministries. It is also used for Sunday church services, meetings and daily studying.
Phil Haslanger served as the event moderator. Haslanger is a recently retired pastor of Memorial United Church of Christ and former city editor, editorial page editor and managing editor at the Cap Times.
The event consisted of about 30 minutes of conversation between Haslanger and Koval and a 30 minute Q&A session with the audience.
Koval is Catholic and currently calls Blessed Sacrament his home church. Koval said he grew up in a traditional matriarchal Irish Catholic home.
"For those who can relate to that or if you're in recovery, your mother is the center of the universe and all of you rotate around her," Koval said.
At age 59, Koval said his mother still calls him to make sure he is attending mass each week. He said he enjoys interacting with people at church and finds them to be very authentic and genuine.
"Everybody is at an intimate setting and many people will come up and say 'We are praying for you, we are praying for your family, we are praying for the department' and that means a lot," Koval said.
Koval said he carries a rosary at all times and participates in a daily series of prayers and meditations known as a decade.
"Between hours I will do another decade of the rosary… it gives me a little bit of forced time out, to be able to take myself away from the temporal world that I live in," Koval said.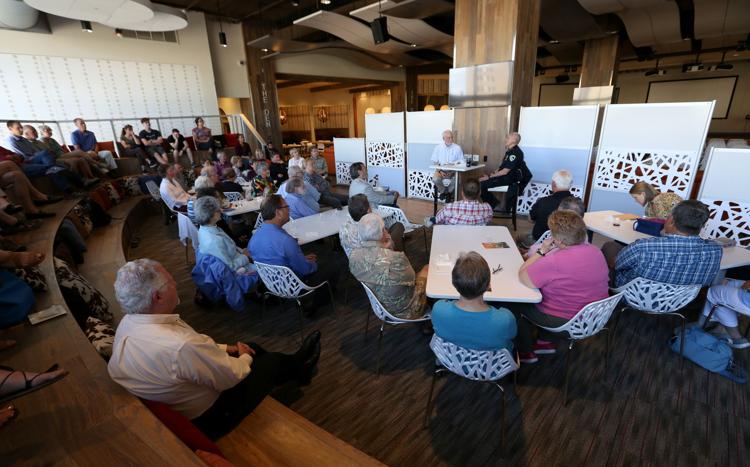 Koval said he greatly admires the Virgin Mary and his favorite biblical verse is John 2:5 when Mary tells servants "Do whatever he [Jesus] tells you" at the wedding where Jesus turns water into wine.
"I look at her as the first of the disciples, the first of the apostles ... That's my rock. I love the fact that she's always pointing to her son," said Koval.
Koval said having his wife and other people around him who are rooted in the faith is what has kept him away from becoming skeptical in his job.
He said most people will encounter what he believes to be the 95 percent of people who are meeting societal expectations. However, police officers working night shifts will typically run into people who are impaired. This can easily cause officers to get more cynical because they can lose the perspective of context.
"Never lose sight of the fact that people are basically good and that God is good and he's going to take care of everyone in time in their own way," Koval said.
Koval hands St. Michael coins to new police academy graduates. He chooses St. Michael because he is a patron saint guardian and not a warrior. His goal is not to evangelize, but it is his way of wishing them safety and letting them know he is praying for them.
Koval said he believes "there's an absence of a spiritual dimension" in the services offered to officers to help cope with heavy situations. Because of the separation of church and state, the department cannot have a chaplain embedded in the police department. However, he would like it to be an option through the independent Employee Assistance Program.
"That way it's completely a la carte, it's not forced down anyone's throats," Koval said.
Audience member Terrell Smith from Madison asked Koval what kind of support he wanted from the community. Koval simply asked for more prayers both for himself and the department.