January may seem like an odd month to encourage exploration into mixing with cold brew coffee. But bear with me.
We don't stop drinking cocktails cold because it's below zero outside. Why should it be so with caffeine?
In other cities, forward-thinking bars and cafés combine cold brew coffee concentrate with whiskey and tequila, amaretto and Benedictine. At Ampersand, a new coffee/cocktail bar in Fort Worth, a Moscow Mule gets better with the addition of cold brew. Its Irish coffee is cold brew and Tullamore Dew steamed together.
At The Heavy Table in Minneapolis, the editorial team experimented with a series of inventive flavors in a cold brew lab: tamarind soda, habanero pepper, pineapple, coconut juice and cardamom-cinnamon bitters, among others.
Save the occasional brunch experiment, cocktails made with cold brew coffee have yet to really catch on in Madison. (The bloody mary is a powerful cultural force.) But it's 2018, and I say the time is now for cold brew cocktails, alcoholic or otherwise.
"It's difficult to use coffee in a drink because it gets too diluted and it barely comes through," said Mark Bystrom, beverage director at Underground Food Collective. Bystrom developed a coffee-forward cocktail called the Morning Glory ($8) for a special brunch a few months ago.
"We wanted to do something with J. Henry and cold brew," said Bystrom.
His cocktail team started with maple syrup then added grapefruit, combining both with the bourbon. Cold brew made with a Ruby Coffee blend and heavy cream completed the drink.  
"It sounds weird on paper but it's actually really tasty," Bystrom said. "We played around with that and it worked."
Cold brew, easily made at home and bottled locally by Let it Ride and Cadence Cold Brew, is a concentrate, which makes it better for mixing.  
Let It Ride cold brew boosts the coffee flavor in drinks like the Brass Ring's Bump and Grind: Stoli vanilla, cherry liqueur, an herbal liqueur called yellow Chartreuse and Godiva white chocolate, combined with the cold brew in what looks like a root beer float.
"It tasted like an amazing latte, basically," said Kim Cuccia, a Brass Ring bartender. The Brass Ring featured the drink all summer and topped it with whipped cream and a Luxardo cherry. A winter version swaps Stoli for whiskey.
Cafes have begun to use cold brew for mixing, too. The Cold Fashioned ($4), a coffee shop riff on Wisconsin's state drink, debuted at Colectivo on Dec. 29 and will be featured as a special until Feb. 5.
"Before the deep freeze wasn't the most ideal time," admitted Al Liu, Colectivo's vice president. "But we thought 'New Year's is coming. What's something festive that people will recognize?'"
The Cold Fashioned uses a few things all Colectivo's in Wisconsin and Chicago cafes have on hand: bottled cold brew, cherry syrup and sparkling water. Orange bitters complete the flavor profile of a brandy old fashioned sweet with a coffee twist (but not the alcohol).
"We want to be a little different and unique but not too esoteric," said Liu. "Creating something with that boozy flavor was a challenge. Not all coffees or even commercially brewed cold brews would work for that."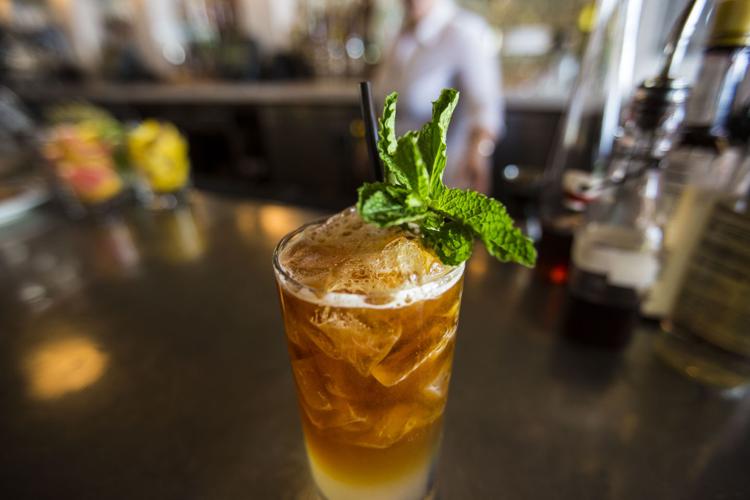 Colectivo makes several versions of cold coffee: a session cold brew that combines toddy coffee with regular hot brew, nitro coffee (infused with nitrogen bubbles, served smooth from a tap) and cold brew prepared and bottled by Three Sheeps Brewing in Sheboygan.
The Cold Fashioned marks the first time Colectivo has done anything with its cold brew rather than sell it straight by the cup or the bottle. The drink costs $4 for a 12-ounce cup.
Cold brew cocktails may not be prevalent on menus yet, but they're coming. Sardine has done a cocktail with nitro cold brew and spiced rum. Just Coffee developed a bourbon iced coffee cocktail with sweetened condensed milk and brown sugar.
Shaking a cocktail or mocktail with cold brew can be just the beginning. Bystrom already has other ideas.
"I have this idea of making cold brew ice cubes," said Bystrom. "So you're using cold brew to dilute and chill the cocktail. Then you have a real present coffee flavor."