FOOD & DRINK
Restaurant review: Ain't no party like a west coast party at BelAir Cantina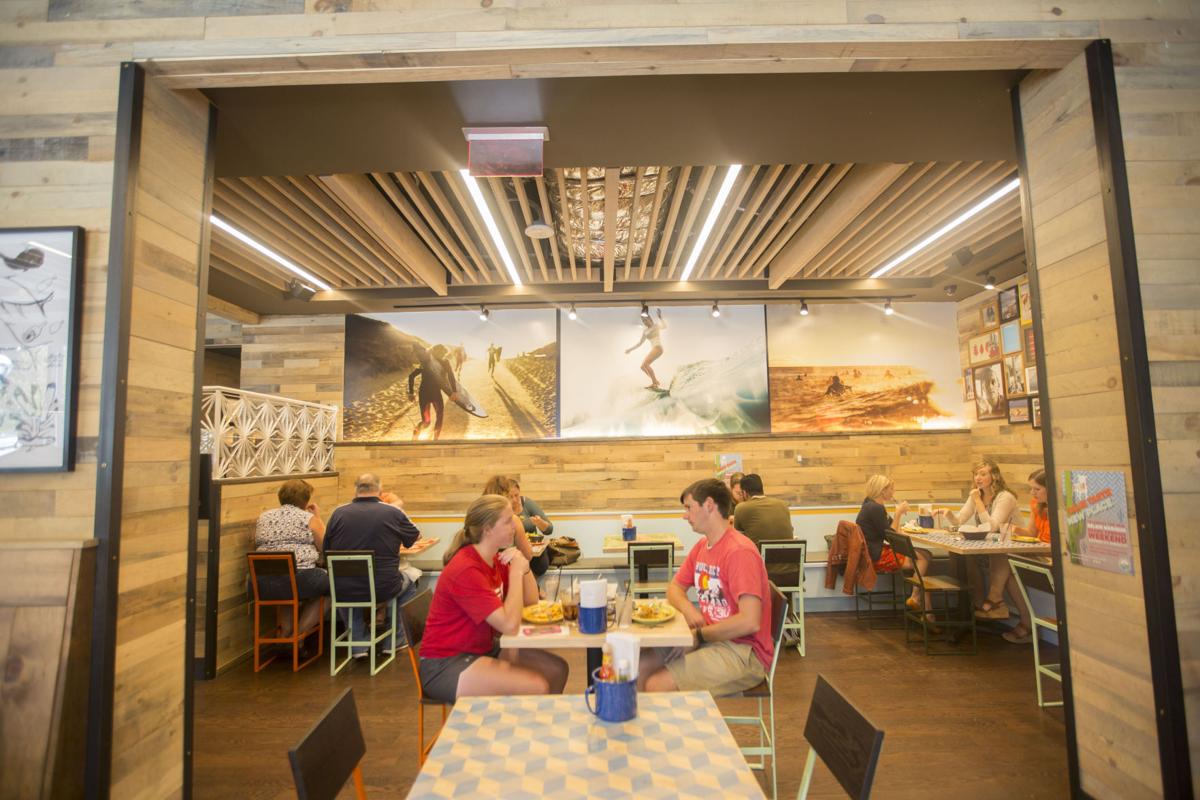 The first time I encountered BelAir Cantina, it was a chilly night in Wauwatosa.
I'd just caught a production of "Jekyll and Hyde" nearby, it was 10 p.m. and I was ravenous. Only November but already snowing in Tosa, the beachy vibe inside BelAir felt like a bright orange smack to the face. I remember loud music and lots of tequila.
My mood immediately improved.
Two years on, I'll allow that the cold outside and the late night may have influenced how much I loved BelAir's big, sizzling plate of fajitas, or how grateful I was for the fresh lime in my margarita.
Still, when BelAir announced that its restaurant boom would expand to Madison and take over the Francesca's al Lago space on Martin Luther King, Jr. Drive, I was gleeful.
Downtown already has another Cantina, Francisco's, and Food Fight's latest Canteen on South Hamilton St.
But what's better than a taco? More tacos!
The Milwaukee-based Toro Toro Toro, the parent company of BelAir Cantina, has been on a tear. Since its first restaurant on Water Street in 2010, the company has opened six restaurants in less than eight years, three of those since last September (in Oak Creek, Brookfield and Madison respectively).
Under the direction of chef/partner Noe Zamora, BelAir makes fun-loving Cal-Mex. The menu boasts burritos "as big as a Chihuahua" ($9.89-$12.34), hot dog taquitos ($4.68) and playful tacos like the Ninja Pig ($3.81) with pork belly and hoisin and the hard-shell Gringo ($3.55), a throwback either to an Ortega-filled childhood or last weekend at Taco Bell. 
The margaritas, from the classic BelAir ($6.50) to the highest end "La Prima" with reposado tequila ($14), are automatically doubles. And prices are as approachable as the Square gets these days, including a long, college-bait happy hour and $2 tacos on Tuesdays and Thursdays.
If BelAir was a dude, he'd be a chill SoCal guy, maybe from San Diego, who's adventurous enough to go for a taco with lamb barbacoa ($4.28) but not so adult that he'd turn down a stoner snack like Velveeta-thick queso fundido ($5.66).
The flavors at BelAir can be muted, the better for broad appeal. But there are ways to punch them up: a wedge of lime, chili oil, and a slew of salsas, among them a neon orange árbol that's sometimes pretty spicy.
The atmosphere feels like the Vegas version of a surf shack, but the food wasn't faking it. Seafood tacos, like a shrimp version with citrus slaw ($3.89) to Baja-style fried tilapia ($3.29) and steak-like mahi mahi ($4.95), all landed the right ratios of crunch, zest and tender fish.
Carnivorous tacos worked, too. Barbacoa ($3.89), beef cooked with beer and soda, had the juicy, falling-apart consistency of pulled pork. A zesty green salsa perked up pulled chicken ($2.94).
If I hadn't known that another riff on the barbacoa ($4.28) was made with lamb, I'd have guessed it was beef. The meat inside was tender but mild, with little gaminess — perhaps another concession to the masses, but with guajillo sauce and pear salsa, it made sense.  
Pecks of peppers populate BelAir's lineup, like smoky roasted poblanos and subtle guajillo chilis to serrano, jalapeño and árbol.
That doesn't translate to spicy. On tacos, chorizo ($3.89) could have used more kick, especially since the potatoes would take some of the heat. An approachable (and vegan) poblano/summer squash taco ($3.45) and a soy chorizo taco ($2.95) took well to a splash of hot sauce.
BelAir makes a good guacamole ($6.27), thick and chunky and plentiful. Two takes on Mexican sweet corn — roasted on the cob ($3.55) and heaped in a bowl, like creamed corn at Thanksgiving ($4.10) — bolstered sweetness with lime, mild cotija cheese and a light crema. They tasted like the end of summer.
There are plenty of ways to leave BelAir with a bellyful, but one of the coolest things about it is that a person can make good choices until 11 p.m. Monday through Thursday.
Now instead of night cheese after the show, I can pick up pepinos ($2.86), layers of sliced cucumber arrayed like a flower, sprinkled with lime juice and chili powder. As an app it was dead simple, cooling and bright, and I'm delighted that it's downtown.
Another appetizer, a lobster-crab tostada ($5.26) with crunchy vegetables and mayo, took a California riff on a lobster roll, if you swapped a crispy tortilla for soft bun. Citrus slaw made it taste lighter than it was.
There are also ways to wipeout at BelAir. Some avocadoes weren't ripe. A tostada salad ($7.97) was dull, basically shredded romaine with buttermilk ranch, the kind of boring vegetarian fare BelAir otherwise avoids. Our queso fundido ($5.66) took just minutes to congeal.
Pressed to replicate BelAir's bland chicken soup ($5.75), I'd take pico de gallo, add water and heat it up on the stove. Sweet plantains ($3.53) had the consistency of baby food; sliced a bit thinner, they'd have more surface area for caramelization.
Where BelAir maintained its edge was in vegetarian options, like a generously sized black bean and corn tamale ($3.95), and a few of the large plates, like sizzle platters of fajitas made to share.
The TSU 360 ($18.89), steak fajitas named for a skateboard club in Tosa, had too many ingredients to parse, but it won us over with chewy steak, lots of veggies and drizzles of habanero crema and chimichurri.
Taqueria cocktails, most served double and on the rocks, were a shade better than standard issue. The syrups tasted more like real fruit than candy in the summery strawberry marg ($9) and a not-too-sweet watermelon margarita ($9). Only kiwi ($9) ran into textural issues, with a pulpy, gelatinous muddle on the bottom of the glass.
The Paloma ($8) made with Fresca found a good level of sweetness, but swapping tequila for Mezcal ($9) in the same cocktail didn't work at all. The smokiness of the spirit took over, like drinking Scotch and lemonade.
With a wrap-around bar, tequila shot specials and a surfboard on the wall, BelAir Cantina feels more State Street hangout than downtown bar. It's a little basic. Partner Scott Johnson said the company is already looking for another Madison location, but not intensely — after such quick expansion, the business is ready for a breather.
When compared to a spot like Canteen, which it inevitably will be, BelAir's menu is at least as inventive and possibly more consistent. Taco to taco, I'd take BelAir's barbacoa over Canteen's, pick up pepinos and go back to Canteen for fried cauliflower and crispy duritos.
I like that I don't have to choose.