FOOD & DRINK
Restaurant review: Cauliflower and squash are surprising stars at Canteen, Food Fight's new taqueria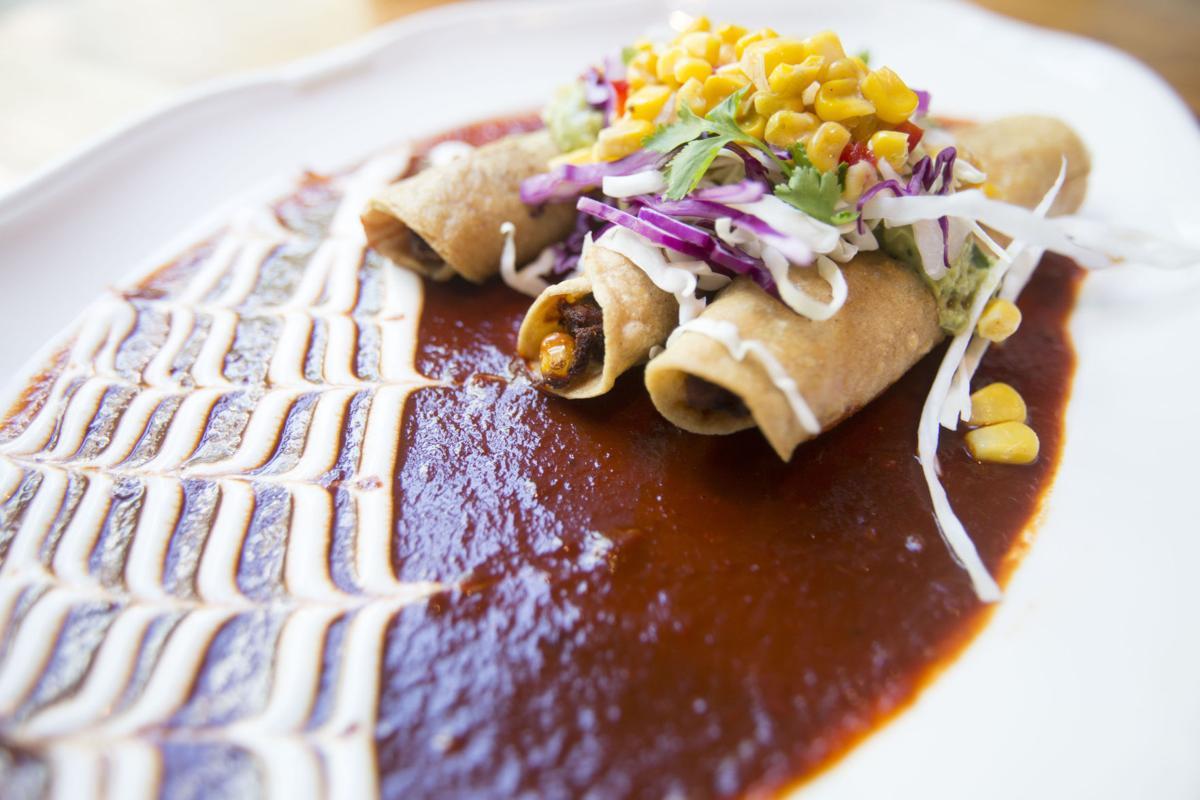 The taco, like the dumpling, the sandwich and the noodle bowl, is a wonderful and variable thing.
The pursuit of deliciousness knows no rules, but in a Mexican-style taco, one of the primary ingredients is usually meat. Whether it's al pastor, chorizo, lengua or carne asada, meat is the essential thing, piled with chopped onion, fresh cilantro and a squeeze of lime on still-warm corn tortillas.
In that regard, Canteen, a new taco and tequila bar just off Madison's Capitol Square, is an outlier. Canteen aims to serve traditional style tacos, but with few exceptions, the worthiest dishes all happen to be vegetarian.
Sweet potato dorados ($10) in crispy taquito shells sang with smoky chili sauce. Salty cotija cheese and chlii-lime butter amped up a generous dish of elote-style sweet corn ($4). 
And on visit after visit, tacos made with summer squash and tomatillos, fried cauliflower, black beans and farmer's cheese, outshone carnitas and pork belly every time.
With a zip of fresh salsa, those veggie options are the best reason to wander over the loose gravel and step around freshly poured cement to the door of 111 S. Hamilton St.
Canteen is Food Fight Restaurant Group's 20th restaurant, open since early May in the former Nostrano location across from Genna's. Opening just days before Cinco de Mayo, deep in the shadow of ongoing construction at 25 W. Main St., presented twin challenges. Staff has been upbeat.
"It's a minor annoyance," said Patrick Sullivan, assistant manager and beverage director. "It's harder to walk over from certain places, but it hasn't hindered us a ton.
"There's enough buzz going on right now … people are finding a way to get over here."
Where Nostrano was quiet and cozy, Canteen rings with the animated voices of diners during weekday lunch, bouncing off walls splashed with flowery wallpaper.
Overseen by Food Fight chief creative officer Caitlin Suemnicht, the restaurant kept some of Nostrano's salvage chic decor, like a comfortable, polished wood bar and antique pulleys behind it. Look closely behind the bar to spot veladoras (saint candles) but with the Golden Girls, David Bowie and Drake tucked among bottles of mezcal and tequila.  
Canteen serves the same menu of tacos and slightly larger plates for lunch and dinner daily, with added brunch options on Fridays and weekends.
Friday brunch, the owners explained, is aimed in part at the out-of-town visitor in town early for a Badger game, wandering over from the newly remodeled Park Hotel.
I can't think of a time of day when I wouldn't want Canteen's duritos, puffed wheat wheels sprinkled with chili, lime, salt and a Mexican spice called tajín that doubles down on all three.
Tajín seems to be catching on in Madison, and the mouth-puckering tartness and spike of heat in this featherlight snack proves why. The first bag of Canteen duritos (also known as duros) is free; subsequent bags cost $1. These have the just-keep-drinking effect of barroom popcorn, except 100 times better.
Among Canteen's snacks, perfectly fried tortilla chips with a substantial guacamole ($7) and a bright jicama salad ($6) were crunchy in opposite but equally appealing ways. Ceviche ($14) had a pretty mix of scallops, mildly chewy octopus and small shrimp, but I missed the bracing acidity that makes an excellent ceviche.
Food Fight culinary development directors Matt Pace, formerly of Monty's Blue Plate Diner and the new Avenue Club, and Michael Pruett, formerly of Cento, developed the menu at Canteen to focus mostly on tacos. Chef José Mones and his team execute them with varying degrees of success.
Cauliflower, Madison's hip vegetable of the moment, made for a sneaky vegan taco ($3.50) that had it all going on over its steak and pork brethren. With a Tecate beer batter, a kick of guajillo chili and a tart tomatillo slaw, this crispy cauliflower was dressed up like it was prom night.
Carnitas ($3) may be the most popular filling, but twice it arrived dry and overcooked. Somehow fatty pork belly ($3.50) became tough.
On the opposite extreme, shredded chicken ($3) in a green chili sauce was the first to disintegrate its corn tortilla, of which Canteen provides just one per taco.
The argument for the one 6-inch tortilla versus two 4-inch tortillas makes sense in the abstract. Staff claims that this single wrap allows diners focus on fillings like delicate braised zucchini ($3.50) in one taco or a fried wedge of farmers' cheese ($3.50) in another.
In practice, though, one tortilla was not enough. Eating a taco with a fork made me feel like a fussy person, or alternately my middle school self, who smashed Ortega shells into ground beef and iceberg lettuce to make taco hash. (To be clear, this is still a fine way to live, just not in a Mexican-style joint.)
Let's let tacos be tacos and hash be hash. We found one on the brunch menu made with fatty chunks of brisket and roasted peppers ($11), topped with two beautifully poached eggs. A bacon and egg breakfast taco ($3) was basically a diner breakfast in a tortilla, and there's nothing wrong with that.  
Canteen's chilaquiles ($8) were decent if oddly one-note, dominated by a deep red and smoky chile sauce. I found the breakfast nachos at both Everly and Bassett Street Brunch Club better than Canteen's, despite strong similarities among the three.
Flavor balance presented a challenge in beverages too. Smoked paprika smashed everything else in Canteen's lukewarm Bloody Mary ($7), while horchata ($3.50) tasted as thick and sweet as melted ice cream.
Where Canteen's bar program got it right were margaritas and variations on that theme. The El Jefe ($10) made with a Sauza reposado tequila was strong and lightly sweet, and after that we started riffing — margaritas made with Herradura Resposado ($11), Casa Noble Reposado ($12) and a smoky Mezcal from Yu Baal ($10), with salt and without, were universally refreshing and well-made.  
Even a frozen strawberry margarita ($8), straight from a spinning slushy machine, had a tangy edge I loved. For those who like their rosé with a little residual strawberry sweetness, this is your margarita.
The Canteen team has fun with desserts. There's a paper bag of churros ($3), less chewy and lighter than I remember them, with a sprinkling of cinnamon sugar and a texture almost like a beignet.
Paleta popsicles ($3) may not have the nuance they promise — no chili in the pineapple chili, for example — but that's OK, they're fresh and icy cold and full of chunks of tropical fruit, like mango.
There's even a house version of that childhood ice cream treat, the Choco Taco ($3). Canteen makes its version with a pizzelle wafer instead of a sugar cone so the insides don't smoosh out at the first bite or shatter and leave you with a handful of ice cream.
This is all better for eating by adult people inside a restaurant, but I'll be honest: the sprinkle of sesame, pumpkin and sunflower seeds don't make up for sugar cone crunch.
When it comes to tacos, choco or otherwise, sometimes the basics are just better.