FOOD & DRINK
Let's Eat: Casetta Kitchen and Counter has sandwich ideals
Let's Eat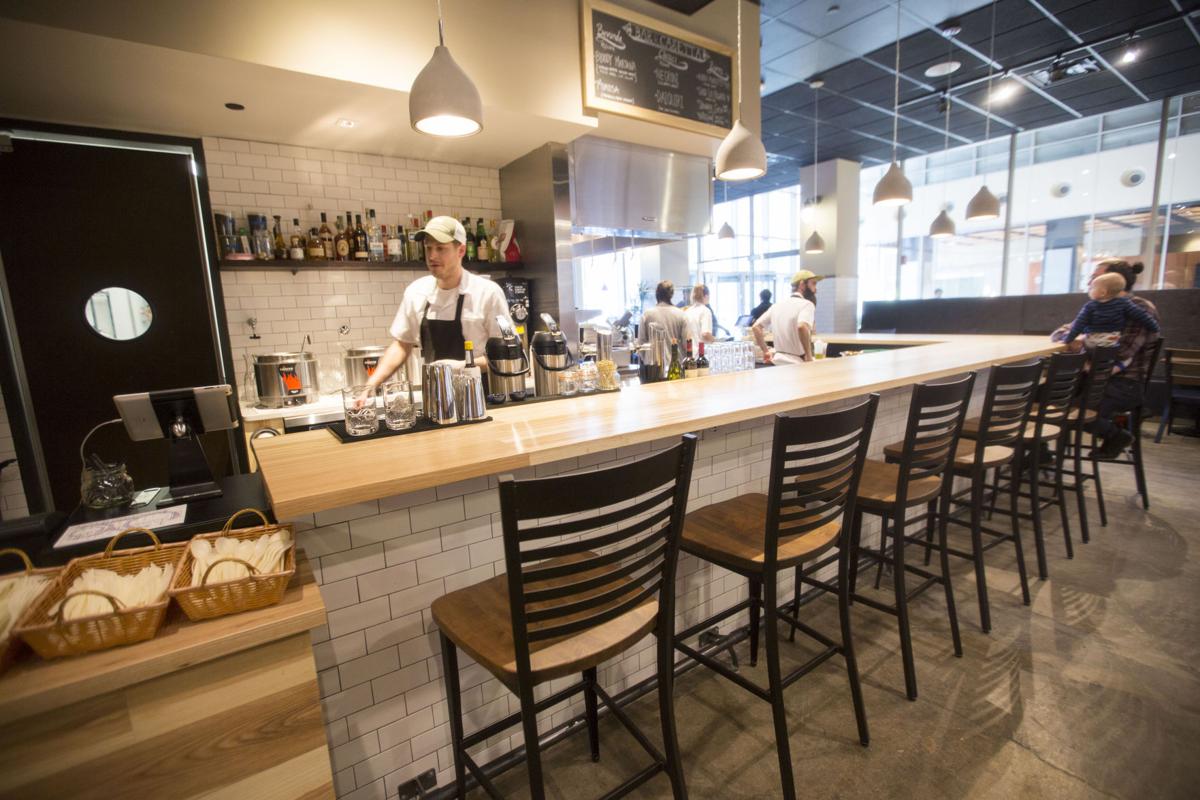 Like the ingredients in a good sandwich, the owners of the new Casetta Kitchen and Counter complement each other.
Of the two owners, James Juedes, 30, recently a sommelier at L'Etoile, is outgoing and chatty. Juedes runs the register during the busy lunch rush, taking orders as Motown and soul music play on the sound system.
Juedes also handles wine bottle sales at Casetta. A former biochemist, he's comfortable discussing wine at the molecular level, but it's the human connection that gets him excited.
"I love it when people say, 'Hey, I'm making this for dinner, what do you think?'" he said. "I enjoy helping people create a really wonderful setting for their dinner at home." 
Juedes' business partner, Tommy Gering, 28, is more reserved. He stays in the kitchen and lets Juedes do the talking — until it comes to sandwiches.
When I asked how he shreds the lettuce in Casetta's sandwiches as thin and feathery as alfalfa sprouts, he launched into a heady exposition using engineering terms like "airways."
Short answer: he uses a meat slicer.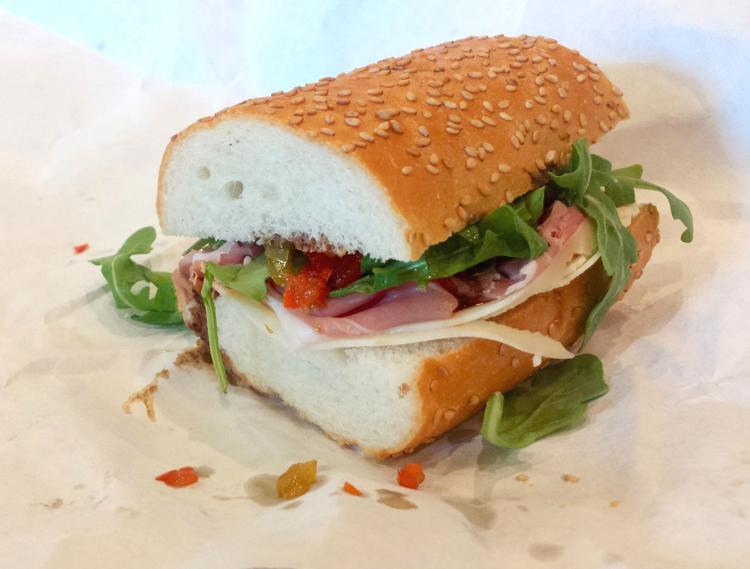 "It's the best way to consistently slice lettuce," he said. Super-fine lettuce allows flavors to seep through the sandwich and mingle.
"I'm very passionate about sandwiches," he explained.
Gering and the kitchen team slice Casetta's sandwich meat to order. That way, "it stays more juicy," Gering said.
"We cut the meat super thin," he said. "It adds height and texture to the sandwich."
The results are a revelation. Casetta's sandwiches ($6 for a half, $10 for a whole) come on a choice of house-made focaccia or seeded hero bread from the Peter Sciortino Bakery in Milwaukee. The excellent Italian, with capicola, salami, ham and provolone, lives up to Gering's ideals of sandwich composition.
Underground Meats makes Casetta's mortadella, salami and pepperoni, but Gering and his kitchen staff prepare many of the other sandwich ingredients on-site. They order turkey from Minnesota, brine it for two days, then slow-roast it for nine hours. The kitchen pulls fresh mozzarella daily. 
A surprise standout among the sandwiches is the "Vegetalian," which I may have overlooked if my vegetarian mother hadn't been eating with me. I've been let down too many times by vegetarian sandwiches that tasted like an afterthought, with gummy wads of cheese and bland hummus.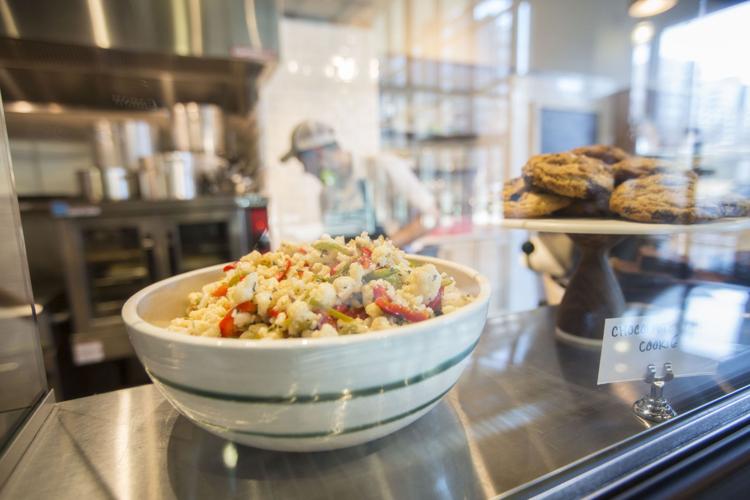 This one's different. The Vegetalian is fully formed, as good if not better than its meat counterpart: roasted squash sliced thin and served cold, celery root, potato, sweet potato and provolone (from Grande Cheese in Juda) dressed "with everything," which in this case is herbs, peppers, oil, vinegar and bunches of that super-fine lettuce.
Casetta means "little house" in Italian, and the business name harks back to the owners' childhood. Gering and Juedes grew up as neighbors on the northeast side of Wausau.
"Our families are best friends," Gering said. 
"The kitchen counters in our homes were the focal point, where people congregated," Juedes added. 
The two pursued different paths after high school. Gering moved to New York, trained at the Culinary Institute of America (CIA) and worked in well-regarded Manhattan restaurants like Ristorante Morini and David Chang's empire-building Momofuku Ssam Bar.
After leaving Wausau, Juedes moved to Madison and got a degree in biochemistry and worked in pharmaceutical research before discovering his real passion, wine. He studied viticulture and enology while working at wineries in Wisconsin, Oregon, Spain and New Zealand. 
The idea for Casetta started taking shape about two years ago. Casetta was partly inspired by Juedes' Uncle Mino and Aunt Kathy, who for years ran Mino's Cucina Italiana, an Italian-American restaurant in Wausau that had "steak, big booths, a big bar area and lots of pasta," Juedes said. 
"It was very much a community restaurant where everyone in the neighborhood would congregate," he said.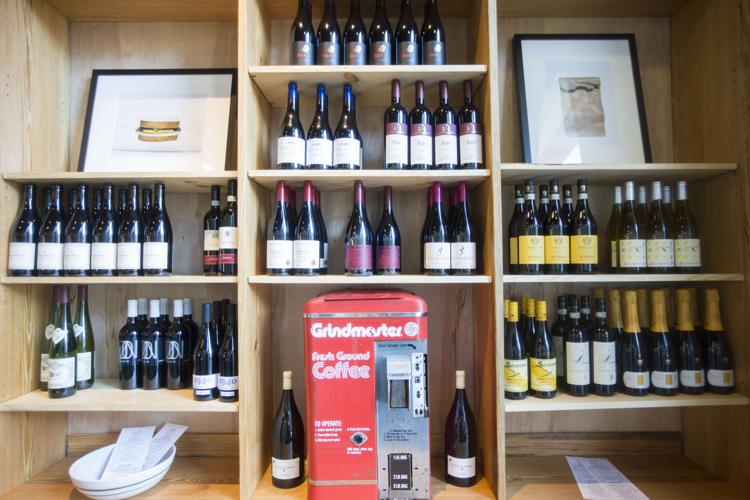 Casetta may be smaller but it covers a lot of ground: breakfast, lunch, a full bar with retail wine, Saturday brunches and takeout family dinners like roast chicken or eggplant parmesan ($18-$25), as well as periodic special events with table service.
A recent "Bubbles and Chicken" event pairing Champagne and fried chicken was a hit. Juedes describes this high/low style as a "juxtaposition of service," combining elements of casual and fine dining.
Besides sandwiches, the lunch menu includes rotating deli sides like radishes and turnips or beet salad ($3-$9), as well as soups and green salads.  Elderberry Hill Farm in Blue Mounds provides some of the produce, Juedes said. 
A Caesar salad ($8) comes out as a plump mound of endive, escarole and tiny breadcrumbs, tossed well in garlicky dressing and showered with parmesan. The pasta e fagioli soup ($4 for a cup, $6 for a bowl) is hearty comfort food with delicate pork sausage, spinach, cannelloni beans, fennel and pebble-sized acini di pepe pasta in a tomato base.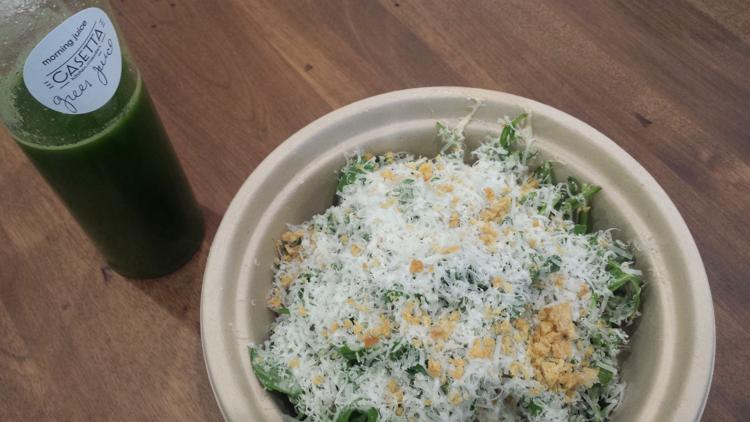 To drink, Casetta makes its own fresh green juice using kale, ginger, apple, cucumber and lemon ($6). Each gulp is like breathing in a stiff spring breeze.
Sandwiches come wrapped in paper, and everything else is served in mostly biodegradable disposables. On a recent Monday, the meatball sub special was so good I scraped the wrapping paper with a spoon to get every last morsel of melted provolone and tomato sauce.
Gering's girlfriend, Laura Romanski, a bartender at Forequarter and a fellow CIA graduate, is in charge of baking at Casetta. Her chocolate chip cookie ($2) is the platonic ideal of "soft-baked": buttery crunch on the outside, evenly supple inside.
Casetta's next special event is set for an upcoming Friday night, March 24 from 6-9 p.m. Gering and Juedes will serve a Lenten dinner of cioppino, a classic Italian-American fisherman's stew that originated in San Francisco.
Like at lunch, Casetta is keeping it casual. No reservations are necessary.