Carrying a camera in our pocket has changed the way we see and document the world, and that definitely includes our trips to restaurants. Instagram is teeming with carefully plated entrees, mouthwatering desserts and colorful cocktails.
The rainbow craze has been big on Instagram for awhile now with multi-colored bagels, prismatic layer cakes, Starbucks' infamous pink and turquoise Frappuccinos, and naturally dyed "unicorn toast."
In response, a new trend cropped up online: goth food. Not only has coffee been given an ultra-black makeover, restaurants have added food grade activated charcoal and squid ink to cocktails, pizza crust, hotdogs, hamburger buns, pastries, and ice cream. There's even black ketchup, made with black garlic.
If the visual dissonance of black food sounds interesting enough to try for yourself (Instagramming optional), several restaurants in Madison offer food from the dark side.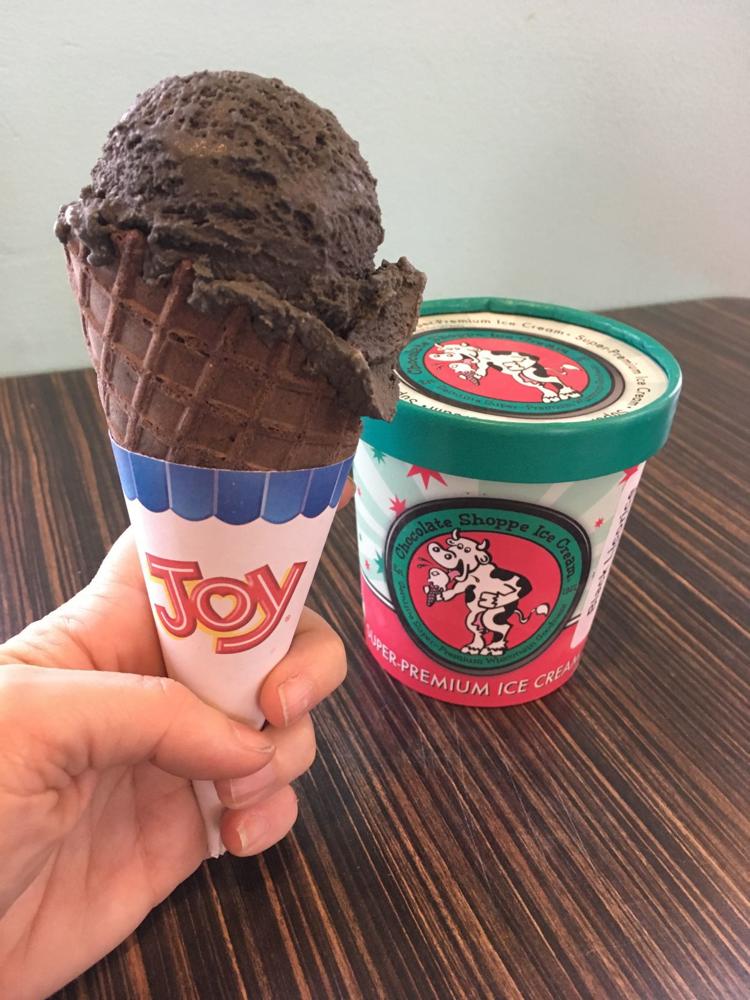 The Chocolate Shoppe's licorice ice cream is not in high demand, so it's not on display with the colorful, fruity flavors in the case, relegated instead to pre-packaged pints.
At the Midvale location the woman behind the counter generously scooped the frozen treat into a chocolate waffle cone to get as monochromatic as possible. Far from true black, the color was closer to wet cement.
The taste was pleasant, though. More subtle than a piece of chewy black licorice candy, cream and sugar tempered the spice and the anise. Still, my cone looked like it had been filled with wet grout, and the flavor would work better paired with something else, maybe chocolate.  
One of the most popular bottles at Saints Juice Company is an ink black, sour lemon drink called "The Exorcist" ($7.25). Co-owner Joyce Cullen said most people are drawn to their cold pressed juices for health reasons but with this juice, a blend of lemon, agave and food-grade activated charcoal, customers are equally fascinated by the color (or dramatic lack thereof).
Charcoal adds a slightly chalky flavor to The Exorcist, but mostly it imbues the drink with a black-as night color. Charcoal prevents absorption of various toxins by the stomach lining, so it's often touted as a hangover cure. But be warned, it can also block nutrients and prescription medication, including birth control.
At RP's Pasta Company, founder Peter Robertson makes squid ink pasta that looks like a handful of licorice whips in the package and becomes flat black when it's cooked. The color, which comes from squid or cuttlefish ink, gives the pasta a subtle flavor, Robertson said.
"It's not really briny, more like a faint lobster overtone," Robertson said. RP's Pasta regularly supplies several area restaurants with the dramatically black pasta, but retail customers can only find it seasonally.
 "We sell it during the summer at the farmers' market," Robertson said, "although we've been getting more requests to have it on shelves all year round, so we may try that out."
At the Middleton location of Biaggi's Ristorante Italiano, the most popular signature pasta is an RP's squid ink fettuccini with lobster ($17.99), a rich, decadent entrée.  
A silky lobster cream sauce with buttery chunks of lobster and sautéed mushrooms is dotted with chili flakes for a bit of spice. Visually, it's reminiscent of the landscape this time of year — a black field peeking out from under a thick layer of snow.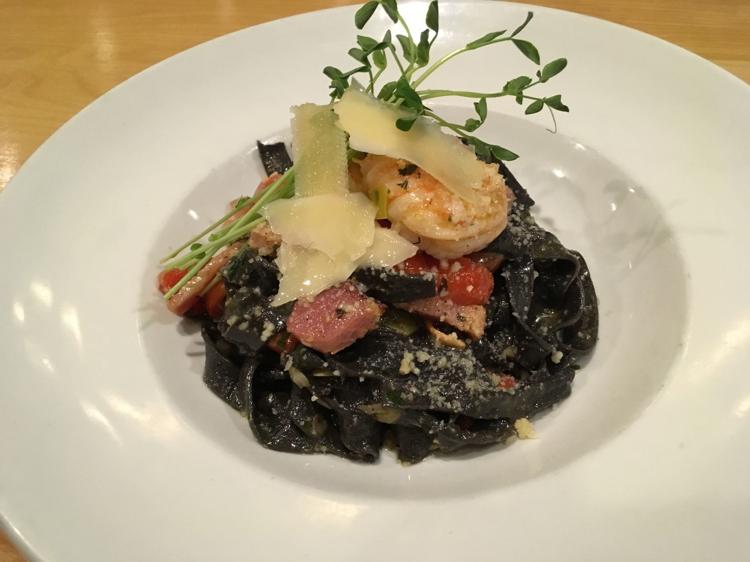 Liliana's Restaurant, a New Orleans-themed Fitchburg spot, doesn't offer its shrimp and squid ink pasta dish ($19) as a special because it's trendy.
"The bottom line is always taste," said Liliana's chef/owner Dave Heide. "It has to be delicious."
Heide sprinkles pink shrimp with Cajun spices on top of swirls of RP's black pasta tossed with a white wine butter sauce.
Punctuated with charred tomatoes and bacon, the dish is topped with SarVecchio cheese and pea shoots for a fresh, contrasting crunch, as well as fresh herbs like dill, parsley and chives. The pasta's oceanic aroma complements the shrimp for a complex dish that's not heavy handed.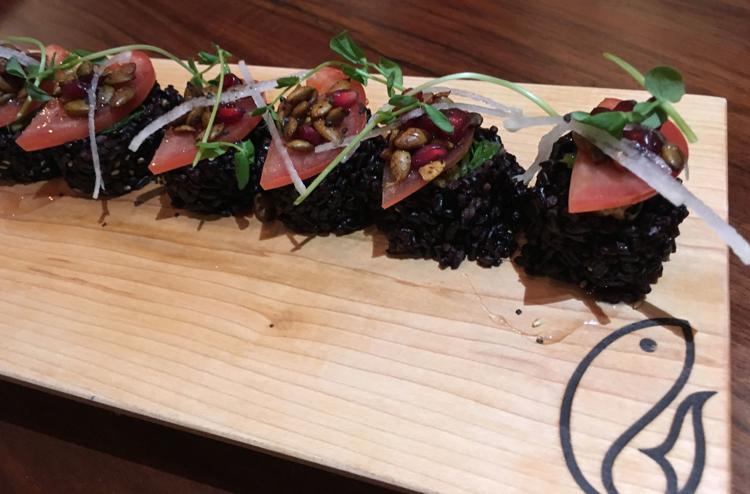 Perhaps the most beautiful "goth" food in town is the Persephone roll ($17) at RED, the sushi restaurant on West Washington Avenue. Though diners may substitute black "forbidden rice" on any of RED's sushi dishes, the Persephone roll was designed around the chewy, nutty grains.
In the Persephone roll, forbidden rice serves as a base for a sweet and crunchy combination of ingredients, including tempura-battered butternut squash, arugula and pickled daikon. RED tops the dish with crunchy elements like pepitas and pomegranate seeds and drizzles it with a raspberry ginger glaze. Hawaiian black sea salt finishes the dish.
This is one black dish that's sticking around. The Persephone, once a seasonal vegan special, has become a menu standard that some diners even order for dessert.