After a long summer of cookouts and football season upon us with tailgates aplenty, there's a good chance the average Wisconsinite may have reached brat capacity. 
Then again, maybe that's not a thing. And Madison has more to offer than brats on buns with a little sauerkraut (as good as that is).
Here's a look at creative uses and twists on brats, wursts and sausages around town: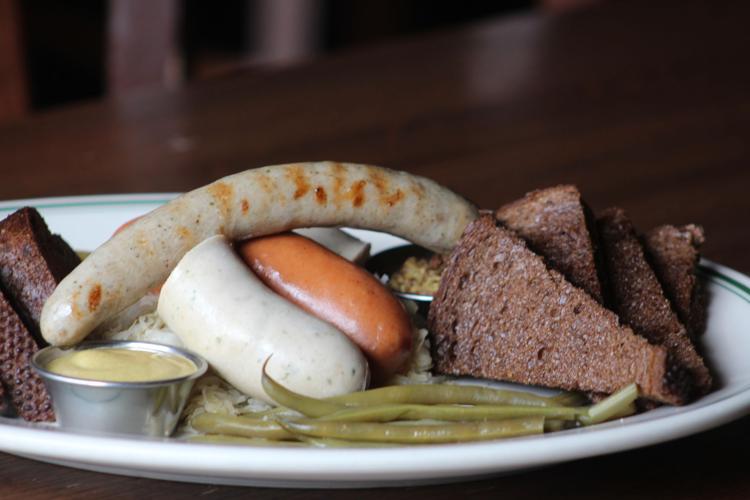 Start simple. The Old Fashioned on the Capitol Square at 23 N. Pinckney St. offers a "Best Wurst Platter."
It is very literally named. When the restaurant was first opened, the owners went to 20 or 30 sausage places around the state to find their favorites, according to general manager Jennifer DeBolt.
"It was a good, yet agonizing, week," she said.
The winners included Nuremberg bratwurst, knackwurst and weisswurst. Alongside the sausages, the Old Fashioned serves with grilled bread, sauerkraut, sweet gherkins (pickles) and mustards for $14.95. It's one of the restaurant's most popular appetizers.
The Old Fashoined doubles down on the best of the wurst during Wurst Week, Oct. 23 to Oct. 27. Daily sausage specials feature things like fresh kielbasa, slow cooked in beer and served with bourbon barrel baked beans.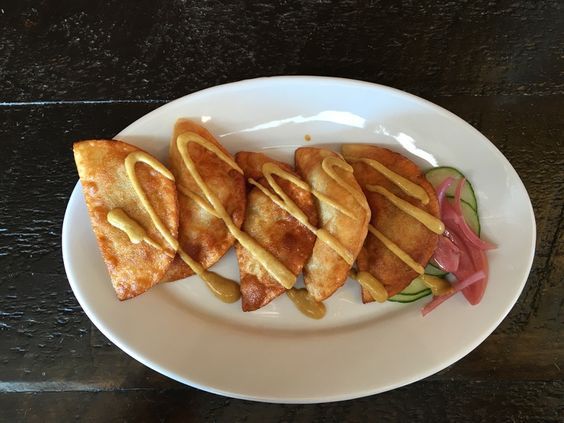 Winning our title for most inventive use of brats and cutesiest name are the "Brat Stickers" at German restaurant Freiburg Gastropub at 2616 Monroe St. Priced at $6 for five, these generously-sized 'stickers are startlingly delicious.
Freiburg makes each dumpling with Johnsonville bratwurst freed from its casing and mixed with caramelized onions and sauteed cabbage. This goes inside a fresh ravioli sheet (like German-Asian-Italian fusion?), gets egg-washed, boiled and eventually deep-fried to order.
But really, why haven't we put mustard on potstickers before? Perfectly fried and delightfully punched up by a squiggle of house mustard, I was a little stunned by how much I loved this combo.
Bratwurst is sprinkled in several of the dishes at Twist Bar and Grill in the Radisson Hotel at 6617 Odana Road. Chef Dennis Matteson spent years cooking around the Midwest, but would always ship sausage from Milwaukee to get that "old-world" style, he said.
At Twist, he serves brats in several dishes, like the Wisconsin Mac and Cheese ($16, served as an entree) and Wisconsin Pizza ($17.95, also featuring sauerkraut). The Beer Cheese Soup ($4 for a cup, $7 for a bowl) is the indisputable champion of the Wisconsin trifecta: cheese, beer and brats.
With a two-year aged Carr Valley cheddar, Milwaukee-based Klement's sliced Bavarian sausage and Spotted Cow beer, the only way to make this soup more enthusiastically Wisconsin would be to add the tears of a Minnesota Viking to the potion.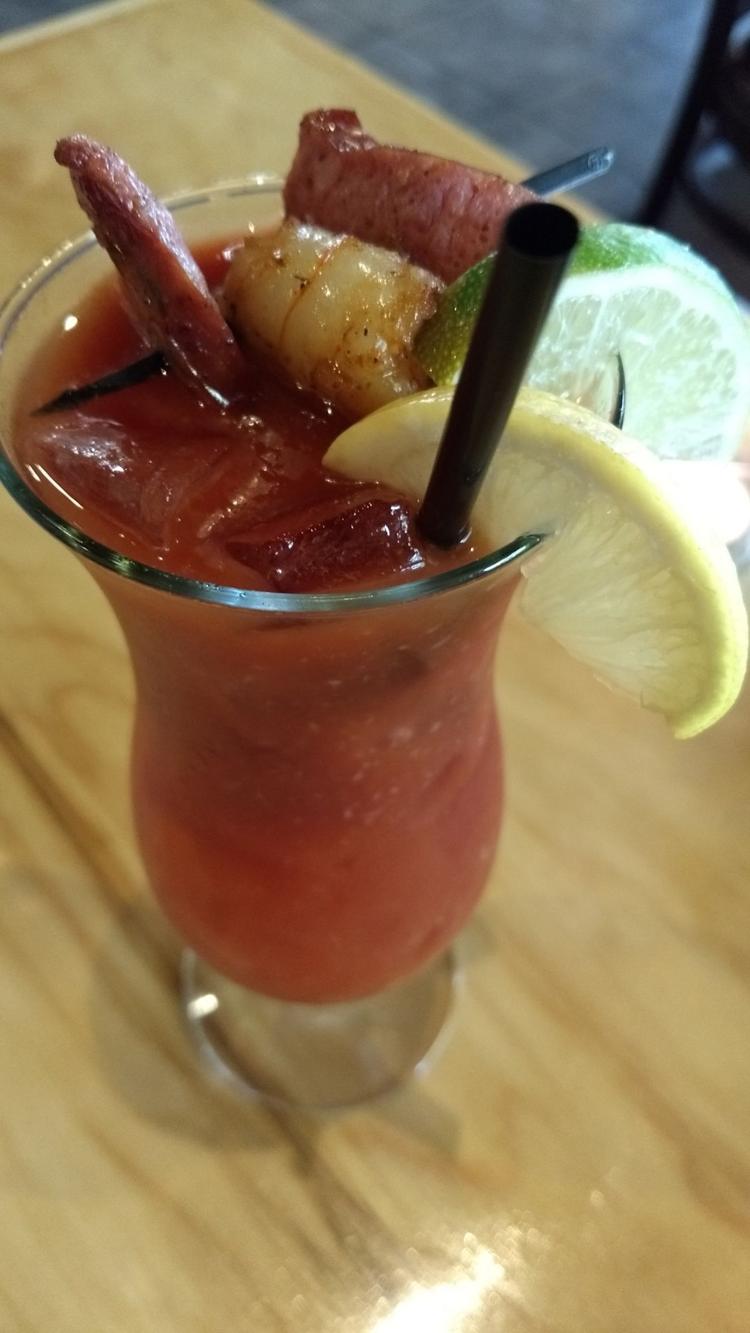 Beer and brats are well-known tailgate buds, but for a less conventional sausage-alcohol combo, go to Liliana's Restaurant at 2951 Triverton Pike Dr. Sip on a Loaded Bloody Mary, made of the house mix, pickled vegetables, vodka, Farmer John's cheese curds, blackened shrimp and andouille sausage.
Andouille, a smoked pork sausage, soaked in tomato mix is a welcome alternative to the typical bacon or beefstick. Andouille sausage also pops up in the filé gumbo, Pasta Liliana, jambalaya and red beans and rice. In dirty rice ($15), andouille tag teams with chorizo and piquillo peppers for a sweet and spicy one-two punch.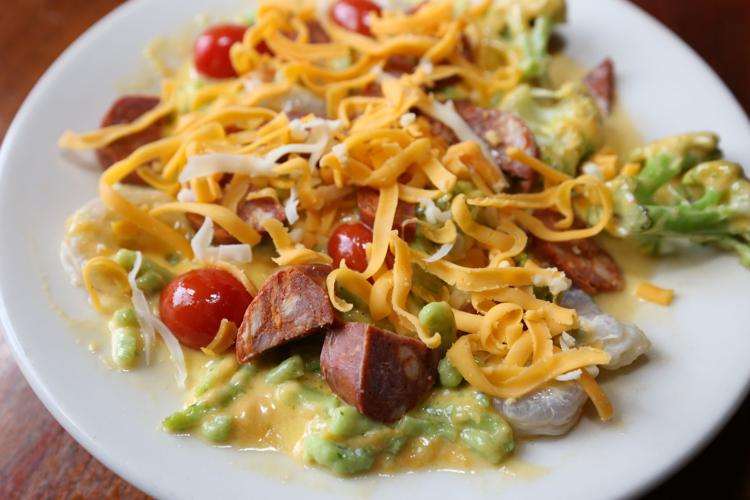 At the Come Back In Tavern on 508 E. Wilson St., experience the alt-brat world via the spicy andouille Sausage and Shrimp Mac ($14). Chef Bob Worm uses the restaurant's homemade German spaetzle noodles (made with flour, egg and spinach) as the base, filling it out with tomatoes and cheddar.
"It's got to have some flavor to it, just by itself," Worm said of the sausage he chose. "I think some people just buy the cheapest sausages and put it on a bun and doctor it up with sauerkraut, but that doesn't always work."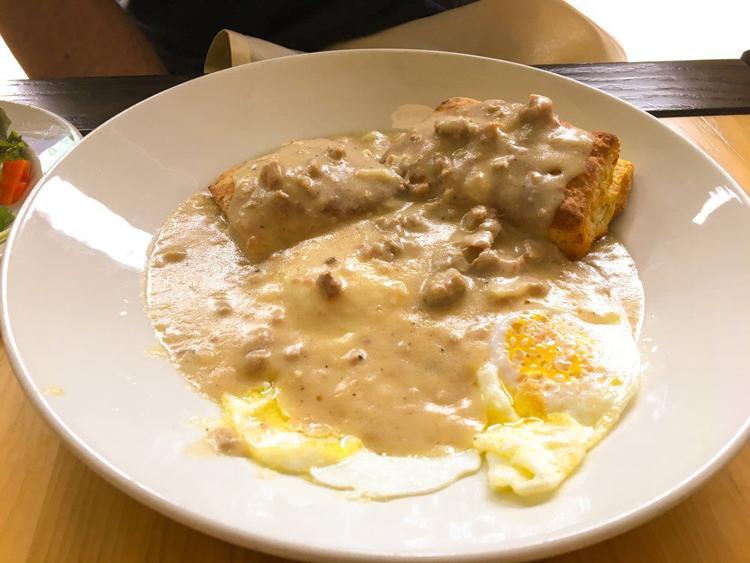 At Oliver's Public House at 2540 University Ave, diners can have bratwurst for breakfast.
Chef Patrick McCormick discovered a love for making biscuits when he worked at the Tornado Steakhouse. Later, at Restaurant Muramoto, he was making a staff breakfast when he was struck with the inspiration for bratwurst gravy.
"I knew if I had the opportunity to write a brunch menu at any point in career that was going to be on it," McCormick said.
True to his word, Biscuits and Brat Gravy ($10) is available on the weekend brunch menu at Oliver's.
McCormick thinks his brat, which he describes as a mix between a Bavarian and Wisconsin style, is a good alternative to use in often pepper-heavy sausage gravy. For those who aren't morning people, the same brat gravy is also on the poutine served at happy hour and on the late night menu.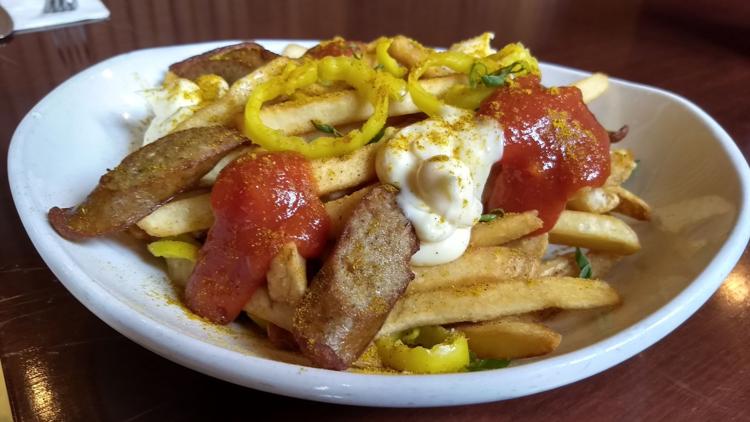 During its celebration of Oktoberfest, The Great Dane Pub & Brewing Co. offered a limited-time Berliner Currywurst.
Matthew Moyer, executive chef of the Great Dane, only recently discovered currywurst.
"Our owner was at the Conscious Carnivore and had picked some up," Moyer said. "(He) brought them to me and said, 'Can you do anything with these? They're pretty good."
Moyer soon discovered that currywurst is a popular German street food, just sausage on a bed of fries with curry ketchup and curry powder.
"They go crazy for it in Berlin, so we thought we'd do a take on that," he said.
The result at the Great Dane is a beautiful pile of big, crispy fries topped with slices of that Conscious Carnivore wurst. Moyer decorates it with alternating dollops of Japanese-style kewpie mayonnaise and curry ketchup, then liberally sprinkles with curry dust.
Hot peppers and scallions to lighten up the dense dish, creating the loaded fry alternative I never knew I needed.
The Oktoberfest menu is at an end, but not to worry, Moyer said. It will likely show up occasionally (maybe even weekly) in the future and could turn into a summer menu item.