In the six months the Little Red Barn food cart has been open, cart owners Larry and Yaminique Brown have developed a loyal following of their pulled pork, hot dogs and ample fries doused with cheese.
But if you haven't discovered them yet, it may take some work to track them down.
Instead of frequenting the usual food cart haunts on the Capitol Square, on Library Mall and at Let's Eat Out events, the couple is favoring late-night serving and special events like the block parties at Engelhart Motorsports on Greenway Cross.
"We try not to stay in one spot," said Larry Brown. "We would rather the people follow us. A lot of people say that may be wrong, because they want us to be stationary.
"But I figure if you've got good food they'll follow."
This method seems to be working. Stationed near the PDQ on Williamsburg Way in Fitchburg on a Friday in September, the Little Red Barn was drawing regular customers who knew the menu and the Browns well.
Larry Brown checked in with one about work and chatted while he got their orders going. Shortly after they began vending, however, the property owner came up and told them to move due to a miscommunication with one of the shop managers.
So the Browns packed up their cart, drove the mile and a half to an AutoZone where they have a good relationship with the owner, and set up there.
Sure enough, the customers followed.
"That's the advantage of being on wheels," Yaminique Brown said.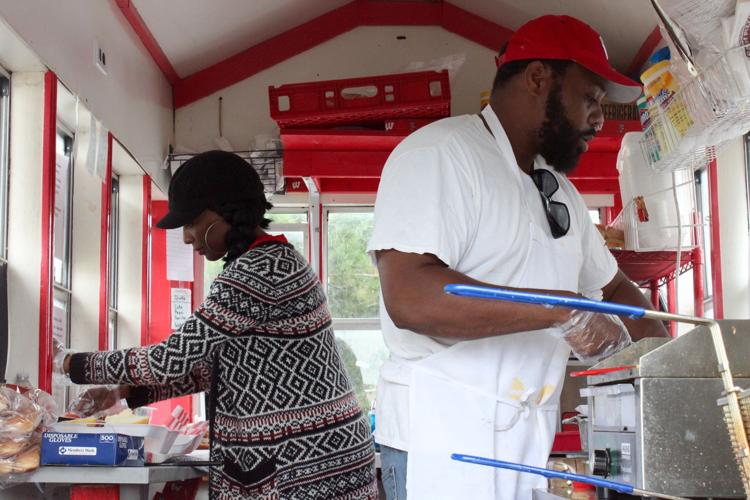 Yaminique said the pulled pork is one of the best selling options so far, and it's easy to see why. Two sliders come on soft white buns stacked with coleslaw and tender pork slathered with phenomenal barbecue sauce ($9.50 with fries and drink, $6.00 for just sliders).
Folks who don't enjoy getting messy with their meal could opt for the chicken sandwich. It comes with crispy breading on a thin piece of chicken with lettuce, tomato and a mildly spicy, mayo-style sauce ($8.50 combo, $4.50 sandwich).
The fries are cut with the skin on and fried to be crispy on the outside, soft in the middle. Those who are feeling decadent can add a dousing of cheese sauce for an extra dollar.
The cart also serves up an array of hot dogs, including one topped with bacon, corned beef sliders, cheeseburger sliders, cheese curds, nachos and specials based on the day or the event.
Little Red Barn does vend regularly at the Crystal Corner Bar at 1302 Williamson St. The cart is set to be there every Friday and Sunday night from 8 p.m. to around 2:30 a.m., or whenever the crowd dies down. Yaminique Brown said late at night, there's less competition from other food carts and restaurants.
"Late night is definitely going to be our thing," said Brown, who still works a 9-to-5 job as a placement and retention coordinator at the YWCA. Larry is a stay-at-home dad, taking care of their 3-year-old son.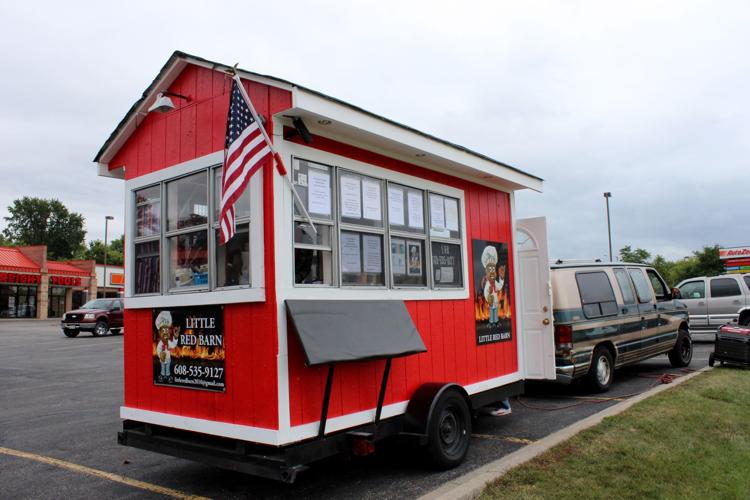 The pair has only had the food cart for about six months, they were selling food from a table and a tent for years before that, which is how Larry Brown convinced his wife to get into it.
Five years ago, Brown got a tent and a table and set it up in the park selling fajitas. He started to draw a following, so he brought his wife out one Sunday and she saw how well it was going and got on board.
After three years, the pair decided to build their own food cart from the ground up, an endeavor that took about a year and a half with all of the electrical and plumbing components.
The Little Red Barn reflects its name with red paneled walls, white trim and an American flag fluttering off the side. The Browns do their prep work out of the FEED Kitchens on North Sherman Avenue.
Yaminique Brown said Little Red Barn has lined up special events mainly through word of mouth. Larry Brown added that the cart will do the work of advertising for them:
"Who can pass this up?" he said. "It's the Badger state colors.