FOOD & DRINK
Let's Eat: Roasted, pickled and fried, cauliflower is a new favorite on local menus
Remember when kale was the "it girl" of the restaurant scene? Now the vegetable of the moment is cauliflower, which for years has either been relegated to the crudite platter or the side dish even kids will eat — cooked to mush and drenched in melted Velveeta.
Cauliflower has come out of the shadows. It's a versatile vegetable that can mimic mashed potatoes, rice and even pizza crust for those living a low-carb lifestyle. Many chefs enjoy playing with this veggie blank canvas, and there are a host of delicious and inventive preparations on local menus worth trying.
Lucky's 1313 serves cauliflower with some impressive heat. An order of Kickin' Cauliflower Florets ($8.50) is enough for a couple to share — a plate of bite-sized cauliflower pieces that have been breaded and deep fried, then tossed in a very spicy hot sauce. The fiery glaze lightly covers every nook and cranny of the crunchy florets without making the breading soggy.
Topped with a few crumbles of blue cheese, these hot "non-wings" are accompanied by the traditional celery sticks and a cup of ranch dressing for dipping. A great vegetarian option in a menu filled with conventional bar food, they may even become a carnivore favorite.
In another vegetarian version of a fried chicken dish, Tavernakaya offers General Tso's Cauliflower as an entrée ($11 for a lunch portion, $14 for dinner). This beloved Chinese American recipe tastes a bit more refined with cauliflower florets under a thick, crispy coating.
Deep fried golden brown, the battered veggie bites are tossed with a sweet and spicy sauce, then garnished with chopped green onions. The accompanying rice balances out that fat, sugar and salt that make this dish addictive.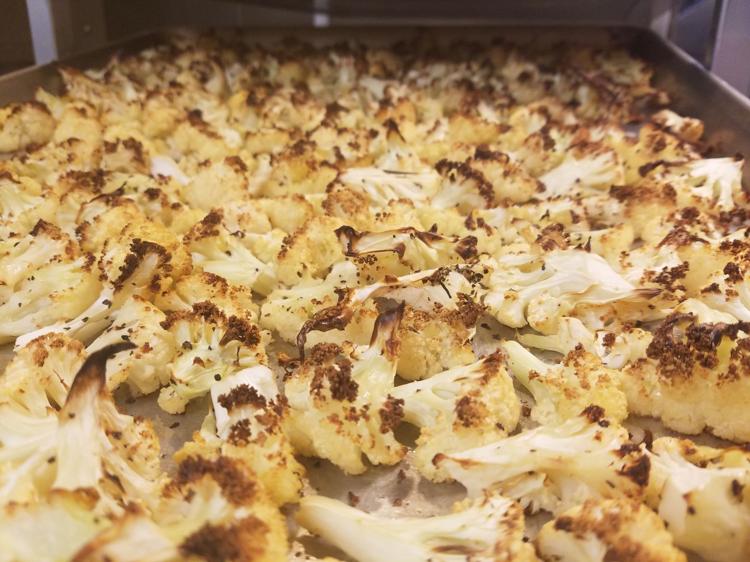 At Everly, one of the newest additions to the Food Fight empire, the fare is decidedly vegetable forward, with a whole category of the menu devoted to fresh interpretations of beets, squash, eggplant, Brussels sprouts — and yes, cauliflower — that celebrate the deep flavors that can be coaxed out of humble ingredients.
Roasted cauliflower ($6) is a dish full of delicious contrasts. The kitchen roasts florets until the edges have browned and caramelized, yielding a sweet, nutty flavor. They're then accented with parsley, garlic and lemon, adding a fresh, herbaceous note. Mixed among the baked cauliflower are florets that have been pickled, giving a sour vinegar note and a bit of crunch. 
For a Tex-Mex take on the cruciferous vegetable, try a fried cauliflower taco or two at Tex Tubb's ($3.99 a la carte, 2-taco platter for $9.99). Folded inside white corn tortillas are large chunks of fried cauliflower and fresh spinach, garnished with grated cheese, diced tomatoes, chipotle crema and corn kernels.
The combination tastes very fresh — with a medley of textures from the creamy corn to the juicy tomatoes to the extra crunchy cauliflower. Unfortunately some of the florets were so large, they proved more than a mouthful.
Want more veggies? Order your taco platter with a side of sweet and sour pickled vegetables, including red peppers, cauliflower, cherry tomatoes, onions and jalapeno peppers.
Whether you choose Sardine's classic steak frites ($26), warm duck confit frisée salad ($12) or another seasonal offering for your entrée, skip down the menu to the "garnitures" and order the cauliflower gratin ($5) for a truly memorable side dish.
Alongside a main course, a server will present a casserole dish filled with perfectly cooked cauliflower bathed in cream and topped with gruyere cheese, browned in the wood-fired oven. Rich and silky smooth, this is great comfort food with a French twist.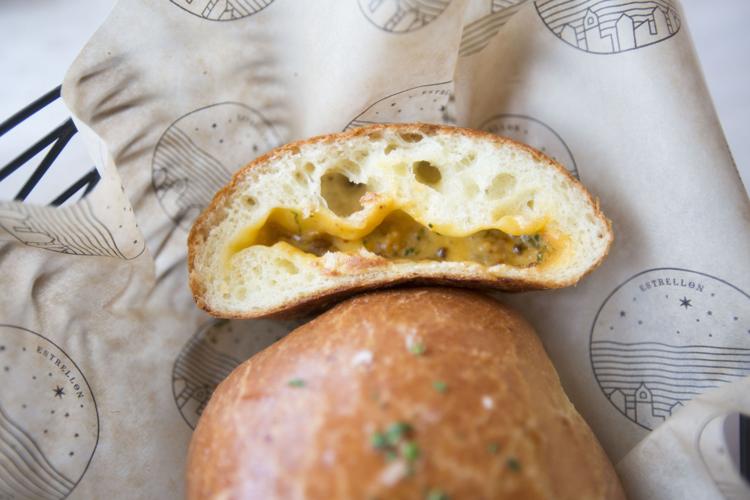 The Bar at Estrellon, relaunched in late January with a new menu, has a more casual feel than the Spanish-inspired small plates and tapas restaurant next door. It has a much more streamlined menu focuses on quick bites that pair well with beer, wine and cocktails. Carrot hummus with pepita granola ($5) and smoked salmon rillettes ($7) are tasty with a house-made sangria, but they are no match for the cauliflower bun ($7).
Served hot from the oven, these boules of brioche dough — crisp on the outside, pillowy on the inside — are stuffed with finely chopped cauliflower, melted American cheese and slightly spicy jalapeño peppers. The warm, gooey, spicy pastry is served with extra queso for dipping.
Other versions of the buns are filled with ground pork, roasted lamb and ham and cheese, but I doubt I will ever be able to pass up the cauliflower version to actually try them.