FOOD & DRINK
Restaurant review: Bear & Bottle brings chill vibes to the north side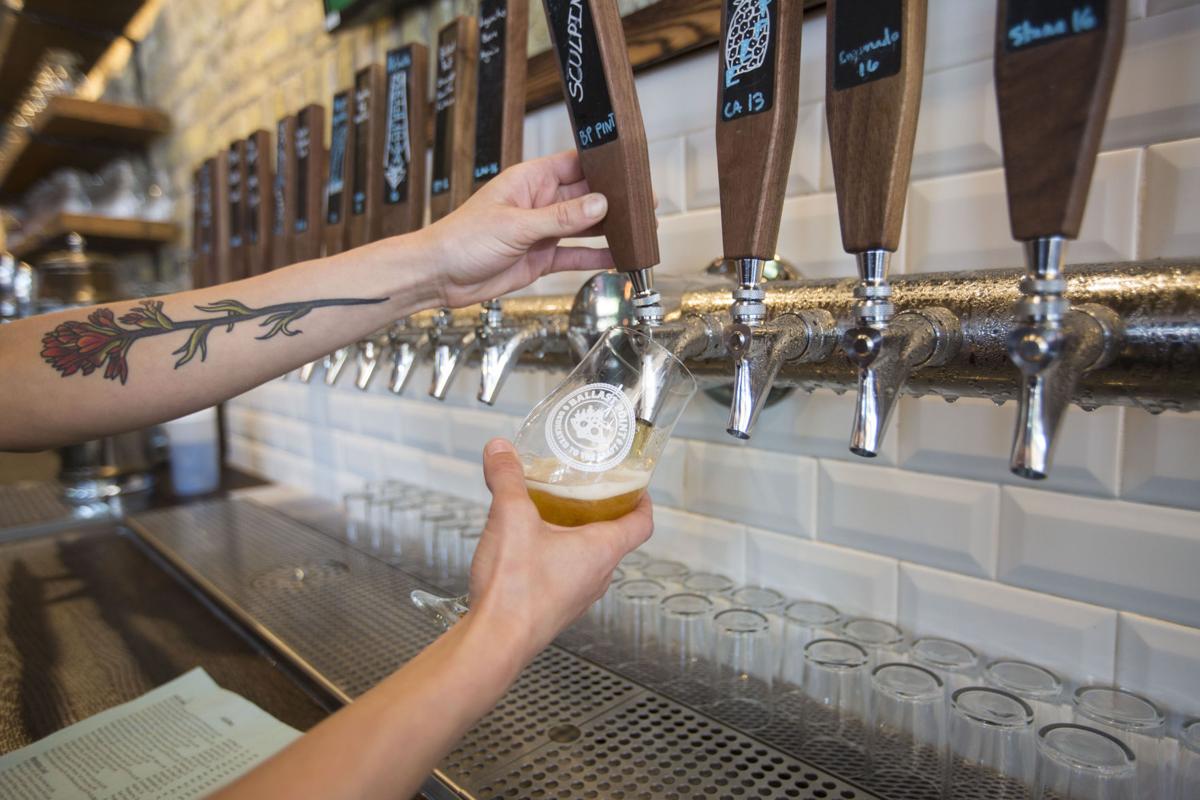 When Bear & Bottle rolled up its garage doors on North Sherman Avenue, it was like the whole neighborhood had been waiting outside.
"When we were looking for our next project, the north side seemed under-served," said Stephani Dalbesio, an owner of the restaurant. "The excitement of everyone in the community ... the anticipation was really encouraging."
The pair has become known for bustling, beer-focused spots, with menus that sample global flavors but never stray far from cheese curds and chicken wings.
Bear & Bottle can feel cavernous save a few charming personal touches. Just inside the entrance, a dark wooden bar table blooms with a runner of potted succulents. Instagram-like travel photos from Dalbesio's sister, photographer Myla Dalbesio, line the walls. 
Boasting a California-centric tap list, Bear & Bottle loosely blends northern California influences with a Wisconsin fondness for hefty proteins and fried things.
To pair with citrus IPAs and strong ales from the Sacramento Valley, former Salvatore's Tomato Pies chef Beth Pieters designed a menu that ranges from sliders ($9) to Mexican-style street corn ($6), and from straight-up chicken tenders ($8) to pickled, tempura-fried asparagus ($7.50).
Among sandwiches, diners will find a pork torta ($10), a chickpea and almond salad with avocado on wheat bread ($9) as well as an "American classic" burger ($9.50). Bear & Bottle struggles with focus and consistency in execution, but the kitchen shines best in this category.
The pork belly banh mi ($11.50) was a darn good sandwich, with sweet, lacquered pork, fresh herbs and crunchy pickled carrot. A golden Batch baguette made it very Madison.
A hefty house burger with bacon and cheddar was a solid tavern-style version with a little sweetness from tomato jam, though it felt spendy at $12.50. Strings of sweet potato fries ($1.50 extra/ side) were worth the upgrade, though Bear's regular fries were solid too. 
Often just one or two elements muddied an otherwise fine idea. In a spring salad ($9), slivers of rhubarb tasted like they'd been soaked in sugar syrup until it removed everything that makes rhubarb interesting — the sourness, the celery-like crunch.
In a dinner plate of whitefish over watermelon salsa ($18), the odd element was pistachios, a textural off-note, plus a lack of acidity. In barbacoa tacos, the weirdness was an unnecessary layer of melted cheese blend, goopy and bland.
Chicken nachos ($13) had a few more problems: crumbly, half-stale chips from the bottom of the bag, browning guacamole and dry shredded cheese blend. A pretty great take on pump-style nacho cheese and pickled jalapeños couldn't save them.
Tacos at Bear & Bottle might be loosely classified as meat-heavy Cal-Mex, punctuated with things like salsa, pico de gallo and creamy chimichurri.
Served three to a plate, some tacos came on traditional corn tortillas with cilantro and lime, like satisfying smoked grilled shrimp with crunchy cubes of bacon ($12). That surprise bacon, plus plenty of cabbage and scallions, made these one of my new favorite riffs on a fish taco.
Others, like those barbacoa tacos, were served on single flour tortillas which promptly disintegrated. Bibb lettuce wraps, standard with spicy Korean pork ($11), can "upgrade" other tacos for an extra $2.
Only one dish was an outright, can't-finish-it failure. Shrimp served "Hawaiian truck style" ($16) was a mess of inconsistent shellfish and half-cooked rice, out of balance and too salty.
Bear & Bottle's beer list should be the main draw for folks outside of Maple Bluff. Taps, 28 of them, include California beers like a nitro dry Irish-style stout from Healdsburg ($6.50/ pint), a puckery oak-aged sour cherry ale from Placentia (fantastic, but $14 for 10 ounces) and a sour strong dark ale aged in port barrels ($9 for 10 ounces).
That last was a part of a mini-Anderson Valley Brewing tap takeover that also involved a blood orange gose ($6 for 13 ounces), a slightly salty citrus sour ale that I'm always happy to see. The list incorporates Bear Republic, Lagunitas, Green Flash and Ballast Point, with summer-friendly hefeweizens as well as high-alcohol imperial stouts.
The cocktail list pales next to the ales, lacking both focus and balance. The bar batches and kegs several of them, which could explain why a rum cocktail with a St. George spirit called Bruto Americano ($8.50) skewed too bitter and a West Coast Margarita ($8.50) with St. George raspberry liqueur tasted close to cough syrup.
For those who really want a cocktail, go off-menu and have the bartender shake a basic margarita ($10) with a decent reposado tequila. Or switch to wine, like a crisp sauvignon blanc from Ponzi in the Willamette Valley ($8/glass) or a fruity California red like a pinot noir from Meiomi ($9).
Bear & Bottle staff seemed to know that some things are a work in progress. Bartenders solicited constant feedback, and when a cocktail didn't work, it disappeared from our bill. Bartenders encourage tastes off the tap list, because "we are unable to 'return' beers once they are poured."
Dalbesio said she's been surprised at the popularity of the beer menu as a whole, as well as the "Bomber of the Moment," large-format bottles like Ballast Point Mocha Marlin ($14 for 22 ounces), an American porter, and Almanac Emperor Norton ($19), a Belgian-style Double IPA.
"People buy them to take home and enjoy later," Dalbesio said.
Bear & Bottle is another link in a growing chain for Dalbesio and Thompson. Kody Charbeneau, a former chef at Waypoint Public House, and Marcus Schiel, a manager at Free House, are partners in Bear & Bottle as well.
It's a sign of future growth on the north side as well. The restaurant opened across from an abandoned antique mall, next to unfinished new retail space in Lakewood Plaza, near popular breakfast spot Manna Café.
John Bergh of White Box Commercial Property Group told the Northside News that he's looking for something like a flower shop, a day spa, a dentist's office or "holistic pet supply" to join Bear & Bottle.
For now, the "indoor/outdoor feel" Dalbesio wanted for the restaurant works strongly in its favor, as summer sends Madisonians flocking to the nearest patio.
"We wanted to bring a slightly fresher, more coastal, open air approach," Dalbesio said.
"It's incredible how it seems like everybody was just waiting."