FOOD & DRINK
Salud! Six points for aroma: A judge's view of the Wine is Wisconsin competition
Salud!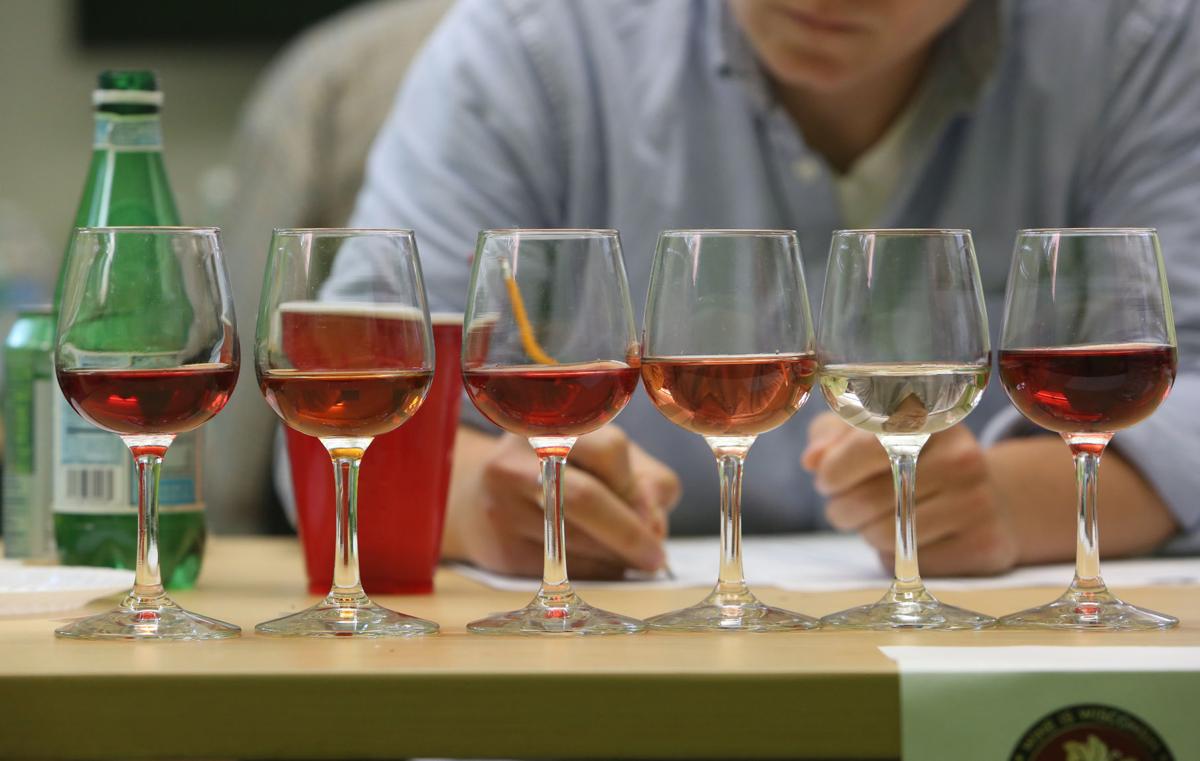 Even for a wine geek like me, 8:30 a.m. is pretty early for a first drink.
That's when the first Wine is Wisconsin wine competition, held on a recent Monday on the University of Wisconsin-Madison campus, kicked off in a hushed, chilly Babcock Hall basement.
If I wanted to do my bit for Wisconsin wine, I had to get hydrated and get to work. Those 11 Marquette samples wouldn't swirl and spit themselves.
Wisconsin isn't known as a wine region, in part because grapes like Frontenac, St. Pepin and La Crescent lack the name recognition (and often the complexity) of chardonnay and pinot noir.
Wine is Wisconsin had two goals: evaluate wines being made with local fruit with an eye toward helping them improve, and recognize the ones that are already getting it right.
For this first competition, UW-Madison enologist Nick Smith collected some 93 bottles from 20 wineries and cider makers, all made from at least 75 percent Wisconsin fruit.  
"I think it's important to highlight that great wine is being produced here using the local fruit," Smith said. "It's about supporting agriculture and local producers as a valuable asset."
Stewards from the Wisconsin Vintners Association in Milwaukee rolled each flight out to two teams of judges, a mix of scientists, winery owners, retail folks and one enthusiastic wine writer.
Beyond too much oak or a wine that's oxidized, scientists like Illinois state enologist Brad Beam came at wine from a chemical background. He helped identify potential flaws like too much volatile acid (think the smell of acetone), "horse blanket" yeast brettanomyces or too much sulphur.
I also knew the retail people had bona fides. James Juedes, a co-owner at Casetta Kitchen and Counter, has worked at wineries in Spain and New Zealand as well as Wisconsin, and he used to be a sommelier at L'Etoile. Andrea Hillsey has worked crush in Oregon, has a degree in hospitality and owns Square Wine Company.
"We focus a little bit more classic regions, so I'm excited to hopefully walk away with a couple of wines for the shop today," Hillsey said.
The first flight of sparkling ciders appeared at our tables as Beam walked me through the UC Davis Scoring System we'd use to rank the wines.
We would award medals from bronze to double gold based on a metric of technical quality. A wine could earn up to three points for appearance, six for aroma, six for taste, three for finish and two for "overall impression." The cutoff for a bronze medal was 11 points, with a max of 20. 
Unless a wine was obviously flawed or miscategorized — a red wine up for evaluation as a rosé, for example — points for appearance were a gimme. Aroma and taste were the money makers.
From ciders we moved on to white grapes like Brianna (tropical fruit and candy), St. Pepin, Frontenac Gris (bright acidity) and Frontenac Blanc. We sipped and spit, sipped and spit.
We tasted wines with lots of added sugar, wines smashed by too much oak, wines spiky with acid or eggy with sulphur. On my judging sheets, I tracked flavors from pineapple, mango and cranberry to rubber boots, cough syrup, Tootsie Roll pop. 
After a half-dozen flights, I started to feel a little woozy and ate some table water crackers. Then I doubled down on 11 samples made from the red grape Marquette. I would not flag.
It would have been ideal to compare a single varietal Petite Pearl or Louise Swenson wine — both of those are cold-hardy white grapes — to a platonic ideal of that wine in its best expression.
But in many cases we simply couldn't do that, either because that wine doesn't exist or we'd never had it. Scores, overall, were low, with only nine gold medals.  
Later I spoke with Steven Johnson, a winemaker at Parallel 44 whose sparkling white wine was the only bottle to win a Double Gold medal.
"We have a ballpark idea of what it should taste like," Johnson said from his winery in Kewaunee. "But I don't think any of us winemakers can say, 'That is the way to grow Brianna or make Brianna or grow La Crescent.'
"We have to move toward developing a standard not only for quality but a style that means something."
Johnson's 2015 Parallel 44 Sparkler was made primarily from La Crescent, with a splash of Louise Swenson and some Foch for color. Made from 100 percent Wisconsin grapes, it took home the Best Wine of Wisconsin Award.
My favorite single beverage of the day came as a mild surprise. White Winter Winery's 2016 Bois Brule dry-hopped cider, sold in four packs, tasted fresh and clean with a balance of apple and citrus. Made in Bayfield County near Lake Superior, it won Best Cider of Wisconsin.
After the judging was done, Hillsey found a wine for her shop, too. Square Wine Company will bring in a white wine that's a local collaboration between Wollersheim Winery in Prairie du Sac and students in UW-Madison's fledgling fermentation program.
The 2016 Campus Craft, a white wine made of six grape varietals, won a gold medal from Hillsey's panel and will retail at Square for $16.50.
Johnson believes the key for Wisconsin winemakers will be learning how to market their story.
"This is a product where so much of the pleasure in it comes from knowing what's behind it, what's distinctive about it," he said. "We're so practical about getting things done but we overlook the fact that this is more than an alcoholic beverage. You need to be good storytellers."
Johnson also thinks Wisconsin needs to "drop our Midwest modesty" and make a clear case that lesser known varietals can rival vitis vinifera, the best known wine grapes.
"We who are doing this focus on how wonderful it is that we can grow grapes that can survive subzero temperatures," Johnson said. "But consumers are like, 'So what? We want good product.'
"Why should we say we grow cold hardy varietals? California doesn't say we grow warm varietals."
"These competitions are the cornerstone of figuring out what we can do to get better every year," Johnson said. "Our goal has been to develop a regional style that has appeal to people even if they never happen to swing through the state of Wisconsin.
"You go to a restaurant and you can order a cabernet from Napa or a pinot noir from Oregon. I want people to say, 'I want a La Crescent from the Wisconsin Ledge.'"
Share your opinion on this topic by sending a letter to the editor to tctvoice@madison.com. Include your full name, hometown and phone number. Your name and town will be published. The phone number is for verification purposes only. Please keep your letter to 250 words or less.