Salud! Spirited Women mix it up at Merchant during Madison Cocktail Week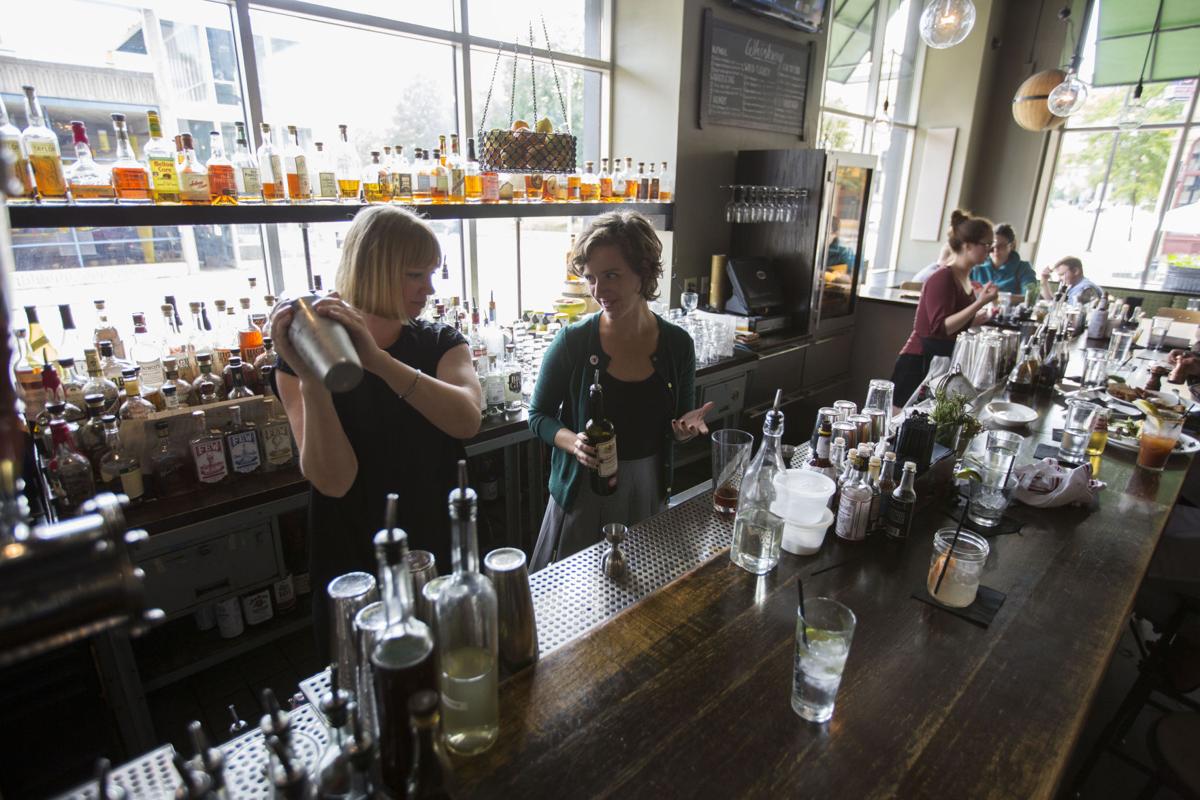 Sidle up to the bar at Merchant this week and order a Glass Ceiling, a powerful gin cocktail garnished with some playful subtext.
Another cocktail called the HBIC — Head Bitch in Charge — states the case more plainly. Starting at 8 p.m. on Wednesday, some of Madison's women bartenders are taking over Merchant's male-dominated cocktail bar.
The Spirited Women Take Over is a sign of solidarity among some of the Madison women who tend bar.
It's also a nearly complete gender flip of the Merchant bar's usual staffing.
"It's going to be a ton of fun," said Mariah Renz, bar manager at Julep and a co-organizer of Madison Cocktail Week, set to run through Sunday. 
This year, Renz said, Madison Cocktail Week is focusing on "inclusion."
"They're trying to open up to new faces not always thought of at cocktail bars," she said. 
One prime example of that is Spirited Women, a group that connects women bartenders, distillers and others in the industry. At events public and private, the group discusses things like work/life balance, maternity leave, creative inclusion and casual and overt sexism on both sides of the bar. 
"I have met so many women bartenders because of thinking about this, because of reaching out," said Renz, a founding member of Spirited Women. "For me it's like, I didn't even know A Pig in a Fur Coat's new bar manager is a woman. We're everywhere!"
Among the women set to shake and mix on Wednesday are Annie Leahy from the Robin Room, Jenny Griep from Osteria Papavero, Amanda McGinley from Sardine and Meghan McCormick from Heritage Tavern. Devan Friedl, who currently works at Merchant, and Jacki Walczak from Lucille will help the visitors get acclimated to the space while Lauren Franchi (DJ Lolo) spins. 
Also on Wednesday, a shuttle is set to whisk drinkers and cocktail makers alike to and from Gib's on Williamson Street. There, Kym Reindl from Gib's and Katie Rose from Goodkind in Milwaukee plan to transform the second-floor bar with "the Nonino sisters' sublime grappa, sporty-spicy '90s pop, a projector and DJ Glynis Fisher."
Merchant, Renz said, has infamously not had a lot of women behind its bar, something director of beverage and operations Tom Dufek is well aware of.
"Merchant has been traditionally a male-dominated staff," Dufek said. "We wanted to get as many female Madison bartenders behind the bar as possible. They're going to collaborate on a cocktail menu."
Sponsoring that menu is Bols, a spirits company based in Amsterdam. It runs a mentoring program called Girls with Bols, which uses events and seminars to "build a network of incredible women who will lead the industry into the future."
"There's a lot more ego there, more of this 'look what I can do look how hard I can work,' how great this cocktail is and the super long process I did to create it.
"It's an ego situation. Women are turned off by that."
Renz finds that women who tend bar may focus more on the customer than their own skills. For herself, she never wants someone to feel judged for what they order, whether that's a Stoli raspberry and lemonade or whiskey straight.
"That's why I became a manager. I wanted to create that environment," she said. "I don't want you to feel judged, ever."
The Spirited Women Wednesday night take over follows a mid-day discussion at L'Etoile, "Cultivating Inclusion," about how those in hospitality "encounter and overcome gender inequality" and how that affects a "restaurant's ability to foster a welcoming, safe and inspiring environment for staff."
"It's especially hard in the spirits business," said Liz Henry, owner of J. Henry Bourbon and a member of Spirited Women. "People don't work full time, or they do but it's weird hours."
There are always challenges, she said, with work/life balance and benefits, like maternity leave. But "it seems like it's amplified in this industry."
"We didn't want to come across as shrews, but there isn't always gender equity," Henry said. "Your ideas and thoughts and creations may not get recognized on par with your male colleagues.
"You never want to say that out loud and make it sound like you're taking on all the men. That's not the goal — we're not trying to say we're better than you."
Spirited Women was born out of the first cocktail week in February 2015. At a mid-day discussion about gender behind the bar, Renz was astonished how many people came to talk about parity in the industry. The group now has about 30 members attend each meeting.
"Madison is a very supportive community," Renz said. "There's a little bit of that boys' club, but I hate calling it a boys' club. We need to open it up."  
Henry has the dual position of being both a mentor with a long career, most recently at the Renk Agribusiness Institute at the University of Wisconsin-Madison, and a newcomer to the industry. She and her husband, Joe Henry, launched J. Henry Bourbon from their farm in northern Dane County just last year.
"It's fun to be new to an industry, because it's all about supporting each other — the whole 'rising tide lifts all boats,'" Liz Henry said. "When we introduce somebody to our bourbon and we do a good job, we make that segment of the spirits industry look good, more approachable and more interesting."
To be able to work with women in the service or hospitality industry on ways to improve it has been exciting for her.
"For us to be able to strategize on how we can make our work easier, better and more profitable while continuing to be fun is just the greatest," Henry said.
This year's events are the third iteration of Madison Cocktail Week, which began in February 2015 and had a smaller line-up of events this past winter.
Renz at Julep, Dufek at Merchant and Lucille, Chad Vogel at Robin Room and Hastings Cameron at Gib's have planned a variety of events for the week with the loose theme of "collaboration."
There will be Jell-O shot competitions, tacos and tequila, a yoga class and a wiffle ball tournament in which Wisconsin bar staff take on colleagues from Minneapolis and Chicago.
Bartenders will swap bars, host daiquiri-themed scavenger hunts, and compete at a "Dancing with the Startenders" event at the Majestic Theatre on Tuesday.
"We have our own cool scene here," Dufek said. "It's a way to shine a light on what we're already doing, a light-hearted, less stuffy take on cocktail week."
On the more serious side, Cocktail Week hosts a seminar on aging whiskey and a distillery tour. J. Henry Bourbon will co-host a bourbon dinner at Heritage Tavern, also on Wednesday.
"One of the biggest things we learned is that there is a market for this sort of thing," Dufek said. "The response was so positive from the public, the bartenders, the brands themselves, we knew we had to keep going with it.
"Just realizing there is a place for this in tiny Madison, Wisconsin, is cool. Of course it works in New Orleans, of course it works in Manhattan. The cool thing is that people in Madison are as passionate about the cocktail community, the bar and restaurant community, as we are."
Spirited Women, and the response to their work from the public, is an extension of that passionate interest. Henry called the turnout for the first cocktail/ gender equity panel "a thump on the head" that told her, "we need this."
"I thought, who's going to come to this? It sounds so heavy," Henry said. "I was pleasantly surprised. It was so great to have someone moderating who directed us and kept the discussion going, and the other two women were fabulous.
Share your opinion on this topic by sending a letter to the editor to tctvoice@madison.com. Include your full name, hometown and phone number. Your name and town will be published. The phone number is for verification purposes only. Please keep your letter to 250 words or less.