Black girl joy: Fostering sisterhood and success in Madison schools
At Hawthorne Elementary School on Madison's east side, a group of African-American fourth-grade girls have taken inspiration from Oya, the Yoruba goddess of wind and storms.
Oya is known as a protector of women and girls, and people across the African diaspora look to the orisha, or spirit, to positively transform their lives. Last year at Hawthorne, this group of girls decided to take her as their namesake.
Known as the Oya Sisters, the girls meet once a week to foster sisterhood in the midst of their personal storms.
The girls at Hawthorne are part of the Circles of Support program, which seeks to provide African-American girls with a place to build relationships and bolster socio-emotional development. Intergenerational connections are also emphasized, as black women from the school and community help facilitate the group. Initiatives like this one, and another geared toward African-American girls at La Follette High School, are addressing a population of students whose experiences are often overlooked.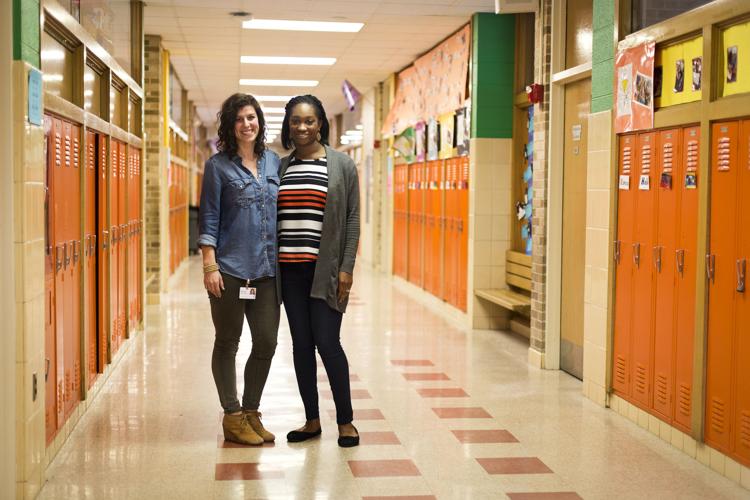 Maria Loy is a social worker at Hawthorne. Before moving to Madison, she worked at Craig High School in Janesville, where there was a 'Circles' group for black male students. Loy thought the program could benefit black girls at Hawthorne. Last school year, it became the first school with a Circles group for female students.
"There was a lot of talk from our teachers about disproportionality in our data," said Loy, referring to the divide between black and white students' academic achievement and behavior referrals. "I wanted to bring something in that could help."
She partnered with Rosa Burdulis, a teacher at Hawthorne, to co-facilitate the first group. Hawthorne recruited a group of nine fourth-grade girls to participate in the program. This year, they added a second class of girls, as well as a class each for fourth- and fifth-grade boys. Loy and Burdulis also worked with the University of Wisconsin-Extension to recruit African-American facilitators for the three additional groups.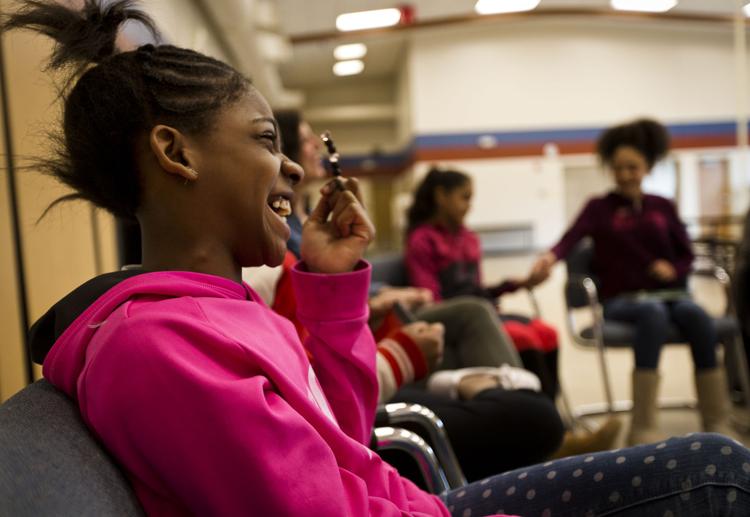 Burdulis said the dynamics between female students indicated they would benefit from the Circles of Support framework.
"Last year, it was our fourth- and fifth-grade girls who were having a lot of behavioral issues," Burdulis said. "We thought that this would be a good way to create more supports for them and help them have a better connection to school."
When discussing behavioral disparities, the national conversation is often focused on improving conditions for African-American boys. Black girls, who grow up in the same neighborhoods and experience some of the same traumas, are often left out of the conversation.
According to a 2015 joint study by the Center for Intersectionality and Social Policy Studies, and the African-American Policy Forum, black girls are punished in school more than any other group of female students and represent the fastest growing population of youth in the criminal justice system. Yet, according to the study, "Black Girls Matter: Pushed Out, Overpoliced, and Underprotected," the majority of reporting on topics like the school-to-prison pipeline and disparities in school discipline focus on race when it comes to African-American boys, and is often colorblind when talking about girls.
The report asserted that the lack of intersectionality — looking at race and gender in a vacuum instead of how they relate to one another — erases girls of color from the conversation, which leads to them "struggling in the shadows of public concern."
Once a week at Hawthorne, students meet in small groups with a facilitator to discuss issues important to them. Topics range from the students' home lives to stereotypes about African-American women.
Marian Slaughter, site coordinator for Hawthorne's Circles program, said topics discussed are determined by the students.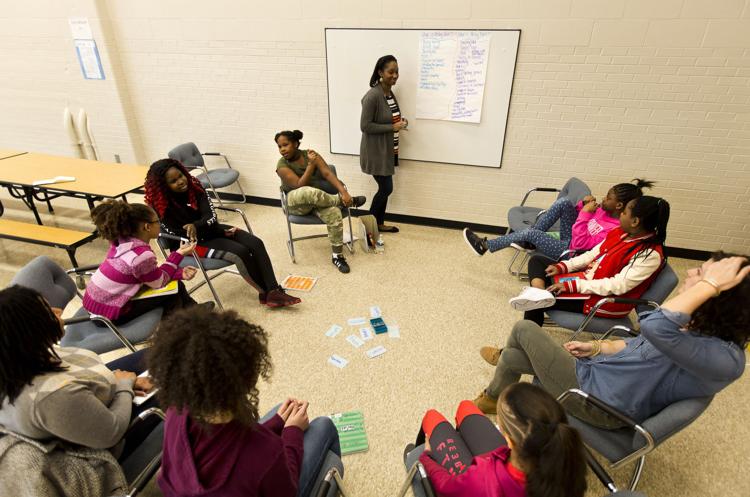 "The issues that present (for girls) are different, in a really important and exciting way," she said. "One of the strengths of Circles is that it is driven by the needs of each site."
The Oya Sisters, now fifth graders in their second year of Circles, said they have grown both academically and socially. Bryanna Lloyd, 11,  said that being an Oya Sister made her feel heard and that her opinion matters. "In here, somebody is going to listen to us," she said.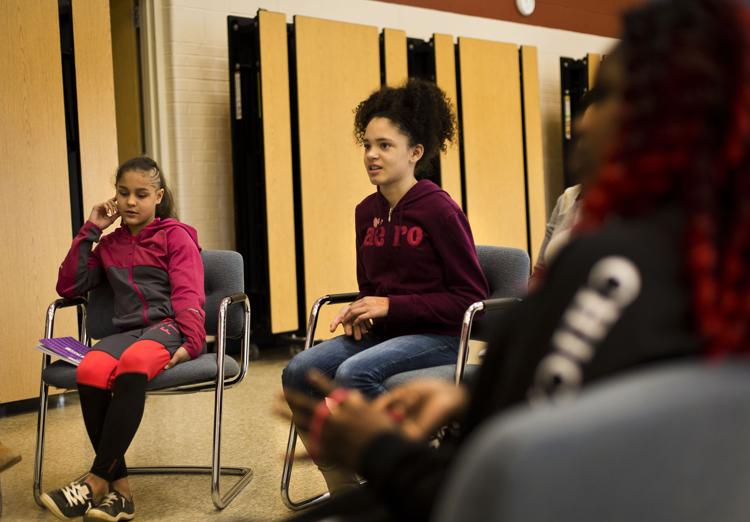 Girls in the group said they take many of the themes and subjects discussed in Oya Sisters and apply them to their work in the classroom. Last year, the girls learned about powerful black women in American history, including politician Shirley Chisholm, abolitionist and women's rights activist Sojourner Truth and poet Maya Angelou. The narratives of those women stick with them.
"In this group, what we talk about goes into our social studies classes," said Lacy Person, 11. "We are learning about slavery and stereotypes and we learn about those things in here, too. So it works out to have a little information from here and there."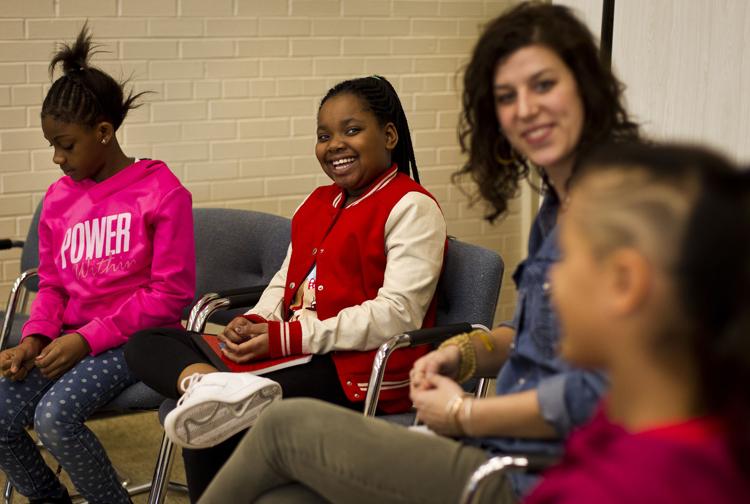 The girls said they appreciate the relationships they have built with one another over the last two years, even outside of the classroom. Not all of them entered the program as friends, but they all consider themselves sisters.
"This is a caring, loving group," said Javionna Williams, 10. Another student echoed the same sentiment: "That's my sister. You guys are all my sisters," said Lizzy Johnson, 10.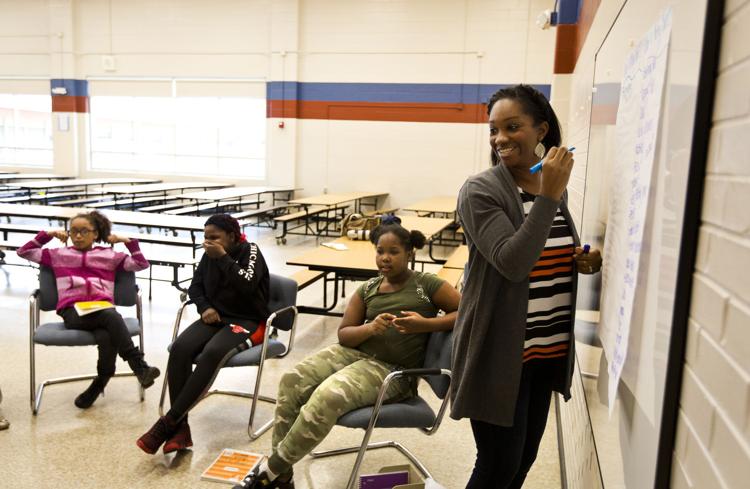 The Oya Sisters are conscious of how much they've grown in their ability to communicate with their peers and problem solve on their own. When what the girls described as "drama" arises, they said they have a support system to address it.
"Sometimes we talk it out with (our teachers)," Lacy said. "Other times we figure it out by ourselves. When you are older, you are not going to have somebody to sit there and tell you how to fix something."
Ashley Lauren Smith, who co-facilitates the fourth grade girls' group, is a Ph.D. student in the University of Wisconsin-Madison's education policy program. Her research focuses on African-American girls and school discipline.
Both black boys and girls are affected by gaping racial disparities, Smith said. "How can we support both groups? We are an intersectional community, and if we don't accept every human being or humanize the experience of every black person, we won't really go anywhere."
In February, Smith participated in a professional development session for teachers at La Follette. She told the group that, according to 2012 data from the Department of Education, nationally, 12 percent of black girls have at least one out-of-school suspension. For Wisconsin and the Madison Metropolitan School District during the same time period, those figures were 20 percent and 18.8 percent, respectively.
Smith said the audience was shocked by the numbers, and it reinforced for her the importance of critical conversations about school discipline and how it affects black girls in particular.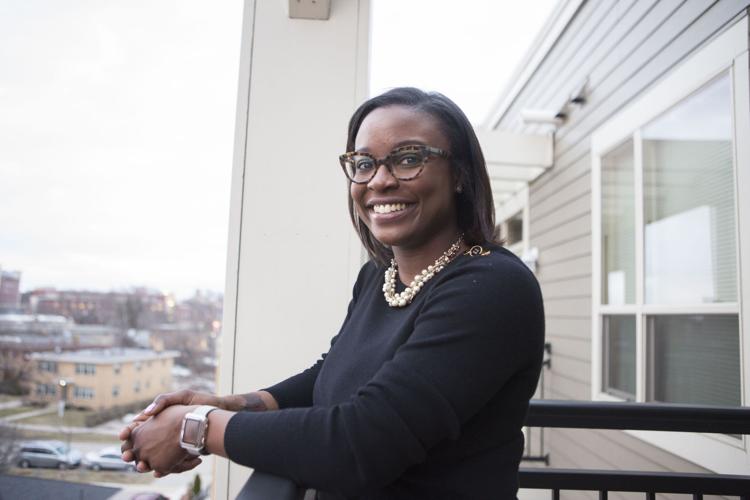 "The narrative is often overshadowed for black girls. We don't talk about their experiences with discipline or violence. When we do bring that information to light, it is really shocking for teachers, administrators and even myself as a researcher," she said.
"It is really hard to believe that this is their experience, and we don't want to accept that this is the experience for black girls," she said.
Smith said at Hawthorne, she connected with the students right away. Although she began working with the girls this semester, Smith said she has already seen them grow in terms of how they interact with one another.
"I would definitely say they have a sisterhood," Smith said. "We are always talking from a deficit lens about black women and girls. Some of them may have their struggles, but they are moving forward every day and can still smile. I am interested in trying to foster that happiness for them."
Jeffrey Lewis, senior lecturer and outreach specialist for underrepresented communities at the UW-Extension, is the director of Circles of Support. The program grew out of research he began while an assistant professor at the UW-Madison.
"I had an interest in kids who are marginalized and their perspective of their own experience," Lewis said. "We very rarely ask them what they think and what they know."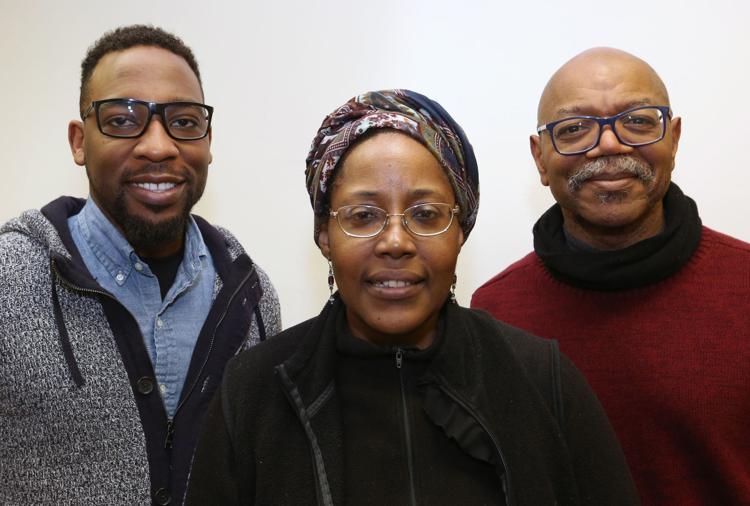 Lewis said most schools that approach him ask that he work with African-American boys to improve their academic achievement and behavior, but he believes these gaps are symptoms of a larger issue: the need to create school climate and culture where students who are often marginalized feel engaged and supported.
"The question is, 'What is going on?' The boys are never the problem," Lewis said. "The boys are an indicator of something else, and we have to figure out what the something else is."
Thoreau Elementary was the first school in Madison to partner with Circles. When Kathy Costello became principal there in 2012, she formed a faculty and staff committee to address the high number of behavior referrals and academic achievement issues for African-American male students.
Lewis also conducted home visits with black male students and their parents, Costello said.
"What we found out was African-American parents liked the school, but they did not feel involved with it," she said. "Every parent wanted their kid to succeed in school and had hopes and dreams for their kids."
At Thoreau, all of the African-American male students in grades one through five voluntarily participate in a Circles group led by a black male mentor. Costello said the program has "really helped the climate and culture of our school. We have a better understanding of and relationship with our students."
On last year's MMSD school climate survey, 92 percent of black male students at Thoreau said they feel like they "belong at their school," the highest percentage of any school. Costello said black male students at Thoreau also met their growth and proficiency goals on their 2015-2016 state exams.
In addition to Madison, Circles has school-based elementary, middle and high school groups in Janesville, Racine, Sun Prairie, Verona, Beloit and a proposed site in Milwaukee.
Although Madison does not have any Circles groups in middle or high schools, there are other groups in the city working to support African-American female students in their teenage years as they look toward graduation and beyond.
At La Follette, the Delta Sigma Theta sorority sponsors the Delta GEMS program. GEMS means "growing and empowering myself successfully," and its mission is to assist African-American girls in accomplishing their dreams. Girls in the program participate in goal setting, community service and college and career enrichment.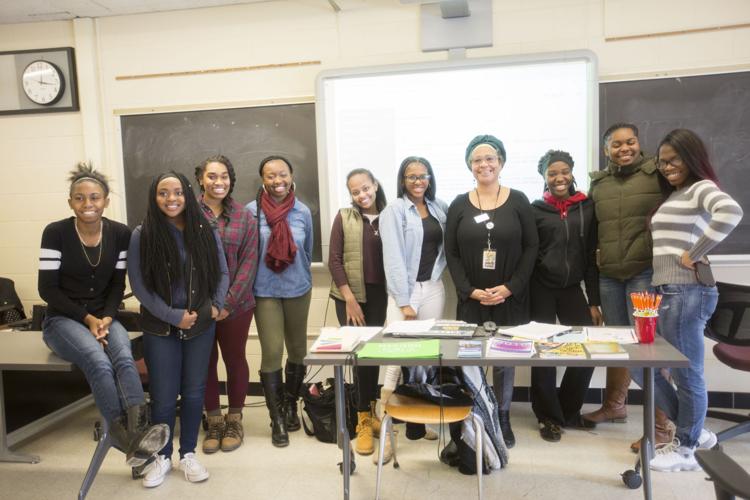 Senior Enjoyiana Nururdin said her two years as a Delta GEM helped her to find a place in school where she felt supported as an African-American female student.
"There aren't many African-American, female-motivated groups that focus on issues in our community," Nururdin said. "The topics we discuss in the Deltas apply to us, and most are chosen by the students."
Yolanda Shelton-Morris, corresponding secretary of the Madison alumnae chapter of DST, facilitates the GEMS program at La Follette. She recruits African-American women from the Madison area to speak with the students about their work, personal interests and community involvement.
During a recent Delta GEMs meeting at La Follette, Janetta Pergues, supervisor at the Goodman branch of the Madison Public Library, spoke to the students about her work as a librarian.
"I am here today looking for my replacement," Pergues said. The girls shared their post-high school aspirations and almost every student raised their hand when Pergues asked if they were interested in college. Pergues shared resources at the library the students can access to research schools and learn more about the application process.
Kiara Suggs is a senior at La Follette and has been a member of the Delta GEMS since her freshman year. Suggs said being a GEM helped her learn more about herself and define success.
"I learned what it means to be a successful woman, how to achieve all goals set for myself," she said. "Most importantly, I have started to get a sense of who I am as I go into adulthood."