Madison firefighter Jim Schmitt recalls the lessons he learned in school about fire prevention, and he wants to make sure those life-saving tips resonate with the students at Olson Elementary School long after they leave the classroom.
Schmitt and other members of the crew from Station 12 on Madison's west side were at Olson Thursday morning for fire prevention month. Every October, Madison firefighters visit area elementary schools with an interactive presentation meant to teach young students about what to do during a fire.
Firefighters led students through a simulation on how to safely exit a room during a fire. Students mimicked crawling through a smoke-filled room to the nearest door, using the backs of their hands to gauge the temperature.
"The back of your hand is more sensitive than the front, use it to feel if the door is hot," firefighter Sarah Fox said to a class of first-graders at Olson.
Students also learned how to use windows to exit a burning home or to call out for help.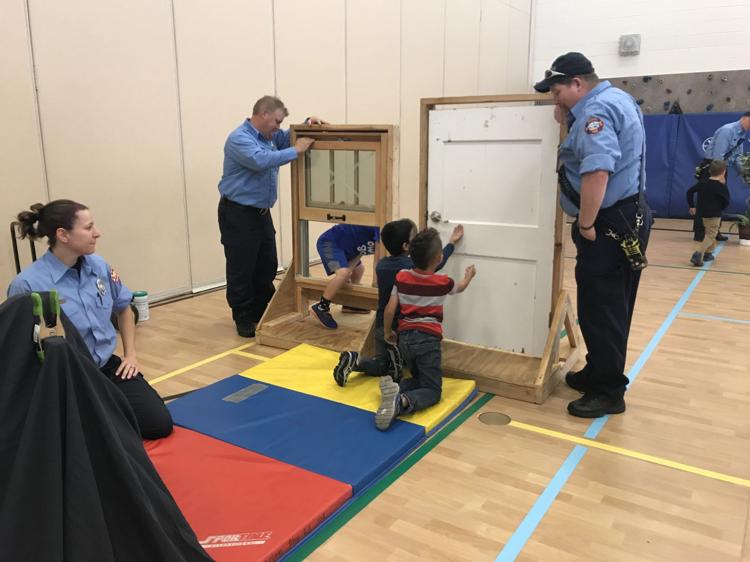 "If (the window) is too high, you yell, 'Help, I am up here' to make sure the firefighters know where you are," Schmitt told the students.
The crew told the students about how important it is to have a safety plan in case a fire happens in their home. Students were told they should know where the exit routes are in their homes and the safe place outside to meet their families after a fire.
"After (the presentation) kids go home and tell their parents. It reminds (the parents) to have a plan and make sure the kids know it." said Bernadette Galvez, Madison Fire Department education officer.
Fire departments all over the country observe Fire Prevention Week, which falls around October 8, the anniversary of the Great Chicago fire and Wisconsin's Peshtigo fire. Some departments, including Madison, extend the campaign through the entire month of October.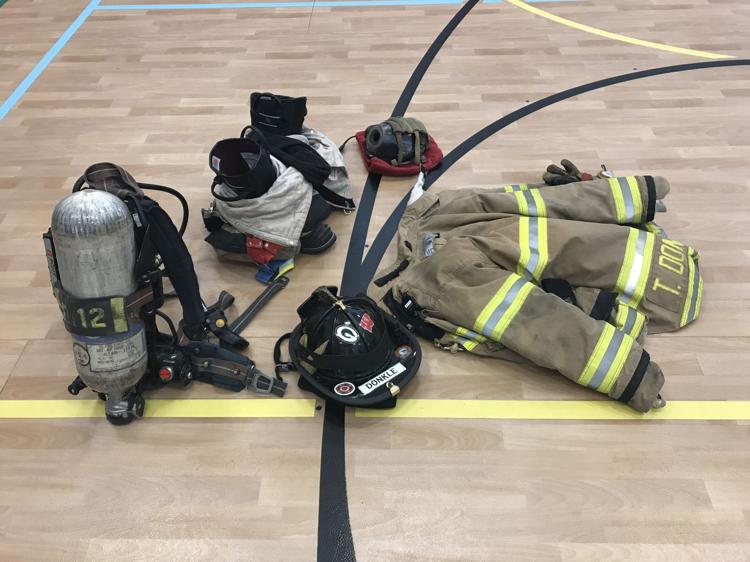 The National Fire Prevention Association's theme for this year is "Every Second Counts: Plan Two Ways Out." The NFPA creates videos, games and other programming for parents, schools, and fire personnel to use in fire safety education.
"We want them out (of the house) before we get there," Galvez said. "Get out and stay out."
During Thursday's presentation, students watched as firefighter Troy Donkle put on his fire gear. Galvez said young children can be afraid of officers in their uniforms during a fire and wanted students to understand firefighters are there to protect them.
"You look like a monster," one of the students said to Donkle.
"He's not a monster, he is just a firefighter coming to help you," Schmitt told the student as Donkle removed his face mask.
Some kids smiled and shook their heads after the reveal.
Galvez has been the MFD education officer since 1994. She said one of the joys of her work is knowing once students experience a fire safety day at school, they carry the lessons with them.
"You see, these kids already know all the answers. That's what we want," Galvez said. "We want people to remember and practice fire safety."