College women cannot rely on the police — no matter how hard-working — to protect them from sexual assault. And their universities should not take away their right to carry guns on campus, conservative commentator Katie Pavlich told a full house Tuesday in a University of Wisconsin-Madison lecture hall.
"It is empowering to be responsible for your own safety," she said to a friendly crowd of more than 100.
"Why do the rights of adult college students end at the campus border?" Pavlich asked. Because gun rights opponents want to control others and prevent them from exercising their Second Amendment rights, she said.
"But just because you don't like a constitutional right doesn't mean you get to strip others' constitutional rights," Pavlich said in a talk that was anti-Hillary Clinton, anti-Hollywood and anti-"elite."
Outside, a couple dozen student protesters shouted the slogan "Cocks Not Glocks," passed out plastic dildos to passers-by and criticized a bill in the state Legislature that would eliminate the state's gun-free school zone law.
"Katie Pavlich is a very problematic speaker to bring to campus, especially when permit-less carry has such a high chance of passing," protest organizer Kat Kerwin said outside the Psychology building, which hosted the speech.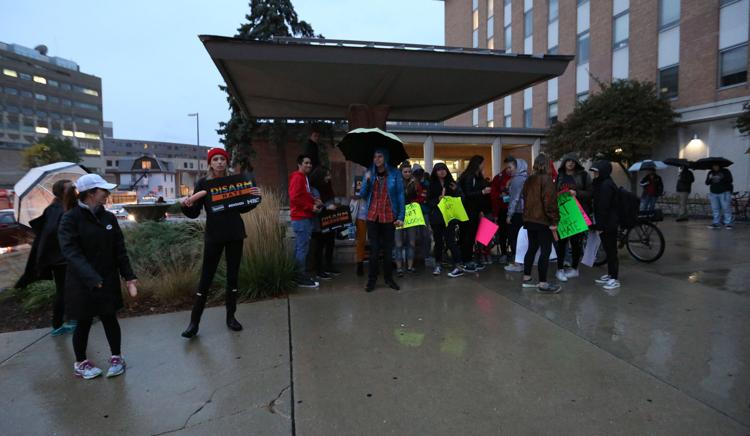 "Her whole rhetoric is around the belief that women would not be assaulted if they carry firearms and that message is divisive and I think she was brought here to divide campus," Kerwin said.
University officials in the past have denounced so-called "campus carry" bills that would have taken away administrators' right to prevent weapons from being carried in to campus buildings and allow permit-less concealed carry.
Conservative commentator and author Pavlich, an Arizona native, told the crowd that her grandparents met at UW-Madison and that she still has relatives in Wisconsin who are dairy farmers.
Pavlich was brought to campus by the student organization Young Americans for Freedom, with the support of the national conservative Young Americas Foundation, which bankrolls college campus appearances from its stable of conservative speakers.
YAF guest speaker Ben Shapiro was drowned out briefly by protesters at UW-Madison last November, an event referenced frequenly as the Assembly passed a bill in June calling for mandatory expulsion of students who repeatedly disrupt campus speeches. While the state Senate never acted on the bill, the UW Board of Regents on Friday adopted a policy mirroring the content of the Republican bill.
YAF stirred up conservative commentators the same day with a report that UW-Madison officials were blocking the public from attending Pavlich's talk. But with the added sponsorship of two professors, the event on Tuesday was open to the public.
As controversy over free speech on campus flares at one university after another, UW officials were on alert for what Pavlich's appearance might bring, including assigning a couple of extra officers, said UW-Madison Police spokesman Marc Lovicott.
Tuesday's event was peaceful inside the lecture hall and out.
"We are pleased that tonight's lecture and demonstration were peaceful and allowed for the expression of a wide range of viewpoints," UW-Madison spokeswoman Meredith McGlone said in a statement.
Not that Pavlich didn't get in her digs.
She called the "Cocks Not Glocks" campaign "immature, silly, absurd and frankly outright dumb." Pavlich also questioned the impact of seeing men waving dildos around on sexual assault survivors.
And the protesters' behavior probably violates campus policy — and federal law — on sexual harassment, Pavlich said. "But because I am a conservative woman, that apparently doesn't matter much to the university."
Kerwin earlier had acknowledged that the "Cocks Not Glocks" campaign, modeled on one at University of Texas at Austin, was deliberately provocative.
"It gets people talking," she said.