Something was different Friday when the University of Wisconsin System Board of Regents took its latest action to fine-tune free speech policy to the times.
A student from the audience got a chance to speak to the policy. Regent President John Behling — remarking that he had sought time on the agenda only that morning — invited UW-Stout student Coltan Schoenike to come sit at the big table that typically separates regents from the gallery to speak to the issue.
The policy ultimately approved by regents makes students subject to expulsion if they repeatedly "materially and substantially" disrupt the speech of others. It responds to growing concerns, raised most vocally by conservatives, that some views are being drowned out on college campuses by students who can't abide different points of view.
The policy and its language describing the prohibited disruptive behaviors are too vague, Schoenike told regents. "It may open the policy to abuse as well as lack of use,"  said Schoenike, director of communications for the Stout Student Association.
Schoenike said students value free speech; they commended the board for what it was trying to accomplish. But the policy the board was looking at wouldn't do it, they said.
Schoenike was the only student from the audience who spoke, but was not alone in standing up against the regents' free speech policy. The public gallery was filled with faculty, staff and students, Schoenike later told the Capital Times.
A photo of the UW-Stout protesters shows them standing silently holding up signs as regents take up the free speech policy at the meeting at the campus in Menomomie, in west-central Wisconsin.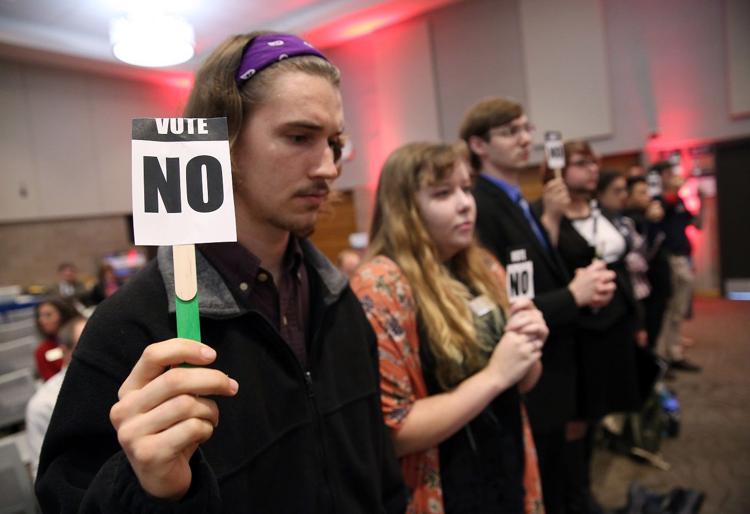 It looks an awful lot like a photo of UW students who protested after regents refused to let them speak as they passed a resolution supporting free speech in Madison in December, 2015.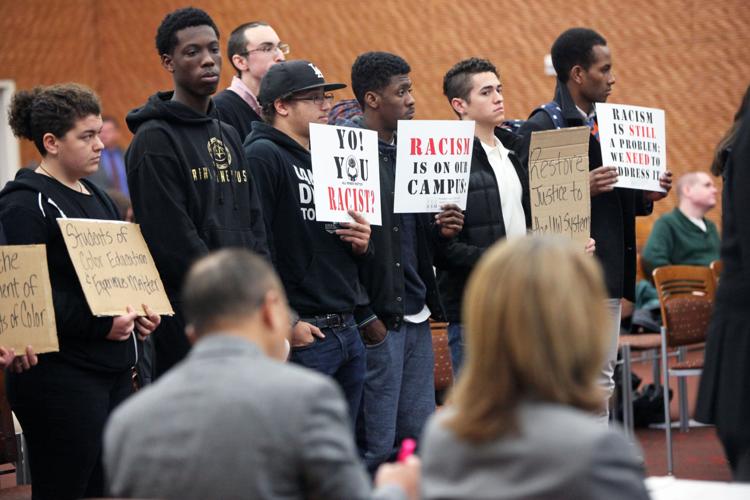 But those students — who wanted to speak with regents about the lack of diversity and racial awareness on UW campuses — were not allowed to speak to regents. Or hand them literature. Even though they had asked days earlier to speak.
The students came back at the next meeting of regents, which they disrupted with chanted demands to be heard on race issues. At one point, then-president Regina Miller gaveled a recess and regents walked out.
The official video record of that meeting includes nothing of the disruption, due to what officials said were "technical difficulties."
UW staff officials did later meet privately with a delegation of students on diversity and inclusion issues, and worked on initiatives for improvement
Schoenike didn't sway regents Friday. They quickly adopted the free speech policy after several of them made brief statements in support.
Regents say they are responding to clashes between controversial speakers and their critics on college campuses have occasionally turned violent, or required major expenditures for security.
The sole vote against the policy was cast by Tony Evers, the superintendent of public education who is the only regent not appointed by Republican Gov. Scott Walker.
"I believe this policy will chill and suppress free speech," said Evers, who is running for governor in 2018 as a Democrat. "We have policies that deal with this issue," Evers said, referring to regent action on the issue in 2015 and in July.
Evers also referred to an earlier remark by Behling that showing "responsiveness to concerns in the Capitol" had resulted in a state budget more favorable to UW than it had been in years.
"Rapport is important, but it's more important that our students are free to speak," Evers said.
He wondered out loud why the board was even taking up the action.
He's not the only one. Liberal advocacy group One Wisconsin Now said the regents adopted the policy — which mirrors a bill passed by the Assembly in June — because the legislation had stalled in the Senate.
OWN executive director Scot Ross on Friday said the bill was about "doing the bidding of partisan politicians."
Regent Regina Millner said she "would be supporting this policy if it were not being discussed in the legislature."
The job of regents is "to anticipate what is happening and take action in advance," she said.
A few regents spoke to how well the policy balanced competing rights of speakers with those who think the message is offensive.
Regent Robert Atwell observed that "civil discourse gotten more coarse and more difficult." He recalled his days growing up in Dane County in the 1960s and '70s, when the UW-Madison campus was wracked with protests against the Vietnam War.
"It's probably even more heated today," Atwell said.
"It's absolutely critical not only to have free expression of ideas, but to recover the ability to talk to people with whom we disagree," he said. "The survival of our republic depends on it."