Scholarly publishing isn't facing a crisis, but it is in flux, said Dennis Lloyd, director of the University of Wisconsin Press.
Sales of academic monographs, the books of professorial essays that have been the "meat and potatoes" of university presses, fallen precipitously in the past two decades, Lloyd said. And academic journals, once a source of monograph supporting revenue, are under pressure as technology changes subscribing practices.
Meanwhile, only one academic work — an introductory text of Bosnian, Croatian and Serbian languages — is on the list of UW Press' current top 10 sellers.
But publishing both scholarly and popular works is part of the press' mission, according to Lloyd, a point he made in remarks for a recently published forum on the future of university presses.
"The most common misunderstanding scholars have about university presses?" the Chronicle of Higher Education asked. "That we're either textbook publishers or driven by profit motives," Lloyd replied.
"We're a book and journal publisher, which publishes mostly books by professors for tenure and promotion," Lloyd said from the UW Press offices on Monroe Street in Madison. "And because we are one of the largest publishers in the state, we also publish books of interest to people in the region on the nature, culture, history and art of Wisconsin and region."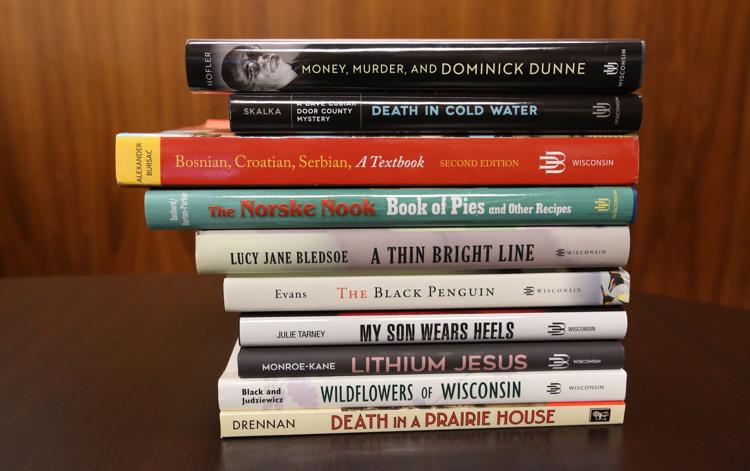 It's balancing that mix to keep the accounts balanced that's the trick. "The main thing is we can't simply continue to operate as business as usual," he said.
UW Press was founded in 1936 and has since published and distributed more than 3,000 books, with 1,400 titles currently in print. It is part of the Office of the Vice Chancellor for Research and Graduate Education at UW-Madison, which supplements its operating budget.
As a "not-for-profit" operation, the press aims to generate enough revenue to cover its expenses, said Lloyd.
The annual budget of the press is just under $3.4 million, Lloyd said. Net book sales are about $1.4 million and net revenue for the journals it publishes is about $1.3 million. University support of $350,000 comes in at some 10 percent of the operating budget, with foreign rights and various grants making up the difference, he said.
Lloyd came to UW Press in 2015 from a 20-year career in various roles at other university presses. After a year focused on internal procedures, Lloyd said he and his staff have turned attention to tightening the areas in which the press publishes monographs.
Scholars do not necessarily publish their work with the press at their own university, but tend to work with houses that have developed specialties in their areas of study.
UW Press areas of specialty now include African studies, Russian and Slavic studies, critical human rights, and a series based on studies of European history and culture by noted former UW-Madison professor George Mosse.
One recent study put the cost of publishing an academic monograph at $17,000 to $34,000, depending on the amount of development work required, Lloyd said. Do those books — which may sell only 200 to 300 copies — generate much revenue?
Research in the humanities and some social sciences tends to be published in books, while scholars in the sciences, technology, engineering and math publish their findings in academic journals.
UW Press publishes 14 journals, annual or quarterly, in mostly academic topics, Lloyd said. Some however — like those on native plants or landscape restoration — also appeal to a more general readerships.
Journal publishing historically created revenue that helped support the book division, said Lloyd. The digitalization of journals has meant that fewer subscriptions are need to meet scholars' research needs. In addition, for-profit publishers have taken over in some fields, pushing up prices and whittling the budget that academic libraries have to buy journals published by university presses, he said.
Because of its role in advancing scholarship, writing accepted for publication by university presses is reviewed by other scholars in the field and must by deemed of sufficient quality for publication by a press committee.
That same high bar is applied to regional titles, Lloyd said.
Outside of publishing centers like New York or Boston, a university press may be the largest publisher in a state, he noted. That makes it the logical publisher for books about regional nature, culture or history that the national trade houses won't take on.
University presses can develop areas of specialty in non-academic books, as well.
UW Press, for example, started one of the first book series devoted to LGBT topics, "Living Out," more than 20 years ago, Lloyd said. The press has published a number of LGBT autobiographies and a few novels. But as trade publishing houses have become interested in those titles, it has grown harder to attract them, Lloyd said. "They are now more mainstream."
Yet UW Press' reputation as a publisher in the market for books on LGBT themes is one reason Robert Hofler, author of this year's top-selling "Money, Murder and Dominick Dunne," shopped the biography of the celebrity crime writer there.
After the book was rejected by trade publishers Hofler has worked with before, he surmised one reason might be his treatment of Dunne's homosexuality, Hofler said in a message.
Not only was UW Press welcoming to his title, the editing process was "very professional and comparable to the way in which commercial houses have handled my previous books," Hofler said.
Three additional LGBT-themed books are among the UW Press top 10 sellers this year. The list is rounded out by William Drennan's decade-old non-fiction account of the 1914 murders at architect Frank Lloyd Wright's Taliesin estate in Spring Green, an autobiography of pharmaceutical and sexual excess, a guide to Wisconsin wildflowers, Norske Nook's "Book of Pies" and a the latest book in a series of mysteries set in Door County.
While Lloyd characterizes the announced closing earlier this year of the 90-year-old press at Duquesne University in Pittsburgh as an anomaly, Peter Berkery of the Association of American University Presses said he expects to see more university presses close.
Part of the reason was Duquesne Press was closed is that it ceased to be a priority for the university administration, he said.
"Universities will continue to face financial pressure and continue to need to be good stewards of resources and citizens of the academy – that's going to have to result in another Duquesne or two at some point," said Berkery, executive director of the 140-member AAUP.
Yet the last closing of an AAUP member press was seven years ago, and university 10 presses in the U.S. and United Kingdom have started up in the interim, he pointed out.
To generate more revenue, some university presses are going more energetically after titles with general appeal, Berkery said. "If you can publish commercially successful work consistent with your mission to subsidize other important scholarly work you will publish at a loss – that's the point."
University presses are experimenting with a number of alternative financial models, including grants from their institutions to publish specific works, perhaps with the guarantee of an open access digital version, Berkery said. Others are growing initiatives offering production and distribution services to other small publishers.
"There is a recognition that budgets will continue to tighten and the smart university press gets out in front and finds other revenue sources before they are asked to do it by their administration," Berkery said.
At UW Press, Lloyd has been working to raise its profile. He has been sending more staff to attend national meetings of university presses, and renewed participation in the Frankfurt Book Fair, the world's largest.
Next year, staff will work on ramping up marketing and promotional efforts, including on social media, he said.
In the long view, "the plan is to gradually grow the press into a size commensurate with that of the UW," Lloyd said.