In Madison, there are more than 160 years of records on the freezing and thawing dates of lakes Monona and Mendota.
But it was centuries of data on a lake in Japan and a river in Finland that helped a University of Wisconsin-Madison professor emeritus and a team of researchers show climate change trends since the Industrial Revolution.
John J. Magnuson, the former director of the UW's Center for Limnology, co-led the study into how records of freezing and thawing dates have changed.
Records for the freezing date of Lake Suwa in Japan, collected as a marker of a religious legend, have been kept since 1443. According to the study:
"The long-term ice freeze record for Lake Suwa, defined as the complete freezing of the lake surface, was collected by Shinto priests observing a legend whereby the male god Takeminakata would cross the lake to visit the female god Yasakatome at her shrine on the other side of the lake. The crossing was evidenced by the god's footsteps on the ice that left a sinusoidal ice ridge known as the omiwatari in Japanese. This important event was followed by a purification process by the priests at the shrine and a celebration that was recorded by at least 15 generations of Shinto priests since 1443. The starting point and direction of the ridge was used to forecast the harvest, temperature and precipitation for that year."
In Finland, a merchant started recording the thawing of the Torne River in 1693 for trade and transportation purposes.
Magnuson and the study team looked at the hundreds of years of data and found that the Industrial Revolution, starting in 18th century England, appeared to play a role in changing the trends of ice dates.
They wrote: "We found a rich array of changes in ice seasonality of two inland waters from geographically distant regions: namely a shift towards later ice formation for Suwa and earlier spring melt for Torne, increasing frequencies of years with warm extremes, changing inter-annual variability, waning of dominant inter-decadal quasi-periodic dynamics, and stronger correlations of ice seasonality with atmospheric CO2 concentration and air temperature after the start of the Industrial Revolution."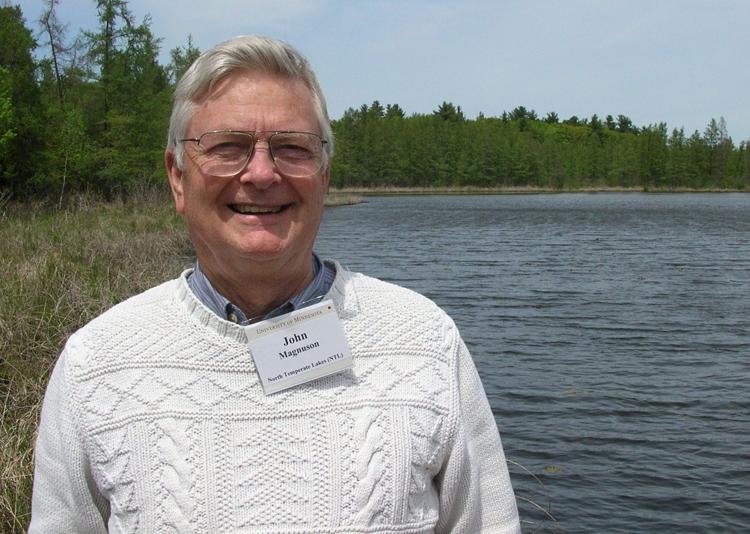 On Lake Suwa, the freeze date was 4.6 days later per decade between 1923 and 2014 after showing a movement of 0.19 days per decade from 1443 to 1683.
The ice breakup on the Torne River moved ahead on the calendar 0.66 days per decade between 1867 and 2013, compared to 0.30 days per decade between 1693 and 1866.
Magnuson was involved in the 2000 publication of a paper studying 150 years of lake and river freeze data, which also showed evidence of later freezes and earlier breakups. In that process, he interacted with scientists familiar with the Japanese and Finnish records.
"It dawned on me that these two data sets were so spectacular and unique that they might tell us some things that we didn't know," Magnuson said.
He wondered whether the long-term records would show changes from the time of the Industrial Revolution that couldn't be ascertained by the bulk of known climate data.
"There were some obvious similarities between these two data sets," Magnuson said. "They both showed an increase in ice dates toward warming. They both showed increasing number of warm-side extremes. ... The general similarities of these two systems — one a river, one a lake; one breakup, one freeze; almost a half a world apart in very different eco-regions — we thought that it was important to point out their common message."
The loss of ice cover can have scientific impacts in a quicker evaporation of lakes and potential for lower water levels and changes in lake ecosystems, but Magnuson said one of the biggest effects is in wintertime enjoyment.
Lake ice and winter are important to our sense of place as northerners, he said.
"A key feature of our world, like a skier losing the snow slopes or all the people that access and use the lake for ice fishing, ice boating and whatnot are slowly losing this resource," Magnuson said. "I think it's important. And we often forget our own sociology and behavior and emotions about where we live and why ice might be our sense of place."