SAUK CITY — U.S. Army representatives on Wednesday affirmed that the Army will not build the public water system it promised Sauk County residents who live near the former Badger Army Ammunition plant and apologized for the misstep.
The Army's representatives, Mike Kelly and John Tesner, are based in Washington, D.C., and oversee the cleanup of former Army sites nationwide. The pair updated residents about the Army's decision to abandon the water system and took questions during a heated public meeting attended by more than 50 people in an overflowing room at the Sauk County Public Library.
"The construction of the water system is not within our authority ... I acknowledge that's unfortunate," said Mike Kelly, representing the Army's assistant chief of staff for installation management. "That's part of the reason why I wanted to come here today to tell you that in person."
The mea culpa still left local residents frustrated.
"You guys screwed up. Your commitment to this community was to put in a public water system," said Jeff Rodgers, who lives in Merrimac and helped create a sanitary district for the town. Many residents put a lot of time and money into the effort based on the Army's promise, he said.
"We're ready to go and now you come to us a year later and say we can't do it? What you're missing is this is not Merrimac's problem. This is an internal Army problem. Solve it and fulfill your commitment."
"We're never getting a solution. We're never getting it taken care of," said Ginny Krumenauer, who owns a home near the Badger site on Keller Road. "We bathe our children in that water, we drink that water. When will something be done? Should people just keep coming back to meetings? What are you going to do next?"
Krumenauer said her house, which her son now lives in, would have been connected to the water system if it were built. When she and her husband, Ed, bought the home in 1990, the Army told her it would test her well every year in perpetuity. Today they don't test it at all, she said.
She wanted the public water system the Army promised as a reliable source of clean water, she said. Now she will continue to wonder if her well water is contaminated.
"They have done nothing. They have solved nothing," she said. "Monitoring people's wells, that doesn't mean a lot because that changes all the time."
How and when the Army tests groundwater near Badger remains a central point of dispute.
Over the last five years, the Army has reduced the number of wells it tests, both private residential wells and monitoring wells. It has also reduced the frequency at which all wells are tested. That decrease was approved by the state Department of Natural Resources around the same time the Army proposed a public water system.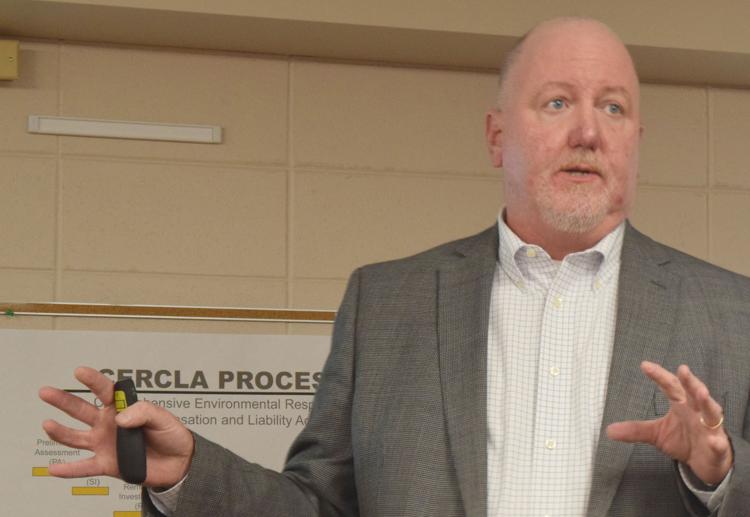 Residents and local officials believed the two actions were linked, that the water system would be built in lieu of groundwater testing.
The Army said that was never the case. The water system and well testing were never linked or dependent on one another, Kelly and Tesner said. The decision to decrease testing was made based on data that showed contamination was diminishing, they said.
"Where we were in respect to sampling wells and where we are today went through a deliberative process," Kelly said.
"Those changes weren't based on the assumption that the water system was going to be put in," said Jason Lowery, a hydrogeologist with the DNR who oversees cleanup at Badger. "We knew even if it does get put in we didn't know how long it was going to take ... those decisions were made independently of the public water system issue."
Residents say they have been given conflicting information and assurances about testing from the Army in the 20 years since Badger closed.
"You haven't tested my well in years so how do you know it's safe?" said Gene Franks, who owns a home near the Badger site and co-founded Citizens for Practical Water Solutions, which monitors cleanup efforts and has advocated for the public water system.
Kelly said the Army can increase testing if the data shows there is a need for it. The Army is committed to ensuring water near the former Badger Army Ammunition Plant is safe, he said.
"We have collected over the years a lot of data related to groundwater contamination," Kelly said. "If folks believe their well has not been sampled we can walk through the rationale. If the rationale doesn't ring off well enough, we'll look to do what's right."
Currently the Army tests 166 monitoring wells and 52 private wells. Before the water system was initiated, in 2011, 161 monitoring wells and 97 private wells were tested. In 2010, 189 monitoring wells and 77 private wells were sampled, according to Army spokeswoman Cathy Kropp.
"The Army collected many additional samples above the WDNR requirements. Over half of the monitoring wells and private wells sampled between 2009 and 2011 were quarterly sampled," Kropp said.
In addition to promising a water system it didn't have the authority to build, Kelly said the Army failed to do a key study necessary for it to have implemented any plan: a human health risk analysis. That analysis would examine whether groundwater contamination was affecting people's health and if so, what the specifics risks are. It is the first in a winding series of environmental studies the Army said it needs to do again before it can implement any kind of permanent cleanup program.
This month, the Army contracted with a firm to do that human health risk study, which should be done by early 2018. The Army will then propose a new cleanup solution and send a draft of that plan to the state DNR, which will need to approve it. When the DNR approves that plan, the Army will do another study to see how its solution can be implemented.
Information from all the studies will eventually be distilled into a "Decision Document" which would ultimately bind the Army to pay for and implement whatever cleanup program it chooses. The proposed Merrimac water system never had a "Decision Document."
Tesner and Kelly could not explain how the breakdown happened, but said that the Army's internal policy has changed because of the Badger Army mistake. There are 12,000 sites that the Army is working on cleanup up, Tesner said. Pentagon officials like him rarely get involved in the specifics of a site clean-up.
"I cannot remember this ever happening before and since it has now happened I can tell you right away we changed some of our internal rules ... to ensure this doesn't happen again," Tesner said. "The highest level of the Army know Badger."
Residents at the meeting said they want to meet more often and guarantees that they can get information about what the Army will do going forward.
"I don't think you can err too much on the side of meeting with people on a regular basis, telling them what's going on and listening to their concerns," said William Wenzel, a Sauk County Board supervisor who represents the village of Prairie du Sac.
"The communication hasn't been there, that's one kind of problem," Tesner said.
The Army representatives said they have been updating Sen. Tammy Baldwin's office and Sen. Ron Johnson's office on the water system issue and their future plan for water cleanup and aim to be open with information.
"We're going to be transparent as absolutely possible," Tenser said. "The Army made some affirmative statements a few years ago we are now having to change. That does not meet Mike and mine standard as headquarters representatives."