With the opening of Madison's first accessible playground, children of all physical abilities will be able to enjoy playing outside at Brittingham Park.
The new playground, located on Monona Bay at 829 W. Washington Ave, is fully ramp-connected and features equipment designed to be easy to use for individuals with mobility challenges.
"It's an opportunity for all children to be able to play together at a city of Madison parks facility," Madison Civil Rights Department director Norman Davis said. "Equity, access and inclusion are fundamental civil rights, and it's important that facilities like this are created."
At the new $315,000 playground, accessibility means molded merry-go-round seats that are easier to get into from a wheelchair and a spongy, rubber floor that wheels can easily traverse.
The play structure is also color coded: purple for climbing, green for handrails and brown for support beams. There are several play panels included in the structure that are geared toward motor, audio and visual skills.
For playground users who might find the experience too overwhelming, there is a bubble-like pod to get a break from the external stimuli.
Parks Division superintendent Eric Knepp said he sees the park as a "destination" and one that families who drive downtown for the farmers' market may visit on their way home.
Brittingham Park may be the city's first accessible playground, but it is not the last.
Knepp said the city is looking to create a similar playground at Elver Park next year and one in Reindahl Park in 2019. Two more at locations to be determined will follow, Knepp said.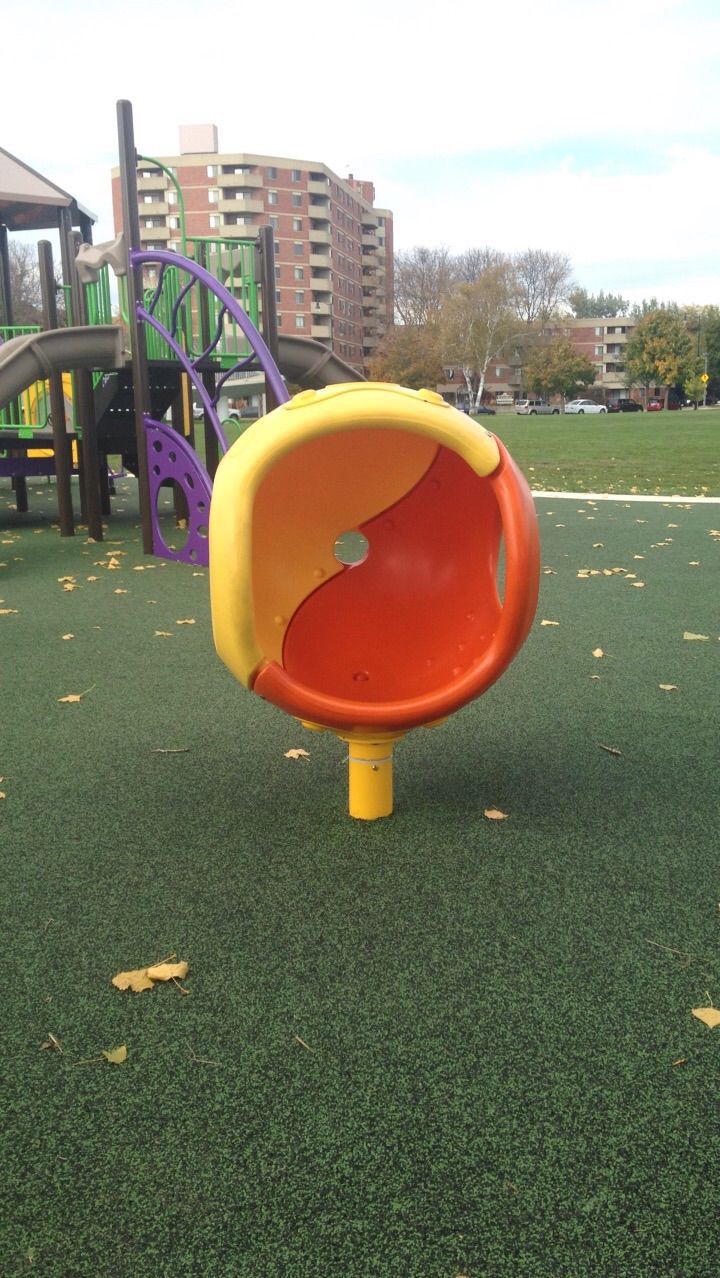 The new park is also the first project that was analyzed with the Racial Equity and Social Justice Initiative (RESJI) tool at the request of the community. The tool specifically targets equity in city policies and budgets, city operations and in the community.
Residents of the Bayview and Triangle neighborhoods were concerned when the original plans called for removing a play structure used by many neighborhood kids that was located near a community garden. It was especially important for the playground to be close to the garden so that caregivers could keep an eye on the children playing while gardening.
Toriana Pettaway, the city's equity coordinator, said the outcome of the analysis — keeping the playground by the garden — is a "win-win" for the city and the community.
"Our job is to provide equitable, fair and just practices to really find sustainable outcomes for those who are underserved, disadvantaged; to provide voices for those who don't oftentimes have a voice in these processes," Pettaway said.
Earlier this week, the city's Finance Committee approved an amendment to the proposed operating budget for 2018 adding an additional $115,000 for increased RESJI staffing and training to address capacity concerns.
Disability Rights and Services Program Coordinator Jason Glozier said the park is a "beacon of hope" and an example of the city engaging with the community.
"When people go through the door they can be a part of something," Glozier said. "They can be a part of their government and a part of their community."