Addressing reporters Saturday morning in Wauwatosa, Gov. Scott Walker stood with his hands on his hips, sweeping his gaze from side to side and speaking in his trademark monotone.
The question was whether he had any input into a proposal passed Thursday by the Legislature's Joint Finance Committee that would gut Wisconsin's open records laws. The measure had been met with a wave of opposition coming from both ends of the political spectrum.
"As I mentioned yesterday, we're going to sit down and talk to the legislative leaders about that. We had already planned a follow-up meeting the other day in terms of the arena where we had all four legislative leaders," Walker said. "I think it's pretty clear they need to make some changes on that and we're going to work with them on it Monday."
A few hours later, Walker and Republican legislative leaders rolled the proposal back as quickly and unceremoniously as it was introduced.
"After substantive discussion over the last day, we have agreed that the provisions relating to any changes in the state's open records law will be removed from the budget in its entirety. We are steadfastly committed to open and accountable government," the statement read. "The intended policy goal of these changes was to provide a reasonable solution to protect constituents' privacy and to encourage a deliberative process between elected officials and their staff in developing policy. It was never intended to inhibit transparent government in any way."
The statement — attributed to Walker, Senate Majority Leader Scott Fitzgerald, R-Juneau, Assembly Speaker Robin Vos, R-Rochester, and Joint Finance co-chairs Sen. Alberta Darling, R-River Hills, and Rep. John Nygren, R-Marinette — arrived less than 48 hours after the measure passed as part of a 67-item wrap-up motion. In rolling back the proposal, Walker and the leaders announced plans to form a Legislative Council committee to further study potential changes to open records laws.
Access to legislative records has recently allowed reporters and others to learn more about attempts to write the "Wisconsin Idea" out of state law and how language in the 20-week abortion ban bill evolved over time, for example.
And while open government advocates cheered the swift course reversal, many remain concerned the state's public records laws could still be in danger.
"I'm very wary about that, given that we now know there is a strong desire on the part of certain individuals to wage war on our tradition of open government," said Bill Lueders, president of the Wisconsin Freedom of Information Council. "I'm very wary about inviting the process to change the law."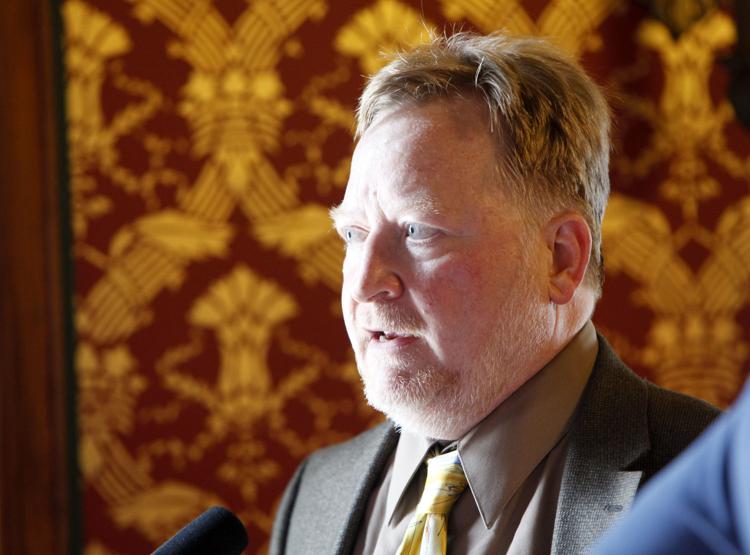 The proposal's origins are still in question. It was inserted into "Motion #999," a last minute budget addition traditionally full of wish-list items for legislators and special interests, often introduced and passed in the middle of the night or early in the morning.
And nobody's saying who is responsible for it.
"It wasn't my motion," said Darling last Thursday.
Pressed on who asked for the changes, both Darling and Nygren said there were "multiple requests." Asked by reporters to give names, Darling walked away.
On Monday, she told the Wisconsin State Journal that "some of us didn't like it from the get-go."
When asked on Saturday if he knew the measure was included in Motion #999 before it passed, Walker avoided giving a yes or no answer while acknowledging he was aware of the tide of public opinion opposed to it.
"There's always all sorts of ideas that float around the Capitol before the end of the Joint Finance Committee process," he said hours before releasing the statement about dropping the proposal.
Regardless of which specific lawmaker proposed the measure, 12 lawmakers — all Republicans — voted for it: Sens. Darling, Luther Olsen of Ripon, Sheila Harsdorf of River Falls, Leah Vukmir of Wauwatosa, Tom Tiffany of Hazelhurst and Howard Marklein of Spring Green; and Reps. Nygren, Dale Kooyenga of Brookfield, Amy Loudenbeck of Clinton, Dean Knudson of Hudson, Michael Schraa of Oshkosh and Mary Czaja of Irma.
Vos, appearing on Wisconsin Public Radio's "The Joy Cardin Show" Monday, said "almost all of us on the leadership team" had been on board with the proposed changes and that there was "nothing sinister" about their intent.
He listed four reasons they had supported the changes: to allow legislative agencies like the Legislative Fiscal Bureau and Legislative Audit Bureau to share information with each other, to ensure legislators and staff can collaborate, to ensure floor debate is what determines legislative intent and to shield constituents who contact their legislators from harassment.
Knudson was the only one to defend the changes during the committee's Thursday night debate. In the days since the vote, Kooyenga has expressed reservations about the proposals' impact.
"The scope of the provision appears to go beyond what I was briefed on, and further consideration of the matter is warranted and welcome," Kooyenga told the Milwaukee Journal Sentinel on Friday. "I'll be listening to feedback."
Meanwhile, Loudenbeck told the Janesville Gazette the same day that while she believes having an open and transparent government is "essential," she also believes "protecting the privacy of those that contact my office for assistance is important."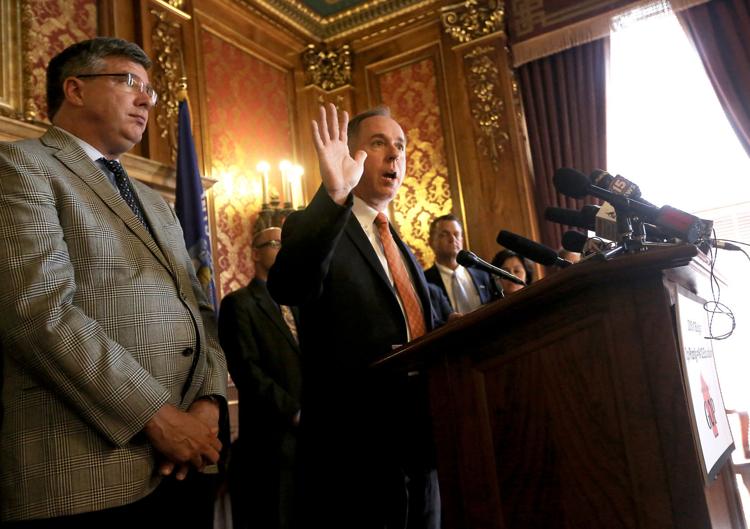 Nygren buttressed that position Monday in an interview with the State Journal.
"In my view, there should be some privacy for constituents to contact my office. You guys don't give a (expletive) about that," Nygren said. "All you want to do is make this about, somehow, that we're stifling transparency for the press."
Knudson said during the committee debate he thought the changes would help legislators follow the law, not hinder disclosure. He said it can be confusing, when developing legislation, to determine what's a draft, what's a note and what counts as a public record. He said during the committee's debate that the "hyperbole" regarding the changes was "overblown."
"I think that this serves to clarify and make it easier for us all to stay on the right side of the law and the rules," Knudson said.
Lueders argued that current law is clear when it comes to legislative records.
A bill's drafts and notes are considered items prepared exclusively for the originator's personal use. Once a document is shared and passed around for comment, it is no longer a draft.
"There shouldn't be any problem with withholding notes and drafts, if that's really what they are," Lueders said.
He also pushed back on the suggestion that groups or individuals are using public records to harass constituents who contact their legislators.
Lueders said he's not aware of such harassment.
"I think that's a phony objection (made) because people want to conduct the government's business in secret," he said.
Vos said the intent of the legislative study committee will be to "go back to the drawing board" and determine what, if any, changes would benefit the state's open records laws.
Any changes the Legislature makes to open records law would alter a tradition nearly as old as the state itself.
The Revised Statutes of 1849 — published one year after Wisconsin became a state — include a requirement for every sheriff, circuit court clerk, county board clerk, register of deeds and county treasurer to "open for the examination of any person" all of their records. Those who did not comply were fined $5 per day.
That statute was cited in the 1853 state Supreme Court case of County of Jefferson v. Besley. The court ruled that Walter Besley, the Jefferson County circuit court clerk, was owed $22 by the county board of supervisors for wood and candles to furnish and light his office of records.
The state's current public records law has been on the books since 1981, when it replaced an earlier version passed in 1917. Over the years, several state Supreme Court rulings have delivered both expansions and restrictions to the laws.
For instance, the 1989 Fox v. Bock case laid out standards to determine whether an item is a "draft" exempt from disclosure. In 1991, the court ruled in Richards v. Foust that a district attorney's prosecutorial records are exempt from the public records law.
The spirit of the law is laid out in its declaration of policy: "In recognition of the fact that a representative government is dependent upon an informed electorate, it is declared to be the public policy of this state that all persons are entitled to the greatest possible information regarding the affairs of government and the official acts of those officers and employees who represent them. Further, providing persons with such information is declared to be an essential function of a representative government and an integral part of the routine duties of officers and employees whose responsibility it is to provide such information. To that end, ss. 19.32 to 19.37 shall be construed in every instance with a presumption of complete public access, consistent with the conduct of governmental business. The denial of public access generally is contrary to the public interest, and only in an exceptional case may access be denied."
In other words: an informed citizenry is necessary for a representative democracy to function. To be informed, citizens need access to records of the work done by those elected to represent them.
The proposed changes were set to take effect on July 1, the day before the motion was passed and the first day of the new fiscal year. Republican legislative leaders now say they will be removed through an amendment to the budget when it's taken up by the Legislature.
Sen. Jon Erpenbach, D-Middleton, said the only explanation for the changes being slipped into the budget bill at the last minute is that "somebody in this building, somewhere, wants to hide something."
Despite being introduced and passed at the start of a holiday weekend, the proposal sparked outrage among constituents, journalists and good government advocates. The opposition transcended party lines, with groups like the Wisconsin Institute for Law and Liberty, One Wisconsin Now, the MacIver Institute and the Center for Media and Democracy united against it.
In 2011, the conservative MacIver Institute asked Erpenbach for emails under the state's open records law. Erpenbach returned the emails, with names and addresses redacted. A court eventually ruled he must release the names and addresses of those who had contacted him during the fight over Act 10.
Bringing up the lawsuit during the Joint Finance debate, Erpenbach said as much as he disagrees with MacIver, he will defend the organization's right to sue him for records.
MacIver president Brett Healy cheered him on. Of the proposal, he said: "Bad, bad idea," he wrote in an email. "The fact that the MacIver Institute and Sen. Erpenbach, opponents in an open records lawsuit and philosophical opposites, agree that these changes will be a death blow to open government shows you just how dangerous this is."
Several Republican lawmakers — including Reps. Joel Kleefisch of Oconomowoc, Scott Krug of Nekoosa and Bob Kulp of Stratford — issued statements over the weekend promising to continue operating under the original open records laws even if the changes passed.
Democrats and others pointed out that no lawmaker stays in office or in power forever.
"When you not just shut the door, but lock the door and throw away the key to the records we generate … we are inviting corruption," Erpenbach said. "We are no longer an open government. This attacks the very spirit of who we are in this state."
Lueders commended the Republicans who joined Democrats in opposing the changes for helping get them removed from the budget.
Kleefisch, one of the Republicans who pushed back on the changes, was the subject of several critical stories in 2014 when the Wisconsin State Journal used drafting records to report that a controversial bill to allow high-income parents to avoid paying tens of thousands of dollars a year in child support was written with the help of a wealthy donor.
Drafting records have been used frequently by journalists to gain insight into the process by which legislation is created, influenced and passed.
"You close the door on open government and I guarantee you — I guarantee you —legislators knowingly and unknowingly will break the law and will never be caught," Erpenbach said.
The liberal group One Wisconsin Now, which frequently requests legislative records, said it takes the move as "validation of our effectiveness and proof that the lawless Republican machine running state government will do anything to try and stop us from holding it accountable."
The organization successfully sued Darling for records related to correspondence with a voucher school lobbyist in 2011.
OWN executive director Scot Ross offered the following as additional examples:
In 2013, drafting records showed that mining company Gogebic Taconite had been heavily involved in modifications to legislation that would benefit the company related to an open pit mine in northern Wisconsin.
A school choice lobbyist was heavily involved with writing legislation designed to impose new accountability requirements on schools participating in the state's voucher program in 2014, according to drafting records.
A review of drafting records for a proposed 20-week abortion ban showed that it originally included language relating to the health of the mother that was later removed, then added once again as an amendment.
Drafting records showed in February that the University of Wisconsin had objected to a proposal in Walker's budget to scrap the "Wisconsin Idea" from the UW's statutory mission statement. Since then, the Center for Media and Democracy and The Progressive magazine have sued Walker for related records he refused to release because they were part of his office's deliberative process. The lawsuits have been combined into a case currently pending in Dane County Circuit Court.
Under the changes approved by the Joint Finance Committee, "deliberative materials" would not be considered public records — a move mirroring the governor's rationale in his recent records denials.
The Capital Times has filed more than a dozen open records requests related to the changes proposed in Motion #999. So far, just one has been fulfilled — by Knudson.
"I did not see or possess a draft of the 999 motion prior to its distribution to the public. As such, I have no records regarding the drafting of provisions 28-32 of the 999 motion," he wrote in his response.
The records obtained through that request were 15 emails to Knudson's office from constituents: 14 who opposed the changes and one who wanted to know more about them.
The promise to remove the provisions from the budget isn't enough for some legislative Democrats, who announced on Monday plans to introduce legislation that would require all non-fiscal policy items included in the budget to be sent to standing legislative committees. Doing so would allow for more public input than the current budget process provides.
Assembly Minority Leader Peter Barca, D-Kenosha, said the proposal was evidence Republicans are "drunk with power" and questioned why no one has taken ownership of the proposal or apologized for it.
Despite the rapid about-face on Saturday, Lueders said it can't be overstated how "shocking and disturbing" it was to see such a sweeping change introduced and approved so quickly.
"This was a big deal, what happened here, both that (elected officials) tried to undermine open government in Wisconsin and that the political structure and the citizens of Wisconsin refused to let them get away with it," Lueders said. "I'm very gratified that the people of Wisconsin pushed back against this."