Three days a week, Meadowood neighborhood residents will find Sheray Wallace at a new health office located in the Meadowridge Library.
Wallace, a community health worker and longtime activist in the southwest side neighborhood, is on the front lines of directing people to formal health care. She provides care management, patient navigation and peer coaching through the Meadowood Health Partnership in a setting that is familiar to neighborhood residents.
"My role is to strengthen existing community networks for care, provide community members with social support, education and facilitate access to care," Wallace said.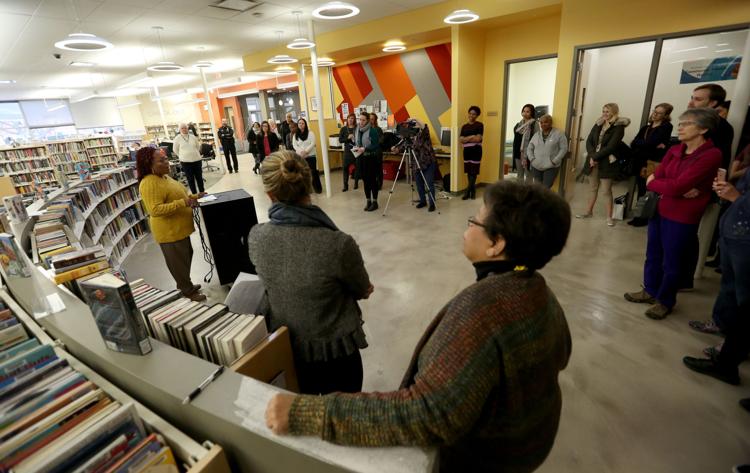 The Meadowood Health Office celebrated its grand opening Wednesday, but has been operating since the end of October. Wallace's office hours are Tuesdays and Fridays from 10 a.m. to 1 p.m. and Wednesdays from 10 a.m. to 4 p.m. A private room next to Wallace's office toward the back of the library at 5726 Raymond Rd. is used when medical professionals visit. 
Wallace said so far 40 people have used the resources available through the health office.
"When someone comes into the health office, I find it my mission to be a bridge between community members and health care services," Wallace said.
Implementing a successful neighborhood-based health care model relies on trust with the community. Wallace said people from low-income areas often fear that a traditional health care provider might "put them in the system" if they disclose their struggles.
What makes the Meadowood Health Office unique is that Wallace can dedicate as much time as an individual needs and can follow up with those who visit the office.
"The only way you can be a real effective community health worker is you have to have build a relationship with the community where they feel comfortable with trusting you," Wallace said. "Not only that, when they see a face like their face, it makes a difference."
Wallace's attention to providing neighborhood-based health care sprang from her work as a community ambassador for the Race to Equity project through Kids Forward, formerly the Wisconsin Council on Children and Families. Through conversations with community members, Wallace saw how racial inequity and social determinants of health are connected and affect the neighborhood.
Race to Equity project director Erica Nelson said supporting neighborhood leaders is critical in not only improving the well-being of individuals and families but also in advocating for systemic policy changes.
"There is no prescribed formula to change and improve lives but what is evident from (Wallace) is that it requires passion, commitment and a deep knowledge and understanding of the needs and folks you're working for, on behalf of and with," Nelson said.
Access Community Health Center CEO Ken Loving said the nonprofit organization started in the 1970s with the same mission as the Meadowood Health Office, which is to provide health care service to those who do not have access. 
"(Wallace) is filling a need in the Meadowood community that should be an example across Dane County," Loving said.