Gov. Scott Walker — focused on his future, not yours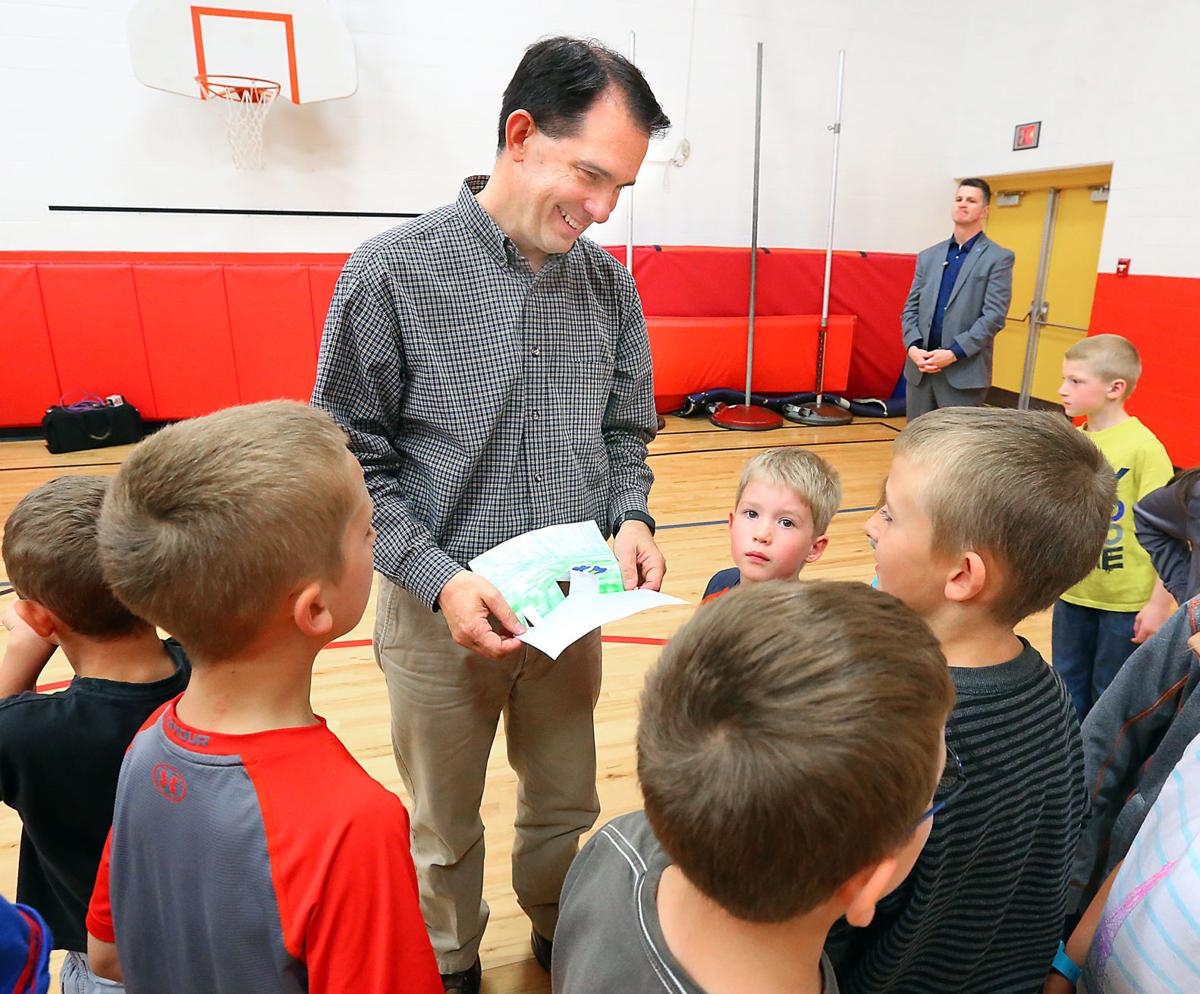 One of the panels at the recent Cap Times Idea Fest was on the best-case scenario for Wisconsin's economic future. Talk turned to the state's Foxconn deal, the one championed by Gov. Scott Walker and fellow Republicans as a colossal boon to the southeastern Wisconsin economy.
"The notion of spending $3 billion on Foxconn is maddening," said panelist Kevin Conroy, CEO of Exact Sciences Corp., a Madison-based medical testing firm. "It's like Barnum & Bailey took over the state Capitol. In what world would you spend $3 billion to attract between 3,000 and 13,000 jobs?"
The world of Scott Walker, one in which politics, not the public's long-term interest, always comes first.
The deal with the Taiwan-based Foxconn Technology Group was rammed through by Walker and a compliant GOP Legislature. In his re-election campaign, Walker can now pose as a bold deal maker — diverting attention from his mediocre record on jobs.
And if the Foxconn deal fails to create the promised jobs despite the mind-boggling financial incentives, well, that will come later, and Walker's re-election purpose will have been served.
That, in fact, is always the way it works with Walker. Democrats, who lack any obvious gubernatorial front-runner, would do well to define Walker as a career politician whose guiding concern is always his future, not yours.
When first elected governor, he delivered for his wealthy far-right sponsors by undertaking a merciless attack on public employees, especially public educators, bragging as he went that he was "unintimidated," which even became the comical one-word title of his autobiography.
Dude, your party controlled every lever of power. Who, exactly, was left to intimidate you? Now, former Gov. Tommy Thompson is happy to mix it up with anyone. Both he and fellow Republican U.S. Sen. Ron Johnson appeared at the Cap Times Idea Fest before a skeptical Madison crowd. Neither was intimidated.
But Walker? He refuses to appear before Madison audiences other than carefully screened gaggles of admirers. Unintimidated indeed.
Anyway, Walker has always governed in full tea-party mode, including backing draconian restrictions on women's reproductive rights.
Yet before his 2014 re-election, he rolled out a misleading television ad titled "Decision." Here's how the publication Mother Jones described it then: "The ad attempts to depict Walker as a reasonable fellow on this issue. It's a brazenly misleading spot — almost a flip-flop — that is designed to create the false impression that Walker respects a woman's right to choose. The ad is camouflage for the fact that Walker has supported outlawing all abortions, even in cases of rape of incest."
Ah, but by 2016's GOP presidential debates, Walker stridently proclaimed himself "pro-life" and made a central boast that he defunded Planned Parenthood before other Republicans.
Well, whatever fits the moment, governor.
Scroll ahead to now. The Wisconsin State Journal recently published a jaw-dropping op-ed under Walker's byline in which, among his many boasts, he said he added money to the latest budget for K-12 education and froze tuition at University of Wisconsin System campuses for another two years. He goes on to claim credit for a series of education initiatives and he makes other claims about holding the line on gas taxes and transportation bonding and so forth.
The true picture is different.
Through the years, Walker has forced needlessly deep cuts in K-12 public education and fostered a parallel private school system. He also insisted on short-term band-aids on transportation funding so he could brag about holding the line on even modest tax increases.
And Walker and other Republicans never mention the blatantly unfair manner in which this agenda was accomplished — with majorities created by extreme gerrymandering and voter suppression. The massive campaign contributions Walker received from wealthy donors have been repaid in spades through tax cuts, right-to-work legislation and prevailing wage actions, not to mention the elimination of environmental and other regulatory safeguards those donors find inconvenient.
Meanwhile, Walker and the GOP threaten the greatness of the UW System, a system carefully nurtured by earlier generations. The Madison campus is losing faculty, stature and the financial means to be world-class. But what the heck, the long-term consequences of that tragic loss will not be felt until Walker has moved on and reaped the political benefits of socking it to those Madison elites.
And there are other gifts that, for Walker donors, keep on giving.
The manufacturing and agriculture tax credit, a gift to business, was slipped into the budget in 2011 and has quietly ballooned to double the 9-figure cost in tax credits originally projected. This is the sort of regressive shift in the tax burden that demonstrates that trickle-down economics is alive and well in Wisconsin.
Sadly, Walker and his handlers know exactly what they are doing.
His most sophisticated supporters are benefiting and just want more.
His most attentive opponents struggle to get their more contextual and nuanced analysis to register with voters. Sadly, a diminished state press corps sometimes tends toward simple he-said, she-said recitations.
Walker haters, and there are many, often exude an unattractive and over-the-top enmity that sabotages their message, especially if it is accompanied by far left policy ideas that simply won't sell beyond Madison and Milwaukee, and only in certain quarters there.
Finally, there sits the regular citizen who does not follow politics, and is preoccupied by the household budget, not "game-playing" in Madison. So freezing tuition and holding the line on taxes sounds superficially attractive.
Over the next year, let me suggest that you apply two filters to everything Walker says and does.
First, does whatever he is advocating transfer a greater burden onto future taxpayers?
Second, does whatever he is talking about reveal a vulnerability? In poker, they call that a "tell," when a player inadvertently shows something about his or her hand.
Walker on K-12 education is a perfect example. He has toured the state in recent months to be photographed with children, posing as a friend of public schools, when in fact he has been the opposite. So watch how his "priorities" continue to tidily align with what his advisors regard as his political weaknesses.
Both filters reinforce what, in my view, is Walker's core brand — a career politician who always — always — puts his own interests first.
Share your opinion on this topic by sending a letter to the editor to tctvoice@madison.com. Include your full name, hometown and phone number. Your name and town will be published. The phone number is for verification purposes only. Please keep your letter to 250 words or less.