Has the presidency become an 'impossible' job?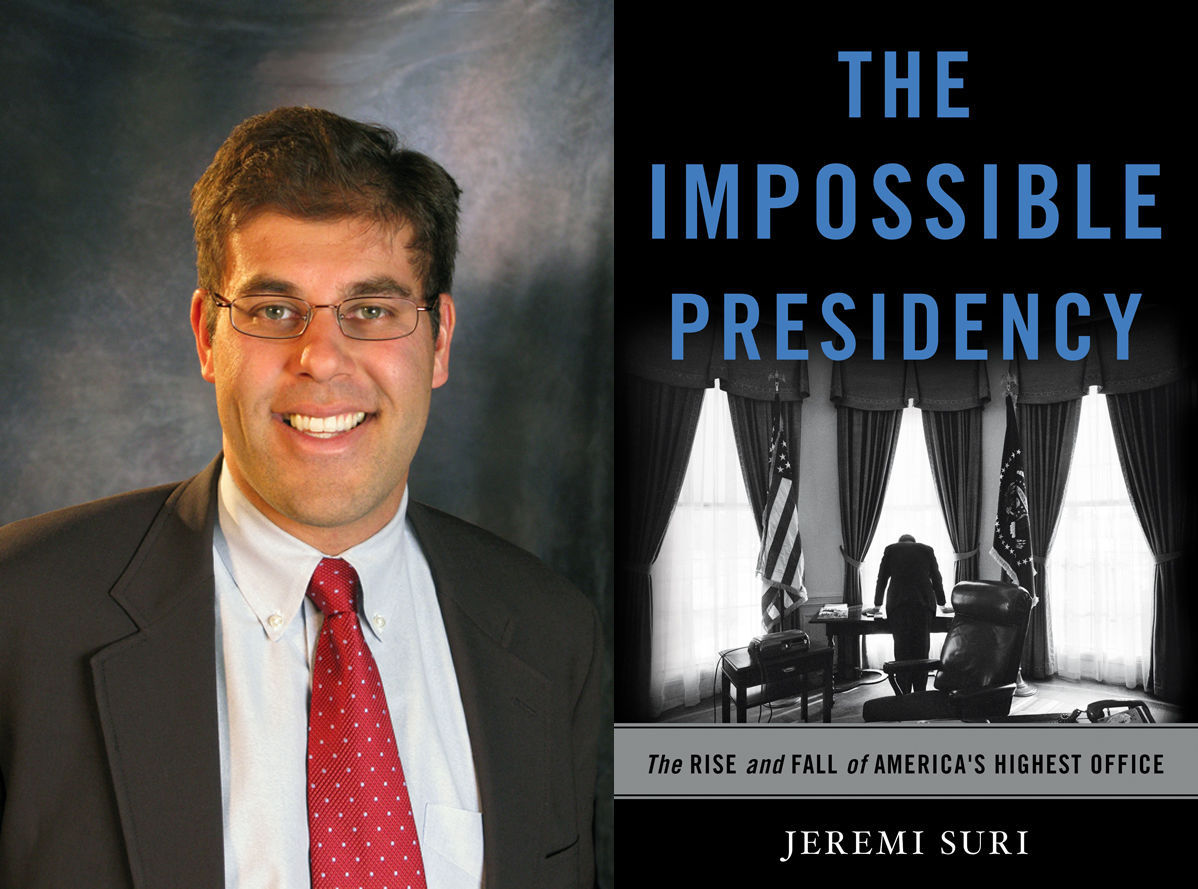 Shortly before last fall's presidential election, Jeremi Suri completed a book that contends the presidency had become an impossible job.
"Then I had to rewrite the epilogue because I had written one assuming Hillary Clinton would win," the prominent historian told me recently.
Donald Trump or no Donald Trump, Suri's central thesis stayed the same: Until about the middle of the last century, the presidency was ascendant. It was a job in which the true giants in American history could actually succeed — leaders like Washington, Jackson, Lincoln, Theodore and Franklin Roosevelt.
But starting with Kennedy, through the examples of Nixon, Reagan, Bill Clinton and even Obama, the public's unachievable expectation of a political messiah combined with the deepening complexity of issues to make the role, well, impossible.
Through that lens, Trump's victory fits on a continuum, a jarring reinforcement of Suri's presidency-in-decline thesis. The author labels Trump as an "anti-leader," the opposite of what the nation so desperately needs.
"By the start of the 21st century," Suri writes, "the inhuman demands of the office made it impossible to succeed as president." It became defined by crisis management, he writes: "Presidents had been heroes in the past; they became targets of derision by the second half of the 20th century."
But Trump's "blowing up the system" is not a long-term strategy, Suri contends, and he focuses on what will follow Trump: "This is a time for new beginnings."
Suri is well-known in Madison because he taught at the flagship University of Wisconsin campus before moving to the University of Texas at Austin in 2011.
At the time, his departure was big news because he publicly criticized what he regarded as attacks on the university, especially by then-newly elected Gov. Scott Walker and fellow Republicans in the Legislature. They were cutting university budgets and, Suri said, "insulted and harassed scholars." Absent those conditions, he said he probably would have stayed in Madison.
His new book, "The Impossible Presidency: The Rise and Fall of America's Highest Office," was just released. I read it and interviewed him by telephone. Suri plans multiple appearances in Madison to promote his book next month.
Here's Suri's overview of the book: "One of the big points I'm making is that it has become almost impossible even for the most qualified, talented, well-prepared person to succeed in this office and we don't often get the most well-qualified, well-prepared person."
He continues: "Here is the paradox: the office is set up to fail. We're now electing people who are in fact not even close to qualified because we're looking for people who will somehow 'blow it up,' or somehow transform it overnight, so we're going in the wrong direction. There's a mismatch, and that mismatch is growing with every election cycle."
But, I counter, presidents Obama and Trump are polar opposites, one reflective and careful, the other impulsive and bombastic. Obama had his struggles, yes, but so many of his foes were publicly devoted to seeing him fail.
Suri says that Obama, like Trump, lacked the kind of experience he is talking about.
"The complexity of the issues is such that you really do need to have some inside expertise," Suri says. "You really have to have experience running large government agencies, understanding how complex they are, understanding how difficult it is to get people to do things even when you're president. So being an outsider, though it sounds attractive, actually debilitates you when you're in office, and this is the problem Obama had.
"He didn't really have that executive leadership experience, nor does Donald Trump. Trump has run a real estate company, which is very different from a public administrative agency. Even though inside knowledge doesn't sound politically attractive, inside knowledge is absolutely crucial."
Suri says mayors of large cities, more than governors, might make strong presidents: "When you're mayor of a big city, the range of complex issues and the range of crises are enormous, and as is the case with the president of the United States, you have a title but you don't always have direct authority."
FDR seemed to understand this, he says. "He operated as a city boss in many ways, bringing different groups together, drawing out ideas in different groups, getting different groups to work together."
So, I ask, can the presidency be made less impossible?
"First we need to understand what the office entails. What is it that the president does? The office has changed so much from our civics education that we need better education about it. I think we need to elect people who can have a discussion about what are the things that most matter to the country. We're doing lots of things in a mediocre way rather than doing a few things well."
He continues: "Candidates should present different priorities and then we should choose the person who we think best matches the priorities. We're not doing that. We simply throw out sound bites."
Second, to help make more informed decisions, Suri says we should reinvest in what he calls "knowledge-producing institutions."
"Over the last 40 years we have systematically underinvested in these institutions, underinvested in our university — you know this very well in Madison — underinvested in public news sources, so more of the information we get today than ever before is keyed to revenue, not to the pursuit of truth.
"We could actually build fewer aircraft and have many stronger knowledge institutions. We could create a second NPR (National Public Radio) if you don't like NPR. ... We could fund institutions, not think tanks, institutions that actually produce knowledge that people can respect. People turn to fake news now because I don't think they have alternatives. That's really a large part of it."
Suri pointed to the experience of his wife, Alison Alter, a member of the Austin City Council. "They don't have objective sources of information for just basic city stuff," Suri says. "For example they don't know how many people are homeless in the city. One think tank tells them one thing, one think tank tells them another, and they're just responding to their donors.
"But the city could actually invest in something like the Legislative Research Bureau that used to be at the center of politics in Wisconsin, producing the basis for factual legislation."
The political right, I suggest to Suri, has led this war against institutions of knowledge. Perhaps, Suri counters, but the political left has let it happen.
Share your opinion on this topic by sending a letter to the editor to tctvoice@madison.com. Include your full name, hometown and phone number. Your name and town will be published. The phone number is for verification purposes only. Please keep your letter to 250 words or less.