Here's how the Cap Times Idea Fest was unique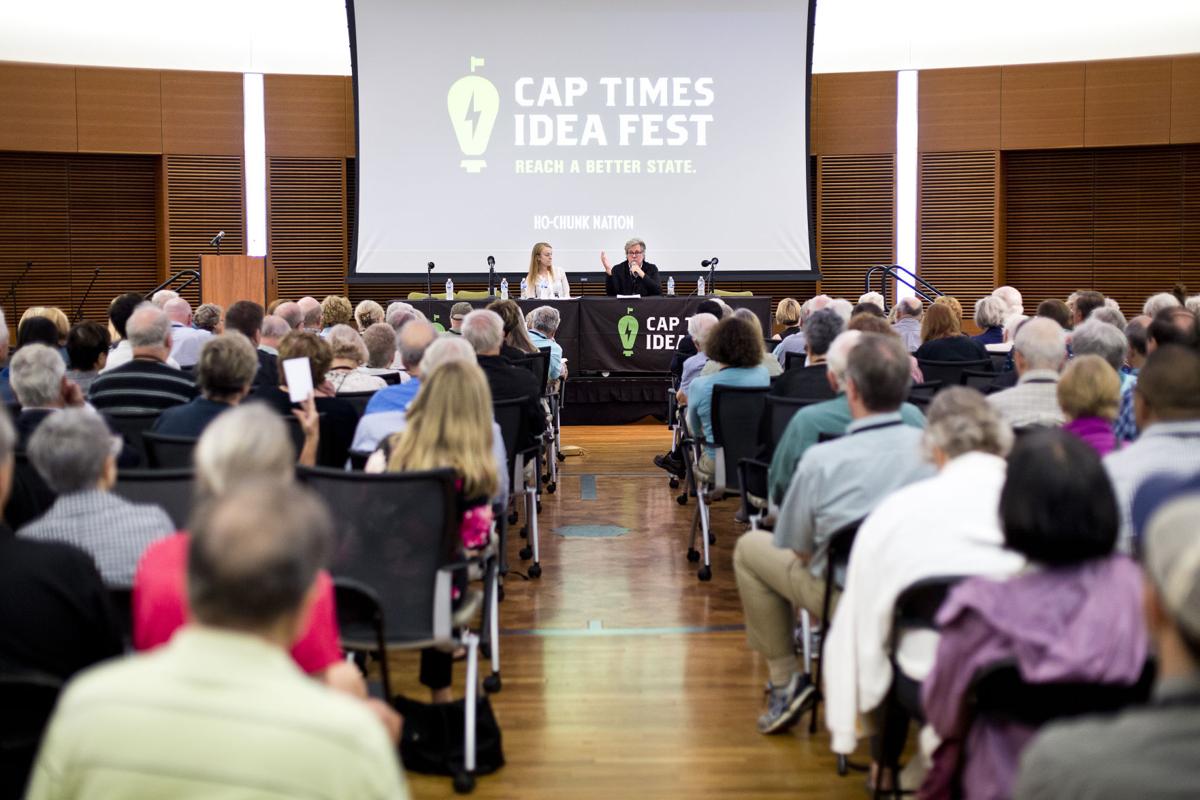 Through my years in newspapering, one of the highest compliments you could pay some piece of journalism was to call it "metro" quality.
Translated, that means it carried the impact, clarity, organization and overall excellence of something you would find in, say, the Washington Post or the New York Times. The term "metro" refers to that class of newspapers in big cities — the Post and Times atop that heap — that were typically staffed by many of the most experienced and skilled journalists in the country.
Well, the inaugural Cap Times Idea Fest happened this past weekend, and my summary thought — boast, perhaps — is that we delivered on our promise of a metro quality event.
Now, let me acknowledge my obvious and profound self-interest in making that claim. But I think most of those who attended would back me up.
Through session after session — there were 29 in all — I recall thinking: This is just the sort of intelligent, provocative and nuanced discussion you might see on some larger stage in some much larger city. Our sessions contained almost none of the banality and bromides that can plague efforts at public discussion. This issue covers some of the panels and one-on-one conversations.
I can think of think five things that distinguished the inaugural Idea Fest and which will give it major prominence on the Madison calendar in years to come.
First was the powerhouse lineup of speakers.
In our biggest meeting space on Saturday, for example, we began with U.S. Sen. Amy Klobuchar, a Minnesota Democrat who proved a crowd favorite. (If anyone thought her colleague Al Franken was the only hilarious senator from Minnesota, they were mistaken. She joked she was able to set a fundraising record in her first campaign by raising $17,000 just from ex-boyfriends.)
She was followed by Marty Baron, executive editor of the Washington Post, who talked about everything from covering Donald Trump to how the Post approaches day-to-day journalism in the digital age to working for Amazon founder Jeff Bezos to the inside story of his experience at the Boston Globe as portrayed in the movie "Spotlight."
They were followed by Tommy Thompson, our iconic former governor, and then by our two U.S. senators — Tammy Baldwin and Ron Johnson. UW Athletic Director Barry Alvarez spoke in that same venue on Sunday, describing his time in Madison and his approach to his job in ways I had never heard.
But the best thing about our lineup was not its biggest names, but its depth and variety — we had A-teamers across the board.
Second was our terrific group of moderators. Yes, we had stars such as David Maraniss, the author and Washington Post editor interviewing Baron and Baldwin; and Chris Stone, the editor of Sports Illustrated, talking to Alvarez. They gave their sessions a hard-to-quantify but very cool texture.
But we also had skilled journalists from the Cap Times, WisPolitics.com, our television partner WKOW-TV and Wisconsin Public Radio, plus a University of Wisconsin professor who had written a book on the topic of her session. Across the board, the preparation they put in was obvious and, as a group, they were simply terrific.
Third was our wide variety of topics and formats. We had one-on-one conversations and panels of various sizes. Whether the subject was education, race, economics, politics, food or even hip-hop music, every session brought its own sort of sizzle. Sameness was not an issue.
Fourth, frankly, concerns the partisan ideology — or better, the lack of it — this weekend. For 100 years, the Cap Times has been and remains a progressive editorial voice, but this past weekend was about hearing and respecting all views.
In introductions Sunday morning, I publicly thanked not only the conservative speakers at that session — political commentator Charlie Sykes and Wisconsin Institute for Law and Liberty President Rick Esenberg — but all of those from the right who participated in the spirit of respectful dialog. That spirit was reflected throughout, with Thompson and Johnson being prime examples.
Fifth was the setting for the festival.
The event was spread over three UW-Madison venues — the Discovery Building, Union South and the Gordon Center — sort of a geographic center for intellectual curiosity in the city and even the state.
Anyway, many thanks to speakers, moderators, sponsors, volunteers, Cap Times staffers and every single attendee.
Look, I realize Madison's annual calendar is blessed with all sorts of events, large and small, serious and whimsical. And I am not here to throw stones at any of them. But I thought the Cap Times Idea fest delivered — big time.
I know calling something "unique" is pretty audacious.
Yet, as we reflect on this year and look toward next, it's a one-word descriptor I'll claim.
Share your opinion on this topic by sending a letter to the editor to tctvoice@madison.com. Include your full name, hometown and phone number. Your name and town will be published. The phone number is for verification purposes only. Please keep your letter to 250 words or less.