Now more than ever: The Cap Times at 100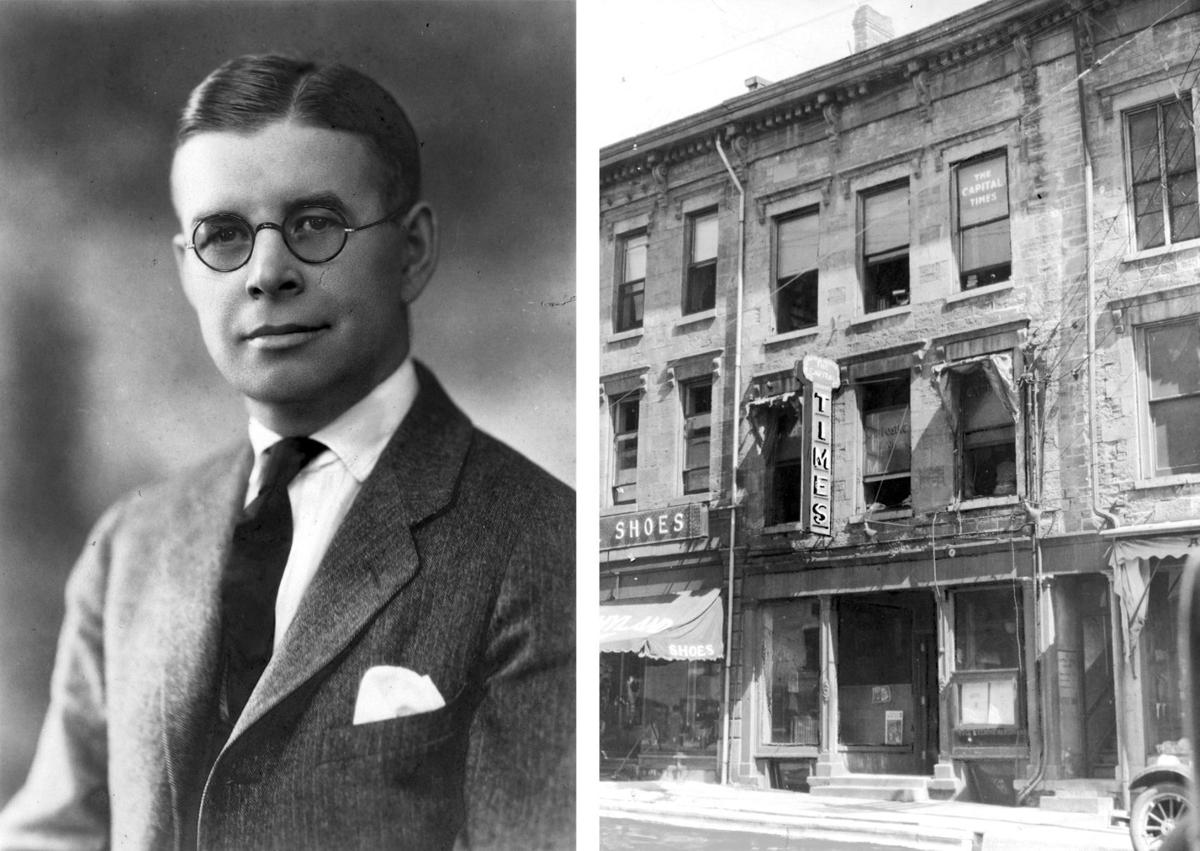 To your garden-variety Madison progressive, most public affairs topics are tough these days. You might even call things bleak.
At least there is company in our misery. A recent national poll by the American Psychological Association found that nearly two-thirds — 63 percent — of respondents consider the nation's future to be a very or somewhat significant source of stress, topping even work and money concerns, the perennial top stressors.
A solid majority — 59 percent — said they view now as the lowest point they can recall in U.S. history — and that spans the lives of those who remember World War II, the Cuban missile crisis, Vietnam, a decade of political assassinations and the Sept. 11, 2001 attacks.
"The uncertainty and unpredictability tied to the future of our nation is affecting the health and well-being of many Americans in a way that feels unique to this period," commented association CEO Arthur C. Evans Jr. in a statement with the poll findings.
It's against that backdrop that the Cap Times celebrates its centennial birthday next Wednesday. On Dec. 13, 1917, an entrepreneurial second-generation Norwegian-American named William T. Evjue published our first edition out of a tiny storefront on King Street just off the Capitol Square.
I suggest you pause to appreciate the Cap Times as the feisty, locally owned and historic institution it is — a beacon of progressive opinion, a source for probing and objective news and information, and a fountain of big-impact local philanthropy through our Evjue Foundation.
In the bigger picture, it is hard to adequately describe the rolling revulsion many of us feel about Donald Trump, the feeling that it cannot get any worse and then somehow in the next news cycle it does. It has much to do with his repugnant racism, sexism and self-adoration, but it is his lying that has been perhaps most shocking and yet routine.
Within Wisconsin, one-party Republican rule grinds on, as it has all of this decade, fracturing what was a Wisconsin spirit of good-government collaboration with the toxic politics of resentment. Republicans, as always, remain bad at governing, superb at demonizing. They talk about helping "hardworking taxpayers" when, in fact, they haven't helped them at all, but instead fostered divisions.
Republicans have served their donor class by cutting taxes and regulations for big shots while harming the state's traditionally excellent public education systems. They protect themselves from removal via outrageous gerrymandering of political boundaries and voter suppression. And like Trump, Scott Walker has no apparent interest in being governor for everyone, only for his base.
In sum, things are suboptimal.
The stress survey revealed 95 percent of respondents follow the news regularly, even though more than half say doing so causes them stress. "Understanding that we all still need to be informed about the news, it's time to make a priority to be thoughtful about how often and what type of media we consume," said Evans, the group's CEO.
So, let me humbly suggest how the Cap Times at 100 deserves a prominent spot on your master list of what to "consume."
It starts with our staff of journalists who produce an array of high-quality and objective local stories that should be important to any smart and engaged Madisonian. We write about city and county government, schools, the statehouse, UW and the burgeoning tech sector. We vigilantly cover issues and cultures in our communities of color. We win awards for our investigative reporting while also reflecting the playful sides of the city in our arts, film and food coverage. Taken together, it is the kind of local and professional journalism that is, regrettably, in shorter supply across the nation these days.
There's also our full-throated and distinctly separate opinion journalism. Evjue started the Cap Times to advocate progressive causes championed by his hero, Robert M. "Fighting Bob" La Follette, and the paper has been an unwavering advocate for the average working person, women and people of color ever since.
Editor Emeritus Dave Zweifel, personally hired by Evjue 55 years ago, continues to connect the past to the present in his thought-provoking columns. Others of us, notably Associate Editor John Nichols and me, also weigh in, and together we are almost certainly the most concentrated voice of progressive opinion in the state.
And there is another important element. The Evjue Foundation, our philanthropic arm, was created by Evjue's will and has contributed enormously — more than $57 million in all and $2.3 million just this year — to local people and institutions since his 1970 death. His nephew, retired Cap Times executive John "Jack" Lussier, has also contributed mightily to the community.
Recently, the Cap Times has emerged as the host for important community conversations, starting three years ago with monthly discussions we now call Cap Times Talks and culminating in our inaugural Cap Times Idea Fest this fall. Our two-day event on the UW-Madison campus exceeded our first-year hopes with outstanding speakers and more than 1,300 registrants.
Bringing together engaged and thoughtful people to talk about public affairs and lighter topics has emerged for us as an important role. We are planning for our second-year event next September on campus and will be sharing plans and asking for your advice in coming months.
As I think about this milestone birthday and as the Cap Times embarks on its second century, I think of it as an enduring jewel for the city.
In all we do, we see ourselves as a trusted media source for engaged Madisonians who are sorting through an avalanche of news and information alternatives. As media institutions nationwide continue to contract, it's hard to overstate the value of that.
As Madison evolves, many of us hope the emerging leaders of the technology economy will demonstrate the same passion and commitment to the health and vitality of the city — and all of the people in it — as did the bricks-and-mortar business leaders of the past, who are dwindling in number.
But here, still standing at 100, you have the Cap Times, William T. Evjue's audacious experiment. In that context, we hope you'll regard Evjue's creation as an enduring and important Madison institution.
Share your opinion on this topic by sending a letter to the editor to tctvoice@madison.com. Include your full name, hometown and phone number. Your name and town will be published. The phone number is for verification purposes only. Please keep your letter to 250 words or less.