Paul Fanlund: In defying Trump, John Kasich is a GOP anomaly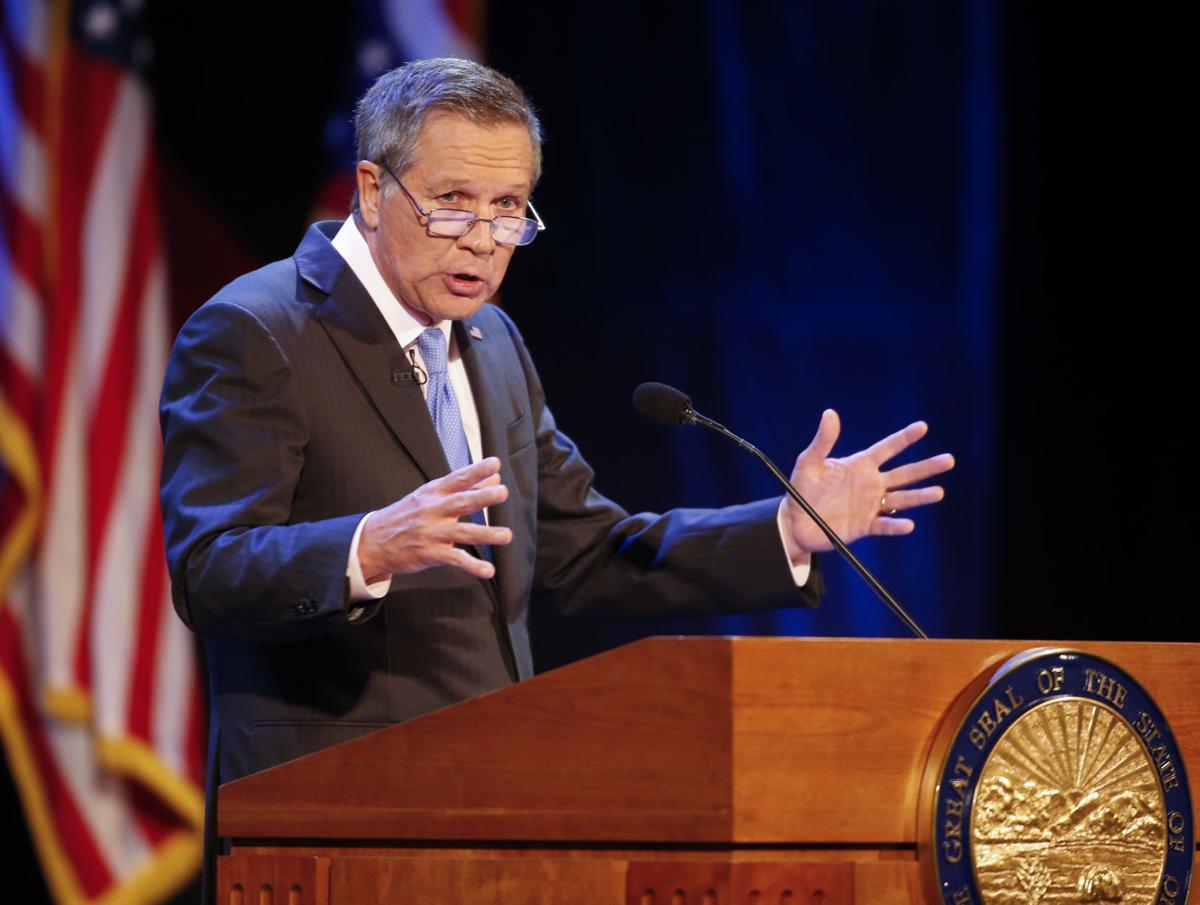 If you follow politics, it's hard to miss John Kasich these days, much harder than when he was the last candidate standing against Donald Trump in the 2016 Republican presidential primary.
Part of the reason Kasich looms large is because his new book is unabashedly anti-Trump, as reflected in its title: "Two Paths: America Divided or United." In his blunt, either-or framing, he offers himself to light our path toward national unity in contrast with Trump's go-to brand of divisiveness.
Kasich, the governor of Ohio, is seemingly everywhere in promoting his book. I heard him interviewed by David Axelrod on the ex-Obama aide's podcast, by Judy Woodruff on the PBS NewsHour, and by Bill Maher on Maher's HBO program, where the host appeared perplexed when Kasich jokingly likened himself to the "Ugandan swimmer at the Olympics." On the debate stage last year, Kasich said he was relegated to the outermost edge, just as the Ugandan was in the last swim lane, almost off-camera.
Intrigued by a Republican standing up to Trump — Kasich cast a protest vote for Sen. John McCain in November — I read his book.
There, the Kasich persona takes full form — that of a folksy old-school conservative from a time when politicians worked across party lines. There was lots about McKees Rocks, Kasich's tiny hometown near Pittsburgh, a place he described as "a hardscrabble community where the God's honest truth was just that: God's honest truth."
Even though Kasich has a long record as a fiscal conservative in Congress before being elected governor, an essay in The Economist about his book was headlined "John Kasich's lament" and suggests that "a vanquished Republican moderate ponders how to make American united again."
Kasich has certainly sounded moderate in his outspoken rebukes of the repeal-and-replace health-care bill narrowly passed by House Republicans. On a recent CNN State of the Union, he blasted the measure as "woefully inadequate and disappointing." With the bill now in the Senate, he told host Jake Tapper "I hope and pray" for something better.
Discussing the 2016 campaign trail, Kasich aptly described what in Wisconsin we have come to know as the "politics of resentment" from the well-known political book carrying that title by Kathy Cramer of the University of Wisconsin-Madison.
As I read "Two Paths," I marked passages that veered from contemporary GOP doctrine. By the end, my marks were many, including this passage:
"Maybe you've got money troubles, or your kids are struggling in school, or your neighborhood has a drug problem, or you're feeling like you're stuck," Kasich wrote. "When you're in that mode, it's hard to think of a life bigger than you are. And when you are in that mode, you're vulnerable.
"When somebody comes at you and feeds on that vulnerability by telling you that the reason your life is such a mess is that you've been cheated, or somebody took your stuff, or your voice isn't being heard — that's when it gets harder and harder to rise above your circumstances.
"That's when the negative tone that found us during the 2016 presidential campaign can resonate and take hold," he wrote, when people feeling disadvantaged "are inclined to buy into false promises."
Writer Mike Lofgren, who worked for Kasich for 17 years, said the governor is in many ways a rigid conservative. Kasich proposed his own balanced-budget amendment, for example, and tried to roll back union protections for Ohio state employees, an effort — unlike in Wisconsin — that failed.
But, Lofgren noted, Kasich accepted Medicaid money to expand health coverage under Obamacare, a treasonous act in today's GOP, and in 1994 voted for an assault-weapons ban. In Congress, Lofgren also noted, Kasich "avoided the kneejerk military interventionism that is now mandatory for GOP candidates."
The Economist interviewer challenged Kasich on his vision for unity considering the anger and loyalty that Trump's supporters demonstrated, as well as the intense blowback from left-leaning protesters directed at Trump.
Kasich acknowledged the challenge, citing a "cultural problem" that will take time to heal. He blamed political gerrymandering, the media's fixation on incendiary rhetoric, how the "faith business" sows divisions, and even pointed a finger at the public for so wanting their beliefs reinforced that they stay in partisan bubbles and share "fake news."
To a progressive, Kasich is certainly no angel, but can you imagine Paul Ryan or Scott Walker having the political maturity or courage to act similarly?
After the health-care insurance vote, Ryan obsequiously posed for celebratory photos with Trump, saying he was "so proud" of the bill. In reality, he appeared desperate to pass something, anything, in the GOP-controlled House after failing earlier this year. So he backed a bill that, were it to become law, would deprive millions of health insurance in order to finance tax cuts for the wealthy.
How Ryan can sell this to blue-collar constituents back in Janesville remains a mystery. So far, he's just hiding from them.
Ryan also refused to talk to reporters seeking his reaction to Trump's firing of FBI director James Comey until he reached the cozy confines of a Fox News interview, where — in true lap dog form — he strongly backed Trump's action.
Then you have Walker, our two-faced governor, a tea party hero when he leaves the state to brag about crushing labor unions. Walker boasts of defunding Planned Parenthood but had the gall before the last election to air an ad in which — staring solemnly into the camera — he sounded like he actually respects women's reproductive prerogatives.
This year he has traveled the state claiming "historic K-12 investments" in his proposed budget, when the only thing "historic" about Walker and public schools is that he may have done more damage to them than any governor in state history.
Compared to Kasich, still governor of Ohio and vulnerable to hard-right challenges, Ryan and Walker are not exactly profiles in courage.
Beyond that, think about Ryan and Walker in the context of one of Kasich's favorite lines: When politicians die, St. Peter will ask what they did for the poor, not how they shrank government.
An image worth pondering.
Share your opinion on this topic by sending a letter to the editor to tctvoice@madison.com. Include your full name, hometown and phone number. Your name and town will be published. The phone number is for verification purposes only. Please keep your letter to 250 words or less.