Paul Fanlund: On political purity, Bernie Sanders changes his tune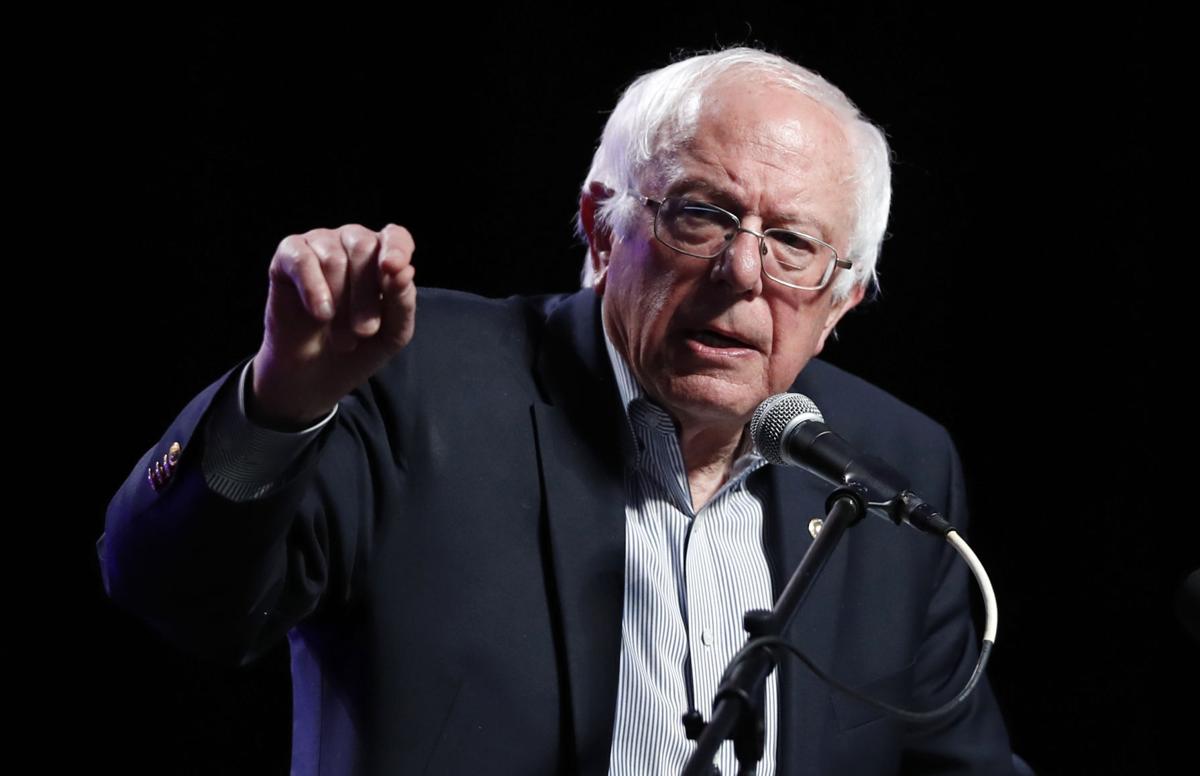 For much of 2016, Hillary Clinton was harangued for being insufficiently pure on matters of economic populism — too cozy with Wall Street and late to the party on hating international trade deals.
Pundits proclaimed she was out of step with the angry economic populism of the times, unlike her Democratic primary foe Bernie Sanders, the preachy socialist. Many of his supporters eventually blamed Clinton for the Donald Trump presidency.
Recently, Sanders' tune has changed, and the defenders of embattled reproductive rights have noticed.
First, Sanders campaigned for Tom Perriello, a Democratic candidate for governor of Virginia who, the New York Times reported, had voted in Congress for anti-abortion measures before later apologizing.
More notably, Sanders then refused to campaign for Jon Ossoff, a Democrat running for an open U.S. House seat outside Atlanta. Ossoff won and now faces a runoff, but Sanders at first regarded him as insufficiently progressive, though he did offer support later.
Abortion-rights advocates seethed because Karen Handel, Ossoff's Republican foe in the runoff, was the official at the Susan G. Komen Foundation — the nation's largest breast cancer organization — who orchestrated an effort to sever ties between the foundation and Planned Parenthood.
Sanders then campaigned for Heath Mello — described as a future star of the Democratic Party — in his campaign for mayor of Omaha, Nebraska, even though Mello had co-sponsored several bills in that state's legislature to restrict abortion rights, including a 2009 measure requiring doctors to inform women seeking abortion about ultrasounds.
Ilyse Hogue, president of NARAL Pro-Choice America, issued a scathing response, charging that the Democratic National Committee "unity tour" that included Sanders' support for Mello sounded more like a "throw-back tour for women and our rights."
"It tells your most active political base that we're just negotiable political property," she wrote to the DNC.
In a National Public Radio interview, Sanders sounded unrepentant: "The truth is that in some conservative states there will be candidates that are popular candidates who may not agree with me on every issue."
In weeks since, the DNC has tried to patch things up, but I find Sanders' newfound affection for nuance and a political "big tent" to be, at minimum, ironic.
Sanders touted his many progressive positions, including free public college tuition and a $15 minimum wage, in a tone that was uncompromising and dismissive of Democrats who suggested partial measures or nuance.
Now, Sanders wants those to whom protecting reproductive freedoms are paramount to chill out and see the big picture, like he does.
Language used in describing this tension among progressives is also a concern. "This is very raw," Randi Weingarten, head of the American Federation of Teachers, told the New York Times. "There is still a debate about identity politics versus economic opportunity."
Weingarten told the Times that she doesn't see that as an either-or choice, but "identity politics" sounds like an indulgence when what we're talking about is the right of women to control their bodies.
This whole furor sparked an op-ed in the Times: "Why abortion is a progressive economic issue." In it, Bryce Covert, an editor at the progressive blog ThinkProgress, points out that it is economics that sometimes motivates women to end pregnancies.
He then quoted Sanders from a 2015 Rolling Stone story: "Once you get off the social issues — abortion, gay rights, guns — and into the economic issues, there is a lot more agreement than the pundits understand."
So maybe we should cool our jets on that whole civil rights thing too, don't you think? It distracts from currying favor with those white, working-class men who think everybody else on earth has cut in front of them in line for good jobs and government assistance.
No surprise that the government relations director of Planned Parenthood of Wisconsin, Nicole Safar, sees a strong connection between economics and reproductive rights.
"You can't have economic security without reproductive freedom and individual civil rights and safe communities," she told me in an interview. "So it also annoys me when people separate out these basic economic issues and call them social issues because they generally impact women and people of color more than the white working class."
It annoys me too, especially given consistent levels of public support for keeping abortion safe and legal in Wisconsin through the years, even as Gov. Scott Walker and other Republicans continue their attacks.
To illustrate, an average of about 60 percent of respondents over six polls in recent years supported keeping abortion legal in all or most cases, according to Charles Franklin, a professor of law and public policy and director of the Marquette University Law School poll. Franklin pointed out that those numbers are consistent with national trends measured in Pew Research Center polling.
Still, we are told, abortion rights is not simply a matter of women's rights; many abortion opponents of both genders have strong religious convictions.
So, what about those us of who have strong feelings — let's call them religious convictions — about access to assault weapons, about events like the slaughter of 20 children in their Connecticut elementary school in 2012?
No action to restrict guns occurred in its bloody aftermath, even though gun advocates act as if there is some war on the Second Amendment.
Sanders and others would do well to ponder why gun rights are sacrosanct while reproductive rights are under relentless assault despite majorities favoring keeping abortion legal. (Come to think of it, Sanders has always been largely silent on gun issues, but then his home of Vermont is a hunting state.)
The answer, to me, is clearly gender.
What most bothers me is that Sanders talks today of the need for a tolerant, big-tent Democratic movement (though he is not even a Democrat) to include those not committed to reproductive rights.
Again, this from a man who appeared only too happy to benefit from some of the veiled misogyny directed at Clinton for, in his view, lacking his absolute commitment to economic populism.
A recent New York Times story handicapping the 2020 presidential field claims that Sanders "retains a huge political network, and his advisers view him as the favorite for the nomination."
But the millions of women nauseated by the sexual predator who is now president also form something of a huge political network.
That's something Sanders and other white, male progressives would do well to keep in mind.
Share your opinion on this topic by sending a letter to the editor to tctvoice@madison.com. Include your full name, hometown and phone number. Your name and town will be published. The phone number is for verification purposes only. Please keep your letter to 250 words or less.