Paul Fanlund: 'Sophisticated resignation' is a bad option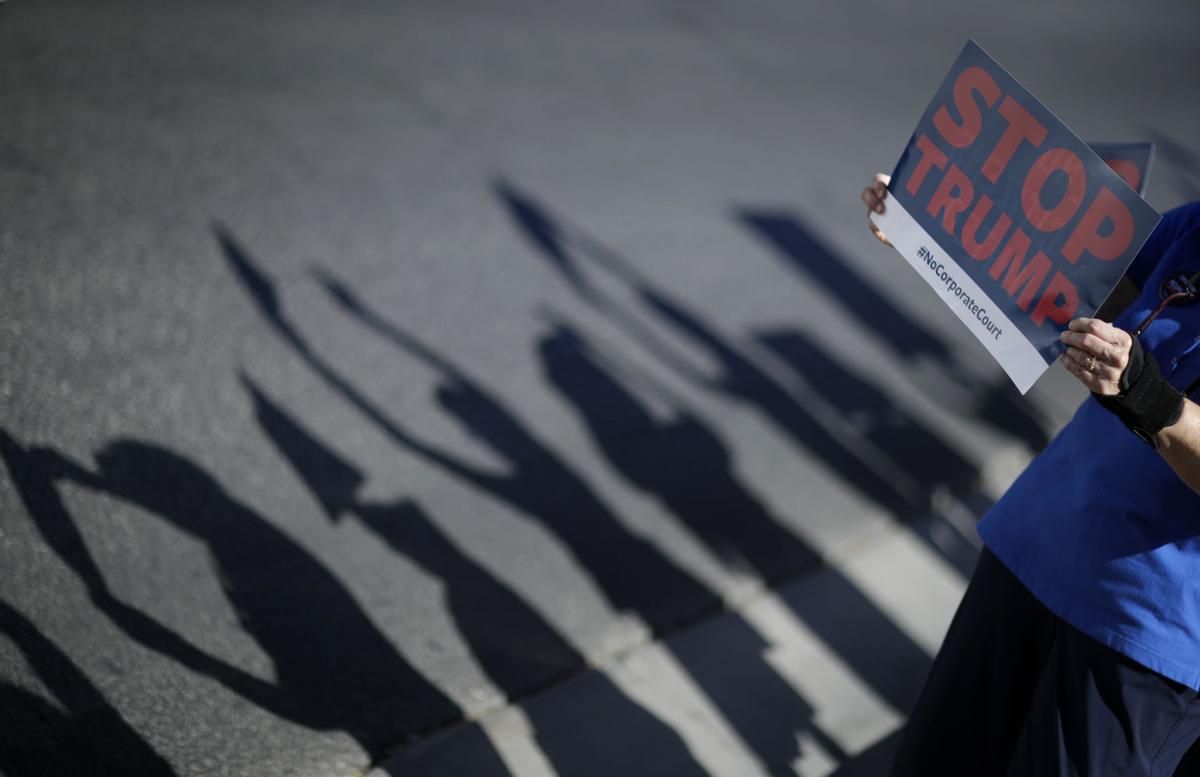 Since Donald Trump's inauguration, nothing has befuddled me quite as much as Trump voters who stand by him even when he moves to kill government programs that have greatly helped them.
"Voters, even wounded, stay loyal to the president," read a subhead on a recent New York Times column by Nicholas Kristof. In the column, a woman in tears described to Kristof how a domestic abuse intervention program in Tulsa, Oklahoma, helped her and her son escape an ex who had beaten and choked her.
Trump wants to eliminate federal funding for the program to pay for his border wall and more military spending, yet she remains loyal to Trump. The woman, a kindergarten teacher, told Kristof: "My prayer is that Congress will step in."
As Kristof summarized: "While conservatives often decry government spending in general, red states generally receive more in federal government benefits than blue states do — and are thus at greater risk from someone like Trump," who sees the social safety net as a taxpayer burden.
Another recent New York Times article was headlined: "In Ohio county that backed Trump, word of housing cuts stirs fear." The theme is familiar. A male breadwinner had to quit his job because his multiple sclerosis was worsening. In 2015, he took advantage of a federally supported home program to repair his deteriorating house. In 2016, he voted for Trump.
Trump wants to eliminate the program funding. The man now says: "Keeping the country safe compared to keeping my bathroom safe isn't even a comparison. We have people coming into the country who are trying to hurt us." His wife hopes Trump changes his mind: "Any mom wants their kids to be safe, so any mom wants their home to be safe."
On the same day, the Washington Post produced an in-depth story from a visit to southern Oklahoma under the headline: "Trump's budget would hit rural towns especially hard — but they're willing to trust him."
Every county in Oklahoma backed Trump. A 77-year-old widow tells the Post reporter about how a senior center is her "only bright spot" and is the sole reason she gets dressed and out of the house. It offers cheap meals, exercise classes, gospel sing-alongs, tax preparation help and, you guessed it, would be cut under Trump's budget plan.
She said she voted for Barack Obama in 2008, but he seemed too sympathetic to Muslims, so she voted for Mitt Romney in 2012 and then for Trump, for whom she still harbors "high hopes." She considers the threat to her beloved senior center as only "strike one" of many possible strikes allowed to Trump.
It is early, but one wonders just what Trump would need to do to alienate some of these supporters. He has filled his administration with wealthy and uncaring capitalists and acted in others ways that seem the polar opposite of his powerful populist message aimed mostly at older, white, non-urban Americans.
In a country still furious that Wall Street big shots got a wrist slap for nearly collapsing the economy through their greed in 2008, Trump is busy deregulating again to restore their financial playground. He beat the hell out of Hillary Clinton for some speeches to Wall Street audiences, yet now gets a pass for giving financiers the keys to the regulatory car.
Across Oklahoma, Ohio and much of the rest of Trump country, they don't seem to care. As long as he's sticking it to the rest of us in blue-state America, that's good enough, apparently.
This brings me to a phrase of caution I learned this week — it's called the "sin of sophisticated resignation." It refers to people who consider themselves reasonably well-informed but look at evidence such as the anecdotes above and throw up their hands in futility.
Michael Schuler, senior pastor of the liberal First Unitarian Society of Madison, used the phrase in his message Sunday and urged listeners not to succumb to that emotion. "Let's try more often to lift up the positive contributions of the institutions we depend upon: the schools, businesses, public servants, faith communities without which our lives would be so much poorer," Schuler exhorted.
In citing "sophisticated resignation," Schuler was quoting Forrest Church, another Unitarian pastor, who created that phrase way before Trump's political emergence. Church, son of former U.S. Sen. Frank Church of Idaho and pastor of a large New York City church, died in 2009.
In his 2000 book "Lifecraft," Church warned of two "seductive sins" — sophisticated resignation and cynical chic: "First, we recognize how intractable life's problems are and resign ourselves to them; this is sophisticated resignation. Then, not wanting to be perceived as naive, we dismiss dreamers and idealists as innocents; this is cynical chic. Both make perfect sense. They also serve as tombstones for wishful thinkers."
If these are sins, the era of Trump may be creating an uncountable number of sinners on the left.
Perhaps we should have seen it coming, but who could have imagined the depth of non-urban resentment toward elites, minorities and immigrants, especially in urban areas?
Sure, Wisconsin's Scott Walker has built a successful political career by demonizing urbanites, people of color and public workers, especially educators, but Trump tapped into a wellspring of toxic emotions that is considerably darker and more sinister.
In the face of this, some liberals have suggested a kumbaya approach to try to totally understand what so dispirits and motivates his supporters. Truth be told, I've tried and failed.
That leads me to two recommendations.
One is to identify the issue with which you feel the greatest connection or sense of outrage — be that social justice for non-whites, the environment, reproductive freedoms, economic justice for working people, whatever. And then apply yourself — with time and money — to activism within that area with a vengeance.
As suggested by the liberal clergy, that would be one way to fend off "sophisticated resignation."
Another suggestion is simply to try to thwart Trump at every turn. That's what Republicans did to Obama, and they apparently paid no price. These are unique, even existential times for American democracy and Democrats should reject any hint of damage-control collaboration with Trump.
That, too, would be the opposite of resignation.
Share your opinion on this topic by sending a letter to the editor to tctvoice@madison.com. Include your full name, hometown and phone number. Your name and town will be published. The phone number is for verification purposes only. Please keep your letter to 250 words or less.