Paul Fanlund: Turning the page on 'what if?'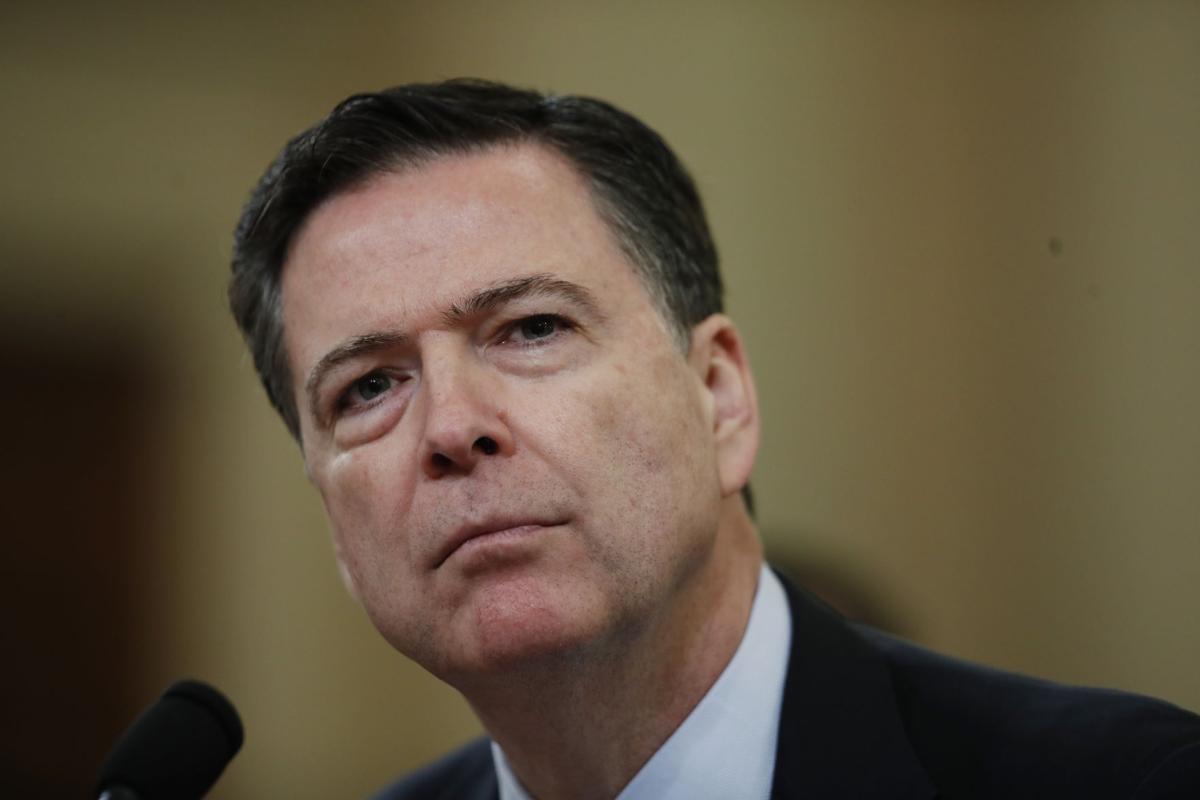 Forget the current media swirl around the epic failure of Donald Trump's first 100 days. It's the awful and surreal November election night that still haunts some of us.
After nearly six months, the memory can cast a figurative cloud over an otherwise sunny and pleasant spring afternoon.
Here's an example: Lounging in a deck chair Sunday, I read the top story in The New York Times, an opus that began atop the front page, filled four inside pages and reflected the work of seven journalists.
The headline: "In Trying to Avoid Politics, Comey Shaped an Election." The outline is familiar. FBI Director James Comey chose to publicly announce a new inquiry into Hillary Clinton's emails 11 days before the presidential election, blunting her polling momentum. He publicly absolved her a week later, just days before the election, but irreparable damage had been done.
In contrast, Comey, a lifelong Republican, chose to say nothing about the ongoing FBI investigation of Russian meddling in the election, foreign interference that was intended to help Trump win. It wasn't until March of this year — with Trump safely ensconced in the White House — that Comey confirmed that investigation.
In its project, the Times interviewed more than 30 current and former law enforcement, congressional and other government officials. The project carefully documented how Comey handled the cases in dramatically different ways.
And please, spare me the bunk about Clinton being an otherwise unpopular candidate and how she should have won anyway. Without Comey's action, the global Trump nightmare would almost certainly have been averted.
Comey's impact was undeniable. An in-depth analysis in Political Science Quarterly points out that Clinton's net favorability reversed its ascent and instead fell 6 points in Gallup's daily tracking poll between the Oct. 28 announcement and the election.
Clinton still won the popular vote by 2.86 million, or 2.1 percent, which nearly matched her lead in late polling, but she lost by narrow margins in Midwestern states that Barack Obama had won, including, of course, Wisconsin, thus losing the Electoral College.
To many of us, it appears Comey chose his political interests and a fear he would be criticized for shielding Clinton over even-handedness.
In sharp contrast to his Clinton disclosure, Comey played it by the book on the Trump-Russia connection, employing what the story described as the FBI's traditional preference for secrecy around ongoing investigations.
Comey has not spoken publicly about his election-altering choice, but sources told the Times he has no regrets.
Comey's name is among the "100 most influential" in the latest Time Magazine and an accompanying blurb gushed: "Shifting political winds have blown criticism James Comey's way from different partisan directions. But his independence has never faltered. His integrity has never wavered. And I know that in the pursuit of justice, it never will."
Adoring words … from fellow Republican John McCain.
Oh, for sure, Comey is the quintessential patriot.
If you're like me, you have replayed the devastating Trump outcome and asked yourself:
What if Comey had simply acted with consistency?
What if the media had not given Trump so much "free" coverage because — while he is an ignorant demagogue — he seemed harmless and drove huge audiences and profits?
What if more of the Bernie Sanders crowd had gotten over it and seen what an existential threat Trump posed to everything they care about on domestic matters and an even bigger one to the world?
But no matter how much difference any of these scenarios would have made, my real point is to say — to myself and others — that it is time to abandon the "what if?" rabbit hole.
Those two words often refer to events whose outcomes are more permanent than an election: What if a child had not chased the ball into the street at the exact moment the truck came along? What if a young couple had left the party five minutes earlier and missed the drunk driver?
There will be other elections, so I have decided to try to bid adieu to "what if?" thinking. Better to focus on reasons for hope.
One reason for optimism is that the resistance to Trump is growing and, to a remarkable degree, the public opposes his agenda. Recent marches for science around the country and the globe are the latest evidence that the pushback remains diverse and strong.
As John Cassidy wrote in The New Yorker: "What is striking is how many people Trump has mobilized who previously didn't pay very much attention to what happens in Washington. He has politicized many formerly apolitical people; ultimately, this may be among his biggest achievements as president."
Yes, some stories since Inauguration Day have offered head-scratching vignettes about how his base of supporters remains steadfastly loyal even as they lose government programs that directly benefit them.
What gets overlooked, though, is how little support there is for Trump's agenda from the public at large.
A chart in the Political Science Quarterly analysis illustrates that point:
Among all respondents, support for lower taxes on the wealthy is 29 percent for, 67 percent against. Respondents support more regulation of financial institutions, not less, and they oppose deregulating business. Big majorities also oppose rescinding laws that address climate change and are against building a wall on the border with Mexico. And, remarkable given the propaganda, 67 percent of respondents favor retaining Roe v. Wade's protection of reproductive rights.
Trump's approval ratings are historically low for a new president. The latest Washington Post-ABC News poll has his approval at 42 percent, lowest for a president in the half-century such numbers have been tracked.
Given all that, and so long as some Trump tantrum doesn't get us all blown up, better days seem to be on the horizon, albeit a distant one.
In the meantime, I am going to work to silence my "what if" inner voice.
The better question: what's next?
Share your opinion on this topic by sending a letter to the editor to tctvoice@madison.com. Include your full name, hometown and phone number. Your name and town will be published. The phone number is for verification purposes only. Please keep your letter to 250 words or less.