Reflecting on snippets from Trump's America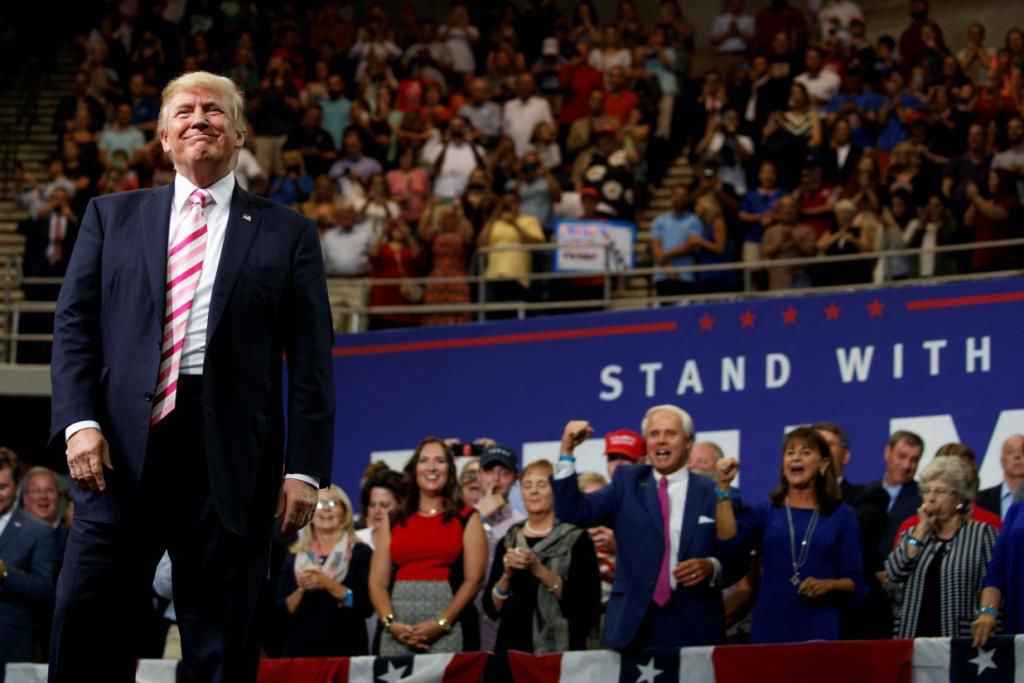 This column starts in an airport and ends in a cemetery.
Its anecdotes cover a five-day period this past week and connect to war and peace, racial tension, toxic politics and embattled American journalism.
A week ago, my wife and I were off to Washington, D.C., when I saw Tommy Thompson seated at our Dane County Regional Airport gate. Wisconsin's four-time Republican governor and former U.S. secretary of health and human services told me he was awaiting the flight to deliver a speech on the future of health care to a medical convention in Washington.
Yes, I've written often about Tommy, whom one might expect to be chilly to a liberal columnist, but he was instead warm and genuine. We chatted at length, some about politics and his recent appearance at the Cap Times Idea Fest, but mostly he peppered me with questions about the newspaper industry, the Cap Times, my family and my health.
Gosh, I thought to myself, how can he and Donald Trump both be Republican politicians when they don't even seem to be part of the same species?
The following morning, I had breakfast with a lifelong friend who retired earlier this year as a senior attorney at the Environmental Protection Agency and is volunteering his time with other experts to analyze environmental spending and issues.
Not prone to hyperbole, he observed that the United States isn't the country he thought it was if it could elect Trump. He said he could not imagine ever again feeling quite the same sense of unabashed patriotism. I sipped my coffee and nodded.
Hours later, I was inside one of my new favorite places in Washington, the National Museum of African American History and Culture. I had just viewed the glass-topped casket that once held the body of Emmett Till, a 14-year old African-American boy lynched in Mississippi in 1955 for allegedly offending a white woman. That his mother insisted his mutilated body be displayed at the funeral helped make Till an icon during the civil rights movement.
I was the only white person watching a video of Till's mother describing how one of her son's eyeballs was out of its socket and the back of his head was crushed in. "And this was just one boy," a baritone male voice near me said to no one in particular. "Just one little boy." (I thought about that voice the next day when Vice President Mike Pence showily left a pro football game when black players protested for their civil rights. Trump, of course, has urged team owners to just fire any "son of a bitch" who chooses to protest.)
We made our way by the Washington Monument over to the Vietnam Veterans Memorial, with its famous wall of names of those killed in the war. Coincidentally, the memorial was being visited by a Badger Honor Flight of veterans from Wisconsin as we passed by.
I noticed a bunch of men in dark blue hats identifying them as Vietnam veterans. One poignantly stood for a picture while using his thumb and forefinger to bracket a name on the wall; a few steps later another vet lay on the ground to better position his pencil and paper to trace a name.
The sights especially resonated because of the recent public television series on the Vietnam War. It included a segment on the 1970 shootings of four students at Kent State University by the National Guard and described how the parents of one of the dead, an ROTC student who was only passing by, got hate mail saying their son deserved to die for being there. Such vitriol was less clearly visible before the Internet, I suppose, but it certainly has that Trumpian feel.
Later, back in our room, I saw a television ad by the GOP candidate for governor of Virginia darkly tying his Democratic opponent to murders and heinous sex crimes committed by the notorious gang MS-13. Of course it's a lie, but that is politics today. I thought back to Tommy, whose former Democratic foes in Wisconsin are his friends today. In the Trump era things, you know, have changed.
So let's pivot to journalism. On the same trip we toured the Newseum, the big museum dedicated to journalism. On display was the heavily damaged car in which a bomb in 1976 killed Arizona Republic reporter Don Bolles, who was investigating the mafia. Also there was a big display of pictures of journalists killed in pursuing truth around the world. As I scanned the faces, I wondered: Would Trump dismiss Bolles and these other dead journalists as fake news?
The museum also featured a color-coded map illustrating the state of media freedom in each country. These days, I thought, maybe the United States should carry some sort of amber alert.
Anyway, two days later and back in Madison, I sat in a fascinating lecture by Annette Gordon-Reed, a Harvard historian and author who has dramatically reframed the accepted understanding of the relationship between Thomas Jefferson and his slave Sally Hemings. Gordon-Reed won a Pulitzer Prize for history for that work. She described to a packed Wisconsin Historical Society auditorium how her research documented that Jefferson fathered six children by Hemings, who was 30 years younger than he.
A busload of us also heard Gordon-Reed speak at the grave of one of those children — Eston Hemings Jefferson — in Madison's Forest Hills Cemetery. Later Jefferson descendants are buried nearby.
Gordon-Reed described how three of the six children, including Eston, chose to live as white Americans, the others as blacks. Eston, she said, lived in Madison as a quiet and unassuming musician. "It was a refuge for him, a place where he found a haven."
You can surmise which path was easier, living as white or living as black. "It is better to be white and go off into the world and make your way rather than being the half-black son of a president," summarized Gordon-Reed.
(At the African-American museum days earlier, I had seen a statue of Jefferson backed by a wall of bricks listing the names of slaves he owned, including several named Hemings.)
Gordon-Reed, who is African-American, was asked why she thought her revelations about a founding father's complicated family tree have been controversial. Because, she said, "It makes it clear that this has never been a truly white country."
Some people apparently don't like hearing that.
Maybe some of the same people who appreciate how Trump wants to make America great again.
Share your opinion on this topic by sending a letter to the editor to tctvoice@madison.com. Include your full name, hometown and phone number. Your name and town will be published. The phone number is for verification purposes only. Please keep your letter to 250 words or less.