City Brewing brewmaster Randy Hughes sees sunset, but he's not ready to fade into it
Randy Hughes appears to have his eye on becoming the Michael Phelps of the brewing world, because the record-setting brewmaster at City Brewery in La Crosse doesn't plan to retire anytime soon.
God probably doesn't even know how many Olympic-sized swimming pools the 62-year-old Hughes could have filled with the beer he has guided toward barrels, bottles and cans during his 22 years as brewmaster at City Brewery and, before that, Heileman Brewing Co.
"I'm the longest-tenured brewmaster in Heileman history," he said during an interview Wednesday at the inaugural tasting session for the Old Style Oktoberfest beer being rolled out for its second year.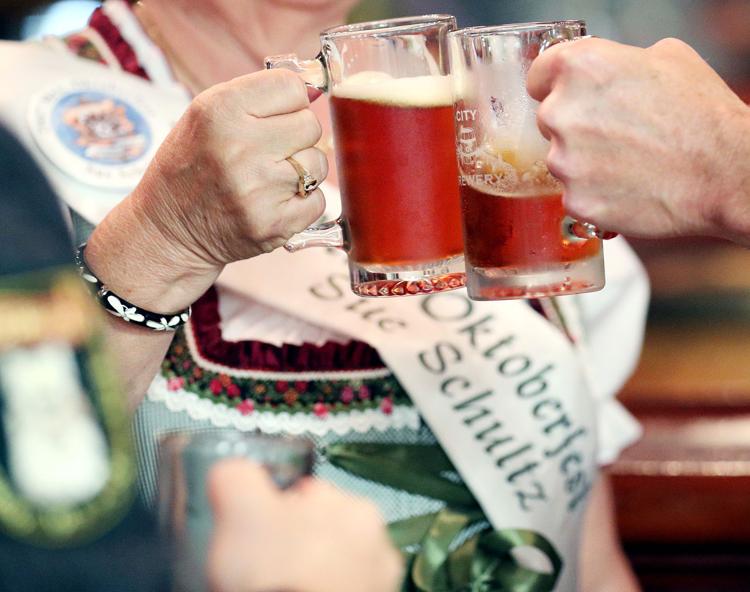 The question about the "R" word came as a follow-up question to his comment after the first toast: "It's great to be in the sunset of my career and see Old Style Oktoberfest come back."
Asked later whether he was just being whimsical or, perhaps, telegraphing a retirement date, Hughes laughed, as he does frequently and heartily, and said, "It's got to be an even number, like a 40."
Hmmm, no confirmation there, but there might be a hint — in the fact that Hughes started working at the brewery 39 years ago.
Hughes deftly turned the attention from himself, as he is wont to do, and toward the special Oktoberfest brew that debuted last fall. That marked the first time an Old Style brew had returned to its birthplace since it left La Crosse nearly two decades ago.
"It's a great brew, made with a great brewmaster and a great friend," Greg Deuhs, Hughes said.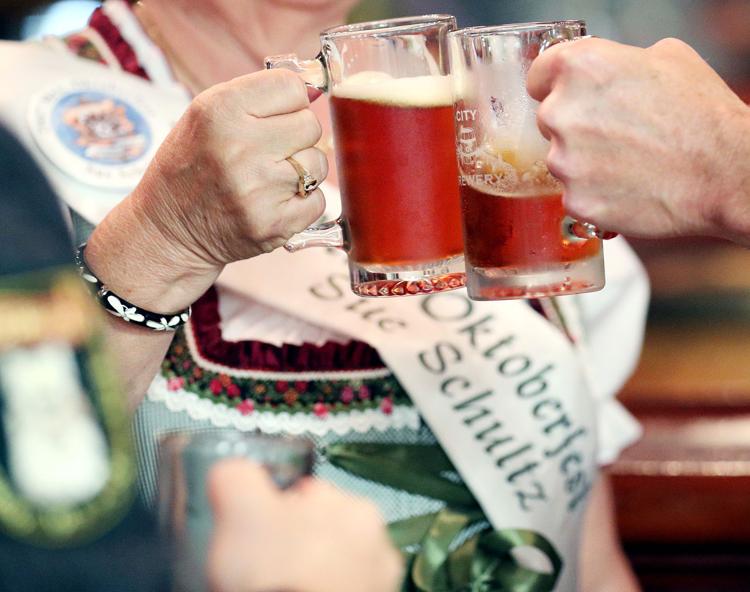 Deuhs, who was assistant brewmaster under Hughes, now is brewmaster for the Pabst Brewing Co., which owns the Old Style label.
After the celebratory toast, and before the guests finished their mugs of the 6.45 percent alcohol brew, current Oktoberfest Festmaster Joe Kruse led a chorus of former Festmasters and Fraus, as well as Mrs. Oktoberfests and their fellas, in a hearty rendition of "Ein Prosit," culminating in the traditional "Ziggy-zaggy, ziggy-zaggy, oi-oi-oi!"
Hughes had indicated that he and Deuhs had tweaked the recipe a bit this year, and one of the attendees lauded it as a beer with "beautiful taste and color."
"The body is still there, and we brought the hop character up a little more," said the brewmaster, who noted that the popularity of the beer last season propelled plans to brew a couple of hundred more barrels this year.
"It has good flavor from top to bottom, and drinkability," Hughes said. "A lot of beers you can't get through a pint. That's not the point of beer."
The flavor also morphs into different taste bud ticklers as a mug warms up, he said, adding with a mischievous smile, "Mine typically doesn't warm up."
He underscored the fact that folks don't have to wait until Oktoberfest to quaff the beer, which is expected to be on store shelves by the end of July.
As far as retirement talk, he said, "I'm still having a lot of fun. There are a lot of good young people here to train in the tradition. That's important, strengthening the tradition," he said.
Observing that the brewery has been such a community mainstay that "everybody in town has either worked here or had a family member or friend who worked here," he said, "There are some third-generation workers here. Not many small businesses can say they've been 150 or 160 years in the same town."
"I'm still having a lot of fun. There are a lot of good young people here to train in the tradition. That's important, strengthening the tradition." Randy Hughes, City Brewery brewmaster