City Brewery is expected to roll out more barrels of the special, limited-edition Old Style Oktoberfest beer that made its debut last year — because it ran out of kegs before the La Crosse festival started last year, brewmaster Randy Hughes said.
"You've got to have kegs in La Crosse during the festival," Hughes said Monday in reaction to Old Style label owner Pabst Brewing Co.'s announcement that the special brew will be back this season.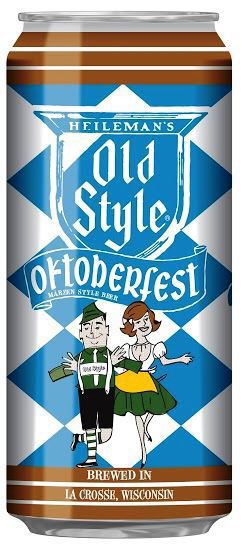 "It feels great," Hughes said, that popular demand brought the brand back to Oktoberfest, scheduled for Sept. 28 through Oct. 1.
"We couldn't have been more pleased by the overwhelmingly positive reception of Old Style Oktoberfest," said Dan McHugh, Pabst's chief marketing officer.
"Old Style's fans are a loyal group and continue to be a driving force behind the brand's legacy and what makes it such a staple," McHugh said. "To bring back the beer and continue the production Old Style Oktoberfest in our original hometown of La Crosse is the perfect way for us to both honor our past heritage and to celebrate the future of what is to come."
Old Style Oktoberfest is a described as a classic Märzen-style brew that is ideal for fall.
Hughes, who developed the recipe with Greg Deuhs, who was assistant brewmaster to Hughes when Old Style left town and now is Pabst's brewmaster, cranked up production of the beer again about a month ago, "with a few minor tweaks," Hughes said.
Asked for the secret to the tweaks, Hughes responded with a wry, inside-brewing reply: "They were very small, and they won't show to the public, but we brewers know."
Although Pabst won't reveal total figures, Hughes said production this season is expected to be 10 percent to 15 percent higher than last year. Canning was slated to begin Tuesday for the 16-ounce, four-packs in the prevailing packaging model that the craft beer phenomenon has made popular.
"It tastes great, too, to be honest," Hughes said with a chuckle and without even feigning modesty.
Old Style Oktoberfest is scheduled to be available in stores on July 31, with outlets including Festival foods, Kwik Trip and other retailers throughout Wisconsin, Illinois, Indiana and Minnesota. It will be featured at the popular North Coast Music Festival Music Festival Sept. 1-3.