The third location of Strings Ramen opened a bit by accident last week at 311 N. Frances St.
"We haven't even installed a sign yet," said Kenny Yang, a founder and owner of the Chicago-based ramen restaurant. "We were doing some preparation and people started rushing in. It was a disaster the first couple nights."
The latest in Madison's string of ramen shops, Strings slings noodle bowls and soups from 5 p.m. to 8 p.m. on weeknights so far, or until they run out of broth. Eventually, the hours will be 11 a.m. to midnight weeknights and until bar time on weekends.
They've run out with some regularity over the past week. Because the soup takes 20 hours to make, the only choice is to shut the doors.
"Our food is so much harder than other food like burgers or other ramen shops," Yang said. "We do everything from scratch... we don't add any MSG or concentrated soup to it. When the soup pot is sold out, we have nothing to sell."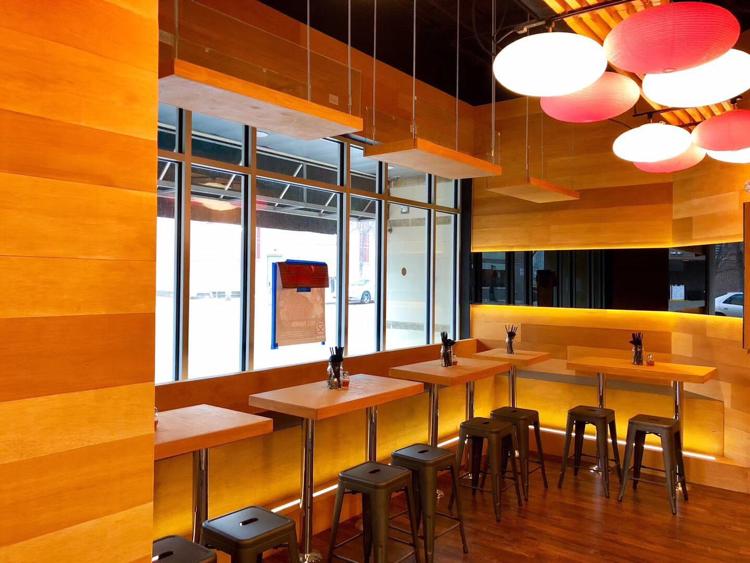 Yang, a designer and entrepreneur, grew up in Chicago, where he opened the first Strings Ramen four years ago in Chinatown with chefs Kee Chang and Matt Nakano. A second Strings Ramen opened on Belmont Avenue in Lakeview last spring.
Yang spent eight years working in Asia after graduating from the University of Illinois in 2005. He decided to open a third Strings in Madison with two silent investors, in large part because of the university.
"I used to have a couple friends that graduated from the University of (Wisconsin)-Madison," Yang said. "I'd hang out in Madison before we'd go snowboarding in Alpine Valley. They brought me to Big Ten games.
"Recently we've seen a lot of Chicago chains moving into Madison and finding success. A couple of my friends have moved to Madison and they've been urging me to do it here. I thought, why not give it a try?"
Yang has an investor interested in opening a fourth Strings Ramen near New York University, so Madison is something of a test run for Strings Ramen outside of Chicago. Executive chef Katie Dong developed the menu, which is mostly standard across locations.
The main event at Strings Ramen is the soup. The Hakata-style tonkotsu broth is made from simmering kurobuta pork ("black hog") bones in a 2-and-a-half foot-tall pot for several hours. A few hours in, they remove the bones to smash and clean them, then return them to the pot.
The cleaning "makes the soup taste porky in a good way," Yang said.
Bonito augments dashi for the base of the shoyu (soy) ramen. The base of the miso ramen includes turkey because Yang's Japanese mentor told him that "turkey is better chicken."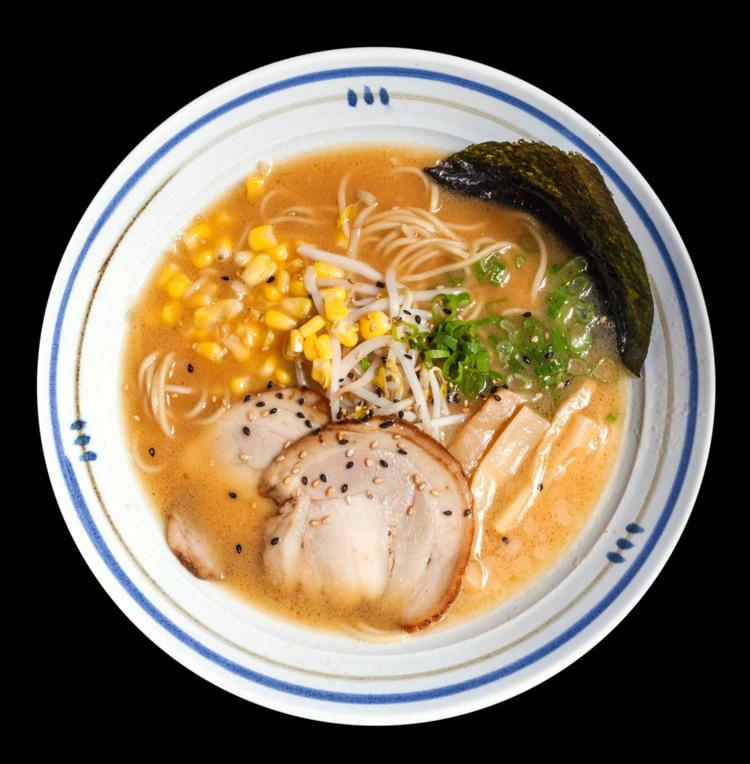 "We tried the drums, the chest, but the neck is the best," Yang said. "Our shio ramen uses turkey neck. The muscle is really strong ... the flavor is amazing, the meat is so tender."
Strings adds Chinese chilis (TianJing, or Tien Tsin), Szechuan chili bean sauce and other peppers to its five-level "Hell" ramen. The Chicago locations boast that if diners "suffer through" the Monster Hell ramen challenge in 20 minutes, they win a $50 gift certificate and a T-shirt for their trouble.
Noodles are the same for all of the ramens, made in Strings' Chicago kitchen on a machine from Japan with flour also imported from Japan. Bowls of ramen may be topped with menma (bamboo), bean sprouts, scallions, crushed garlic, nori and ginger.
Among the non-ramen items are gyoza, boiled dumplings served with spicy ponzu (citrus soy sauce) and donburi, rice bowls with sashimi (salmon, tuna, sea urchin) or meat (pork belly, eggs).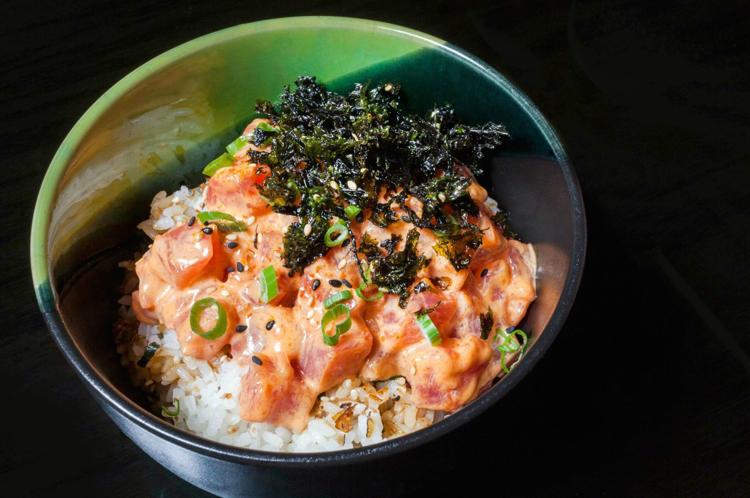 Every location has a specialty. In Chinatown, Strings also serves oden ramen, vegetables and meat braised in a lighter soy/dashi broth. Lakeview serves mazeman, soba noodles with sesame sauce and toppings like spicy clams and pork or shredded turkey.
In Madison, Strings Ramen will serve Japanese curry, or kare, an aromatic, slow-simmered stew adapted from India and served with rice.
"When I was in Japan I was a big fan of Japanese curry," Yang said. "It takes a lot of time to prepare but it's served really fast. I think it will be good for fast pace of students."
Chicagoans have fallen for the mini-chain. In 2014, Redeye's Michael Nagrant swooned over "a rich broth so thick it almost quivers when you dip your spoon in" and "left a trace of satisfying fat on my lips."
"I wish cough medicine tasted like this," wrote Dennis Lee in Serious Eats. "The soup has a meaty, salty, roasted flavor, and the only time you'll stop gulping it down is to chew on the house-made ramen noodles. The noodles ... resemble spaghetti and have an al-dente style chew to them."
Chicago Reader critic Mike Sula was less enthusiastic about the soup, but he loved the noodles, made fresh daily.
"They are thin, firm, and have a fresh, almost floury taste that stands up well in any broth you choose," Sula said.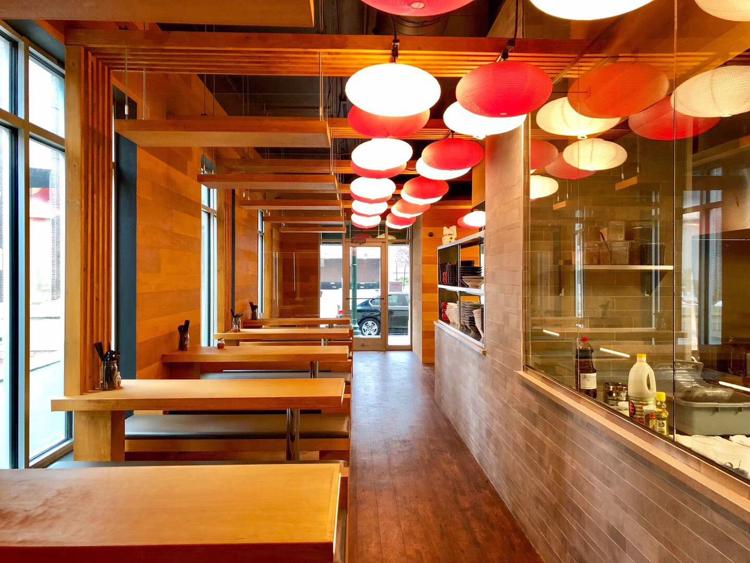 Like some other ramen shops in town, Strings won't serve its noodle soups to go, as they're likely to soak up too much broth between the restaurant kitchen and customers' homes. The menu goes even further, offering a "Ramen Guide 101" with tips like "soak the nori (seaweed) in the broth and eat within the first few slurps," "head for the noodles and slurp them up, loudly."
"It should take no more than 10 minutes to finish your bowl," the menu advises in bold.
Yang said that Strings Ramen should be open for its full schedule in about a month, after he works out some kinks with the vendor they're working with. In the meantime, customer demand will determine how much ramen is left after 8 p.m.
"We got so many people knocking on the window, like 'Let us in,'" Yang said. "We're like, 'We're not ready!' and they're like, 'We don't mind, just give us something.' So the managers just let everybody in.
"Now we have to stay open."