For five years in the early 1980s, Al Rasho booked blues and jazz acts seven days a week at a bar two blocks from Wrigley Field in Chicago, frequently hiring musicians from the city's racially segregated south side.
"It became a very, very diverse venue," Rasho said.
This was an exciting period for Rasho, but it came to an end when the bar closed in 1985 and Rasho returned to his filmmaking career.
"I didn't think it would happen again in my lifetime," he said.
Now it has. Rasho is doing similar work again, this time on the north side of Madison at a neighborhood arts venue and bar that opened last June at the corner of North Street and Commercial Avenue.
North Street Cabaret is the brainchild of Rasho and Tip Top Tavern owner Ben Altschul, with collective input from fellow northsiders.
Altschul bought the former private social club building across the street from the Tip Top in 2015 without a clear idea of what he wanted to do with it. After listening to neighbors and witnessing the growing popularity of the Tip Top's open mic night on Sundays, he and Rasho started envisioning a multidisciplinary arts venue with a bar and kitchen.
"We were doing music at the Tip Top. We were trying to do everything at the Tip Top. But it has a tin ceiling," Altschul said. "The acoustics just weren't allowing for the full support of the artistry."
Across the street, they knocked out the prefab tiles from the dropped ceiling to expose wooden beams, then painted and lined the walls with Art Deco-style wallpaper, brought in new kitchen equipment, put up a small stage and installed a sound system with the help of Madison Pro Audio. There's no sign outside.
"This is a speakeasy joint," Altschul explained. Beyond that, "We're an artistic platform for the community."
Nine months in, North Street Cabaret is hosting music, comedy and community events most nights of the week, and recently started serving a changing food menu inspired by the entertainment on stage.
At a Fat Tuesday show featuring trombonist Darren Sterud's New Orleans Tribute Band in February, the kitchen was dishing out orders of jambalaya ($9), red beans and rice ($5), a po' boy with shrimp, chicken or fried avocado ($8-10) and boudin balls, deep-fried Cajun sausage stuffed with pork and rice ($6 for three).
That Tuesday, the place was packed. Three hours after the doors opened, the food was mostly gone and a few people had started dancing up by the stage.
"When people begin dancing, I know we're doing it right," Altschul said.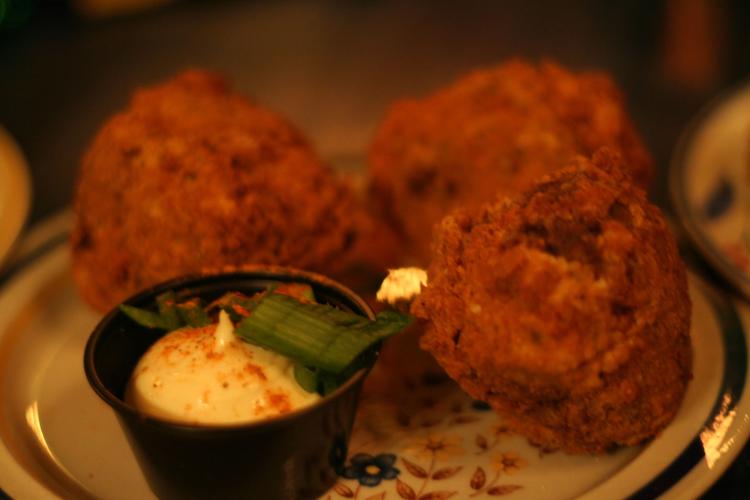 During other shows the Cabaret is like a "listening room," Rasho said. At a performance of Croatian-born guitarist Goran Ivanovic, "it was like a concert hall. People were shushing each other." Ivanovic will be back in June with Chicago-based jazz guitarist Fareed Haque, Rasho said.
Altschul and Rasho come to the Cabaret with dissimilar backgrounds but agree they have a family-like bond and shared vision for a diverse lineup.
Rasho was born in Iraq in 1950 and moved to Chicago with his parents when he was 8 years old. He studied filmmaking at the Art Institute and made surfing and hang-gliding documentaries in Hawaii before joining the Chicago film production company run by Altschul's grandmother.
Altschul was born in Madison in 1987, growing up in an eastside restaurateur family and studying dance at UW-Madison. His parents operated the now-closed Botticelli's on King Street, and his mother, Jane Capito, still owns Lazy Jane's and Mickey's Tavern. His older brother Gilbert Altschul owns Grampa's Pizzeria, Gib's and Porter.
Altschul describes Rasho as the "pulse" of North Street Cabaret, but together they have common ideals, like giving 100 percent of money collected at the door to performers and not charging the musicians for sound or door staff.
"Al and I have a real interest in seeing artists get paid," Altschul said. At the same time, to keep the venue accessible, "we deliberately keep our prices low.
"This is a totally unconventional pursuit," he said. "The arts and business are very difficult to accomplish together."
Rasho wants to add theater to the lineup, and Altschul expects to start a Saturday brunch featuring burlesque dance soon.
Ultimately, "feedback from the community guides what we do," Altschul said.
"Here we are following a dream. There's no destination. We're not fixated on any particular outcome," he said.